---
AHR 2016 - Orlando

My Takeaways





Founder, Owner, Publisher AutomatedBuildings.com
AHR Orlando was an extremely well attended event. The web site http://www.ahrexpo.com/ shows over 60,000 folks attended, likely the second largest show only to Chicago with the International exhibitors becoming a significance part of the total.

Snowstorms on the east coast slowed down travel for folks from that area but still amazing numbers were achieved. It is not official but my sense was the second day had a greater attendance that the first because of that.
I also understand AHRExpo is posed for a amazing show in Vegas next year as there are only a few exhibit booths left.
The transformation of our industry is well underway with Internet of Things becoming part of everything.
The bulk of the major equipment on the exhibition floor comes complete with a BACnet plug or wifi interface or both.
Even if the product was not connectible it came with an app and was marketed with a flat screen and a you tube like presentation. IoT was everywhere.

My focus was on the building automation industry. So what did I see that was new in that space?

One observation was the return of the major control companies to the show's, "Building Automation & Control Showcase". They have been absent for several years, this maybe signaling that controls have truly become just a commodity and or a renewed interest in building automation as a means to an end and a necessary path forward in energy and operational efficiency.

That being said mashable open solutions from many independents were everywhere. These solutions are mashable highly integrated into the cloud and applicable for several control companies providing many solutions from cyber security, data pumping, analytics, and our entry into the self learning building.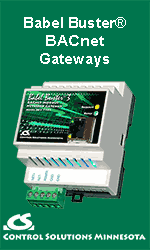 Another observation is several new products being built are using more open source software solutions with hardware more resembling cell phones than laptops.

Purpose-built devices simpler, faster, and with more memory than before have but one purpose - to push functionality and data to the cloud while interacting in an Internet of Things world.

Products are faster, more agile and provide multiple communication paths to the cloud.

Cellular networks are becoming more and more the backbone of moving big data from the building to the cloud.

VPN like connections to the cloud from the building are becoming an accepted method providing a new level of security.
---


[Click Banner To Learn More]
[Home Page] [The Automator] [About] [Subscribe ] [Contact Us]