---
| | |
| --- | --- |
| Buildy 2007 Winners | Frank Capuano, STRATAResource Inc |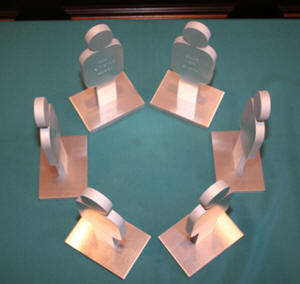 2007 Buildy Awards Honor Convergence and Integration Experts at Premier Event for Networked Buildings
CHICAGO, IL—May 30, 2007—ConnectivityWeek hosted the 4th annual Buildy Awards, attracting an impressive gathering of building integration, IT, M2M, wireless and energy experts. During the three-day event, attendees selected the six Buildy award winners from 28 finalists who represent organizations and individuals who best support the vision of networked building systems. The winners were announced during the Awards Gala on May 24, in Chicago, IL. The Buildy awards program is designed to increase awareness of the benefits of whole building integration, honor successful implementation, visionary leadership, industry initiatives and product development strategies.
Within the six award categories—Vision, Initiative, Best New Product-Wireless, Best New Product-Infrastructure, Best Integration Project, and Best Intelligent Building—the winners are an extraordinary list of industry leaders, solutions providers and technology developers who represent the new playing field of intelligent buildings and IT convergence.

Vision - David Mosby, Director of the Division of Facilities Management and Design and Construction (DFMDC) for the State of Missouri was presented the Vision award for implementing the following five initiatives:
Merger of the Division of Facilities Management with the Division of Design and Construction

Consolidation of all maintenance for 13 operations under FMDC

Transformation of "Leasing Office" to "Real Estate Management Office"

Formation of Planning Unit

Formation of Energy Management Office - David Mosby partnered with the legislature to consolidate energy utility budgets from sixteen departments to one.
David Mosby initiated a statewide integration project of 28 million square feet. The largest integration project of its kind involves creating 24/7 real-time connectivity to the multiple legacy control systems, power generation assets, power distribution systems, metering, chiller and steam plants that keep 1,000 facilities safe, productive and comfortable for the citizens and employees of the State.
David Mosby was not present to accept the award and Tim Huneycutt of Gridlogix accepted on his behalf.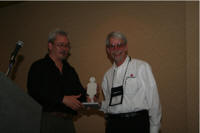 Initiative – The ZigBee Alliance was presented the Initiative award for their promotion of the ZigBee wireless technology. As a global open standard, ZigBee is paving the way for dramatically different devices to communicate for the first time, while offering more control and convenience options than ever before. This year, the ZigBee Alliance began a new initiative to provide solutions for energy management and efficiency by addressing growing concern around the environment and predicted energy shortages. Numerous states and countries are pushing ultra-efficient new homes and buildings, and only ZigBee addresses such a broad challenge.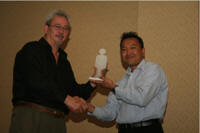 Best New Product – Wireless – Ember was presented the Best New Wireless Product award for their ZigBee wireless technology platform. Ember's ZigBee wireless technology is being used in building automation, integrated home automation and advanced metering initiatives to help make our living and working environments safer, smarter, more comfortable and energy efficient. In the building automation market, Ember's ZigBee system is the platform of choice for innovative and leading companies. Ember's low-power ZigBee networking system is the comprehensive solution for all of building automation needs - reliability, easy installation of network nodes, low system costs and long battery life.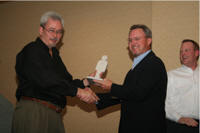 Best New Product – Infrastructure – Gridlogix was presented the Best New Infrastructure Product for their Automated Enterprise Management (AEM) product. AEM is a Services Oriented Architecture that delivers specific real-time data to multiple departments within an organization and the supply chain that enables informed, fact based business decisions to be made.
AEM is a Web based application that delivers business metrics. In other words, AEM represents the data fusion platform that merges the real-time enterprise with an organization's balance sheet, EPA compliance and social leadership initiatives. Maximizing the value from huge amounts of time sensitive data generated by the operations of facilities can only be realized if the underlying systems can deliver relative and specific actionable solutions to the right departments and people that can make a difference.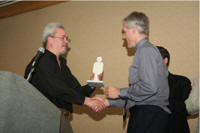 Best Integration Project - Constellation Energy was presented the Best Integration Project for their Washington Suburban Sanitary Commission (WSSC) project. WSSC serves as an industry model of how competitive markets can help customers lower their energy costs, reduce their overall electrical load requirements, and increase their use of renewable power through long-term green power agreements. It also represents the intrinsic value a competitive energy company like Constellation Energy can bring to retail customers and the kind of innovation that is possible in today's market
In this project, Constellation serves as both systems integrator and energy supplier to provide total integration of WSSC's energy portfolio through fully integrated demand side and supply side technologies.
For the past six years, WSSC has partnered with Constellation to reduce its energy and operational costs while increasing energy and operations efficiencies to meet the challenges of future demand. Structured as a Energy Procurement and Risk Management Contract, Constellation Energy is able to assist WSSC in managing their energy expense budget and reduce the variability of their energy spending every year. This is principally accomplished through the strategic purchasing of future blocks of power, which reduces electrical price risk and better manage the roller coaster of energy wholesale markets.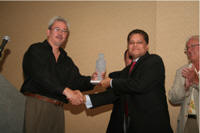 Best Intelligent Building – The Best Intelligent Award was presented to Pacific Control Systems LLC for their headquarters building in Dubai, UAE. This building is the Middle East's First Platinum Rated Green Building to promote the concept of environmentally friendly buildings in the region. Pacific Control Systems is also showcasing to the world its practical use of Solar Energy for producing 90 Tons of cooling. Today this project is the one and only certified Green Building in the Middle East and is truly pioneering the cause of Sustainable buildings and the Practical use of Solar Energy.
About BuilConn
BuilConn is a three-day forum uniting the players of the building industry's disparate disciplines including integrators, manufacturers, distributors, consultants and technologists, as well as end users and building owners to learn and discuss the trends, technologies and their applications for tomorrow's intelligent buildings.
BuilConn is comprised of multiple industry-related events where building professionals of varying experience levels can explore the immense benefits of whole building integration in light of IT convergence. BuilConn itself is a conference and expo with multiple topics and tracks so attendees can customize their days with subjects that are relevant to them and their business.
The sixth annual event will be held in Santa Clara, CA, May 20 – 22, 2008. For further information, please visit www.builconn.com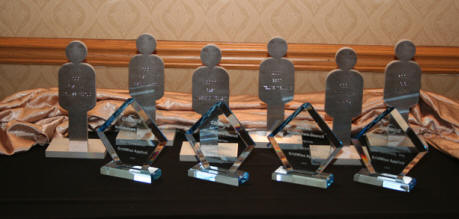 ---


[Click Banner To Learn More]
[Home Page] [The Automator] [About] [Subscribe ] [Contact Us]