---
2008 Buildy Award Winners

Frank Capuano
Manager – Buildy Awards & Editor – The Show Daily –The daily event paper produced for ConnectivityWeek
SANTA CLARA, CA – May 30, 2008 – ConnectivityWeek hosted the 5th annual Buildy Awards, attracting an impressive gathering of Intelligent Building, Access Control, HVAC, Lighting, IT, Green Buildings, Intelligent Home, Industrial solution and power grid experts. During the four-day event, attendees selected the seven Buildy award winners from finalists who represent organizations and individuals who have stepped up to the challenge of integrating systems into the entire scheme of connectivity. These individuals and organizations support the vision of connected control systems in which disparate systems are seamlessly integrated together to provide greater value from a technology investment.
The winners were announced during the Awards Gala on May 22 in Santa Clara, CA. The Buildy awards program is designed to increase awareness of the benefits of smart device connectivity, integration, honor successful implementation, visionary leadership, industry initiatives and product development strategies.
Within the seven award categories—Vision, Open Initiative, Green Initiative, Best New Product, Home Connectivity Implementation, Building Connectivity Implementation and Automated Demand Response Implementation—the winners are an extraordinary list of industry leaders, solutions providers and technology developers who represent the new playing field of smart connected devices and connectivity.
---
Vision Award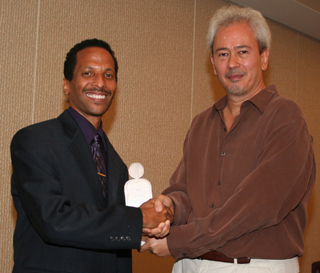 Keith Gipson, CTO at PhoenixESG was presented the Vision award for his past and continuing contributions to the industry.
He began at Honeywell in the late 80's and developed his first software gateway and FLITE, one of the industry's first GPL (Graphical Programming Language) tools, and received the Technical Services Citation Award at Honeywell and Jones-Lang LaSalle awarded him their national "Vendor of the Year" award.
In 1995 he joined Johnson Controls as a Systems Application Engineer and developed the Metasys Personal Workstation (MPW). Along with two others, Keith founded Silicon Energy Corp in 1997. It grew to 250+ employees and focused on web-based systems.
In 2001 he received U.S. patent 6,178,362, as Co-inventor of: an Energy Management System and Method utilizing the Internet to perform Facility and Energy Management of large corporate enterprises; "Web-based Facility Management".
He is presently CTO at PhoenixESG, where he continues to lead the technology vision that drives innovative energy asset solutions for our retail and commercial customers numbering in the thousands of sites managed under contract.
---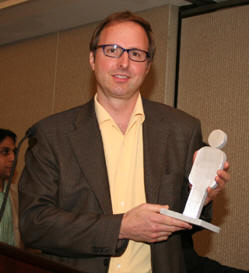 The NewEnergy Alliance organization was presented the Open Initiative Award. The NewEnergy Alliance was formed as a means to better share information and help drive innovation across the BAS industry with best practices, new technologies, and advanced energy strategies to bring the economic, social and environmental benefits of demand response to every building that has a building automation system.
Made up of leading equipment manufacturers, building automation companies, system integrators, and software application businesses, Alliance members recognize that electricity load management and energy efficiency strategies are most effective when all elements of the energy chain are linked together for the customer. Adding demand response market signals to an already fully integrated, open platform brings the entire energy spectrum into focus, making it possible to proactively harness and shape load in response to market signals throughout the year.
---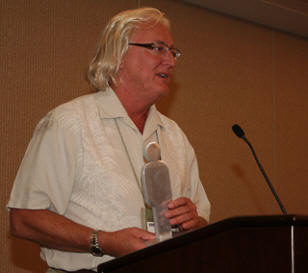 Green Initiative
Google Mountain Campus by Richards-Zeta was presented the Green Initiative Award. Google is committed to being carbon-neutral for 2007 and beyond and in order to honor this pledge they took a three-step approach. First, they increased the energy efficiency of their own operations. Second, they actively pursued the use and creation of clean and renewable sources of electricity. Third, for the emissions they cannot reduce directly at this time, they have invested in projects that help offset the carbon generated.
In order to help facilitate this, Google has embarked on an aggressive deployment of an Intelligent Building System (IBS) infrastructure and backbone. The Richards-Zeta Mediator is the intelligent middleware platform enabling the advanced deployment of a full IBS. RZ is providing the technology and services in order to integrate a multi-vendor environment into a single cohesive network.
---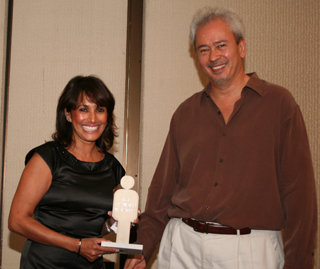 Best New Product
Advanced Control Systems (ACS) was presented the Best New Product for their FastAPPS™ product. Over the past four years, ACS has worked to develop a standards-based Distributed Network Protocol (DNP) solution for distributed self-healing applications that would help utilities leverage their installed automation infrastructure to improve reliability while allowing the use of multiple switch manufacturers and non-proprietary infrastructure. The result of several years of effort brought ACS's FASTapps™ solution to market in 2007.
Since roll out in early 2007, FASTapps has been deployed to improve the reliability and quality of electric power delivery for thousands of consumers at PPL and Oklahoma Gas and Electric, with several other utilities now in early stages of review and deployment.
ACS FASTapps runs on open DNP standard protocols and supports switchgear from various manufacturers in keeping with the Gridwise open architecture vision for the Smart Grid.
---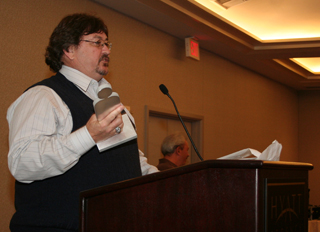 Home Connectivity Implementation
GridPoint and Duke Energy were presented the Home Connectivity Award for "Smart Charging" for Plug-in Hybrid Electric Vehicles. The GridPoint pilot with Duke Energy generated positive results from what is believed to be the first commercial test of utility-controlled "smart charging" for plug-in hybrid electric vehicles (PHEVs). GridPoint SmartGrid Platform™ successfully controlled, measured and verified the charging of a PHEV parked in a residential garage.
GridPoint's smart charging capability enables utilities to control charging regardless of when consumers plug in their PHEVs, anticipated to be early evening when demand is high. It allows utilities to limit peak load growth, offer customers lower rates for off-peak charging, and gain complete control over when and how fast PHEVs are charged, allowing them to optimize generating assets.
---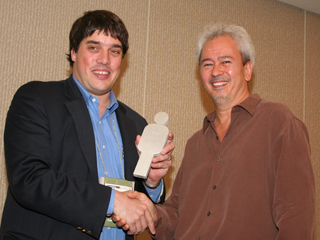 Building Connectivity Implementation
GridLogix was presented the Building Connectivity Implementation Award for their Battery Warf implementation. Battery Wharf is part of Boston's historic North End. Built over the water of Boston Harbor, this unique four building complex is comprised of condos, retail and the Regent Boston at Battery Wharf hotel.
Battery Wharf's unique central utility plant provides hot, chilled and domestic water to the 4 building complex. All of the utility usage including electrical, natural gas, chilled, hot and domestic water are recorded by 68 meters that are monitored by Gridlogix via the fiber backbone that also carries all the voice, video and data including Cisco telephony.
The Gridlogix Information Management for Sustainability platform was installed as an integral part of the IT backbone. Gridlogix manages BACnet, Modbus and wireless device level data and in real-time integrates specific actionable information with the property management business level Micros Opera financial software and their M-Tech SOS work order management software. The Gridlogix platform also provides an aggregation of data from the BAS, meters, energy suppliers and alternative energy sources and publishes Key Performance Energy Management Indices by way of dashboards. This high level overview provides the transparency and accountability to keep all personnel focused on executing strategy and Information Management for Sustainability.
The Gridlogix applications provide information 24/7 by monitoring over 10,000 data points via the fiber backbone, applying business rules for the management of the data and providing Battery Wharf management the information they need to make informed decisions proactively instead of reactively.
---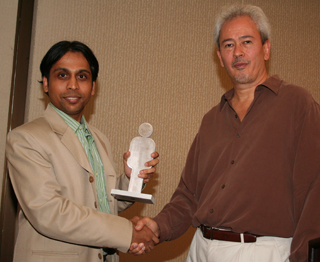 Automated Demand Response Implementation
Akuacom was presented the Automated Demand Response Implementation Award for their DRAS installation. In 2007, Akuacom used its Demand Response Automation Server (DRAS) to enable Automated Demand Response (Auto-DR) Programs at all three California Investor Owned Utilities (IOUs). The DRAS brings end-to-end automation to a wide range of DR programs. Currently in California, Akuacom servers are hosting Critical Peak Pricing (CPP), Demand Bid (DBP), and Capacity Bidding (CBP), with more programs scheduled for 2008. Statewide, more than 25 megawatts of shedable load is being controlled by the DRAS.
The DRAS accepts program events from utilities and turns these into commands that are sent over the Internet to clients residing in customer facilities or in aggregator servers. The DRAS is capable of managing thousands of clients. From an IT perspective, clients that are communicating with the DRAS behave just like computers accessing web pages on the Internet, making them easy to install and configure.
The DRAS was designed in conjunction with the Lawrence Berkeley National Laboratory (LBNL) through the PIER Demand Response Research Center (DRRC). PIER is the Public Interest Energy Research Program at the California Energy Commission. The California Auto-DR projects in use today are a collaborative effort between Akuacom, the DRRC, Global Energy Partners (GEP), and the IOUs.
---

[Click Banner To Learn More]
[Home Page] [The Automator] [About] [Subscribe ] [Contact Us]