| | |
| --- | --- |
| | |
| Smart systems plus smart people result in smarter facility operations. | Chuck Miles is the marketing manager for Global Learning Services for the Johnson Controls Institute in Milwaukee, Wis. He has more than 20 years experience as an instructor, manager of Control Center training, manager of computer-based training and manager of the Distributed Learning Group |
---
The controls industry continues to make advancements in hardware and software products that make more intelligent and efficient systems possible. Optimal performance from building systems produces financial results that more than justify the systems installed, and even help turn facility overhead into facility assets.
However, as we continue to make the control systems in our buildings more intelligent, we cannot afford to forget about our human systems. Real-time decisions are being made with information available through today's cutting-edge technology. How can we be sure that our people are prepared to interpret and act on that information appropriately?
The answer lies in continuing education.
You'll find that there are more options in education today than ever before. Embedded help screens within the BAS systems, distance education via the Internet, computer-based training modules, and traditional classroom style learning offer choices to fit every need and budget.
To grow BAS users into the knowledge workers the industry needs to run facilities at optimum performance levels users need to be given a solid foundation. That foundation should start with an understanding of the function of primary HVAC equipment and the functions and capabilities of different types of control systems. This operations team must also understand the strategies that can be employed to get maximum performance from a system and how to provide the productive and efficient building environment that will ensure that a facility adds value to the business.
Let's start by exploring the world of electronic learning systems: we'll call it e-DUCATION.
Often, the same systems that are monitoring and controlling the facility provide a platform for educating and helping knowledge workers to provide and maintain the desired safe, comfortable and efficient building environment.
This level of education might be something as simple as context-sensitive help systems. The facility operator views a screen filled with system information. By clicking on a help icon, he or she can view a mini-tutorial on system operation. For example, the operator can view the diagram of an air handler which is reporting an alarm condition. The tutorial can explain the operation of the air handler so the user can understand the impact of the alarm condition. These tutorials may be simple text-based help files with basic graphics or more detailed audio and video clips that explain the concepts and enable the operator to select an appropriate action in response to the alarm.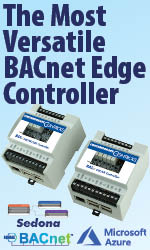 Decision-support tools may also be built into the systems to guide operators through the process of performing the right actions. These tools help inexperienced persons make the right decisions while helping them learn the process. As the user gains experience, he or she no longer needs to rely on the tools, but can make rapid decisions in real time based on the information presented.
Computer-based training (CBT), delivered at the user workstation or at home after hours, provides another means of enhancing the skill level of your facility staff. Designed for self-paced, individual use, these just-in-time learning opportunities allow workers to interact with the material and check their comprehension. CBT modules are excellent reference tools as well, enabling users to review material as needed.
Online (or Web-based) learning systems provide another means of instruction that can be used in the development of intelligent knowledge workers. Online learning modules are typically accessed through the Internet, or could even be accessible through your facility's Intranet. Similar to CBT programs, lessons are available when and where the workers need them, as often as they need them. There's quite a bit of educational content available through the Internet already, with more being added almost daily.
As the bandwidth of the Internet improves, Web-based learning will more frequently incorporate the power of audio and video to expand the range and effectiveness of learning over the Internet. Facility staff will be able to select the learning location and delivery style that best suits their needs and preferences.
Online learning systems may also include support systems to enhance the course work. Discussion groups allow learners from many facilities to discuss the concepts being learned, to share ideas and to solve problems together. Working in small groups, even if they are "virtual" groups, enables participants to improve the real-world application of their learning.
And don't forget that classroom-style learning is still available. It offers many of the same benefits that it always has: a chance to get away from the demands of the workplace to really concentrate on the material, hands-on learning with a qualified instructor, and face-to-face interaction with other building operations staff.
Tomorrow's facilities will be expected to operate at optimum performance and add value to the organization's business. Advanced building automation systems can provide a productive and efficient indoor environment, but require the intelligent intervention of human systems: your people. Give them the tools they need to deliver optimal facility performance successfully for your continued business success.
The Johnson Controls Institute has eight permanent training locations worldwide, each staffed with full-time professional instructors. For more information on the Institute and its courses, call 1-800-524-8540 or visit our Web site at www.johnsoncontrols.com/cg.
---


[Click Banner To Learn More]
[Home Page] [The Automator] [About] [Subscribe ] [Contact Us]