Erika.L.McGinley, Johnson Controls Inc
---
New Johnson Controls 2nd Generation Humidity and Temperature Sensors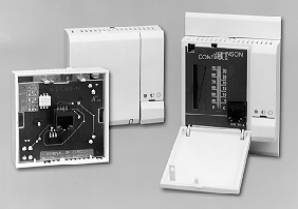 Two new 2nd Generation Johnson Controls sensors -the HE-6700 Series Humidity Sensors with temperature element and the TE-6700 Series Temperature Sensors - both provide unrivaled response time to room-comfort demands.










In tests conducted by Johnson Controls, both sensors responded within 8 minutes (± 2 minutes), or at least 25 percent faster than the competition.
During the testing, the industry's typical temperature sensors for space applications took between 25 and 45 minutes to respond. Results were measured at an industry-standard air flow of 10 feet per minute. The HE-6700 Series Humidity Sensors and the TE-6700 Temperature Sensors are part of the Time Response Improved (TRI) product line from Johnson Controls.
TRI performance provides:
Increased savings for building owners from reduced energy consumption;

Optimal Building Automated Systems performance:

Extended life of HVAC products by reducing system adjustments due to slow thermal response or inaccurate temperature reporting.
In addition, the HE-6700 Series humidity sensors offer a TRUERH™ patented circuitry and calibration process with ±2 and 3% true humidity accuracy. No more specsmanship from suppliers claiming to have accurate sensors or potentiometer adjustments in the field. Johnson Controls TRUERH offers optimal accuracy. Each 2% humidity device is shipped with a standard NIST (National Institute of Standards and Technology) Certificate. The duct sensors now offer an all plastic enclosure reducing thermal biasing, providing lower energy consumption, and reducing condensation.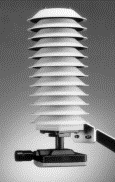 New Outdoor Relative Humidity (RH) Sensors
Johnson Controls Outdoor RH transmitter, Hx-67x3 Series, offers a unique weather shield that provides accurate humidity measurements even under harsh weather conditions. The multi-plate shield protects the sensor from solar radiation and precipitation permitting easy passage of air for fast response. It also offers high reflectivity and low thermal conductivity for accurate results while ensuring a long life, energy savings and occupancy comfort. A temperature sensor can be added measuring a wide range from -40 to 140 °F (-40 to 60 °C).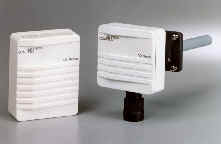 New Line of CO2 Sensors
A full line of carbon dioxide (CO2) sensors to help ensure proper ventilation, occupant comfort and 10-70% energy savings when used with demand control ventilation (DCV) strategies.
Wall and duct mount products feature a licensed, silicon-based CARBOCAPâ sensor. The CARBOCAP integration delivers several advantages including high accuracy and stability as well as ease of operation and negligible temperature dependence. The CARBOCAP's structure and reference measurement capabilities produce extremely stable and reliable results. Dust, water, vapors or most chemicals do not affect the measurement accuracy of this single-beam, dual-wavelength NDIR sensor.
For the first time in the industry, CO2 sensors are available in an integrated duct mount package style. Johnson Controls' CO2 probe sensor installs simply and quickly in the duct with no Pitot tubes, pressurized boxes, or additional mounting hardware required. All packages are UL listed. Each transmitter features a three-year warranty and requires no maintenance or field calibration for at least five years. Optional features include analog temperature, relay outputs, a digital display or combinations of these features.
CO2 sensors are designed for use in facilities with HVAC systems including demand control ventilation applications or to monitor and deliver fresh air or indoor air quality. The CO2 sensor also works well in light commercial and retail buildings with packaged rooftop units. For more information about HE-6700 and TE-6700 sensors or the new CO2 sensor line or other Johnson Controls products, call 1-800-ASK-JNSN or visit www.johnsoncontrols.com.
---


[Click Banner To Learn More]
[Home Page] [The Automator] [About] [Subscribe ] [Contact Us]