| | |
| --- | --- |
| | |
| Review of Worldwide CIBSE/ASHRAE | Ken Sinclair |
---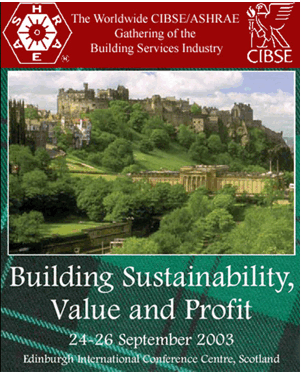 Jane and I have just returned from Worldwide CIBSE/ASHRAE Gathering of the Building Services Industry held on 24-26 September 2003 at the Edinburgh International Conference Centre. The conference addressed the issue of delivering sustainable buildings while remaining profitable and delivering value to clients. It offered advice and guidance as well as practical examples on how the building industry is achieving these goals.
For more information on the scope of this event check the CIBSE and ASHRAE web site links below.
For our North American readers who may not know who CIBSE is; With a membership of 15,000, one fifth of which is overseas, CIBSE (The Chartered Institution of Building Services Engineers) is an international body which represents and provides services to the building services profession.
The Institution has two main functions:
It confers an internationally recognised badge of quality.
It undertakes a wide range of learned society activities ranging from producing information services and acknowledged industry good practice publications in its series of Guides and other publications, to running a wide range of events, and to providing extensive networking activities through a series of regional and special interest groups.
Event information
CIBSE web site http://www.cibse.org/index.cfm?action=Showpage&TopSecID=5&PageID=331&L1=331
ASHRAE web site http://www.ashrae.org/template/AssetDetail/assetid/24510
At a press conference held at the gathering the trade media was asked by both Terry Wyatt, President of CIBSE and Richard Rooley, President of ASHRAE to join them in delivering their message about the need to reduce carbon emissions to the prescribed levels.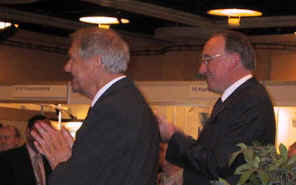 Terry compared our point in time to "the calm before the storm".
He said:
"A storm is coming and we'd better be ready for it.
"That's why my message to you at the beginning of this conference is to stress that sustainability isn't just a trendy fad, or a criteria box you can tick to keep a few fussy clients happy. Sustainability is right now fundamentally about acting for our survival as a human race and ensuring that we can have a decent quality of life across the globe. And with buildings consuming around half of all commercial energy and producing 50% of global carbon emissions, it's an issue where we as an industry are ideally placed and singly more obligated than any other industry to provide the solutions and point the way to an energy efficient, low carbon future."
The general feeling of the trade press at the conference was that the critical messages of both presidents' needed to be shared with more than just our industry.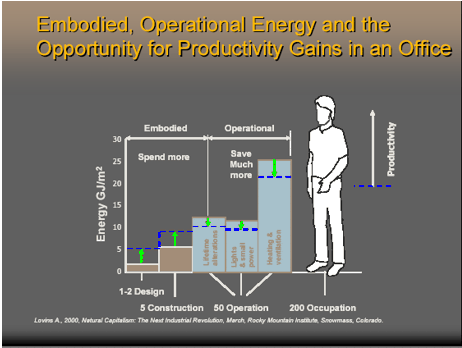 It was a very global event with very diverse content.
One presentation - Environmental Quality and the Productive Workplace by Professor Derek Clements-Croome, was a smorgasbord of global resources on productivity in the workspace. This graphic, one of many presented was originally prepared by Amory Lovens. It is very graphical and shows why our industry should move our focus to the productivity area.
The conference program complete with power points and papers of all presenters, plus the extremely interesting poster sessions are included on a single CD that was provided as part of the conference package. This is a tremendous resource to help us all understand how to reduce carbon emissions while greening buildings with the use of automation.
Every 4 years CIBSE and ASHRAE (American Society of Heating, Refrigerating and Air-Conditioning Engineers) join forces to host the gathering of the building services industry. This special partnership provides the building services industry with a unique global leaning and networking opportunity.
The conference brings together professionals from around the world to update, educate and influence the future of the industry with the clear objective of ensuring the development of better buildings through education, research and communication.
CIBSE/ASHRAE Conference press releases: Challenges for building services professionals / Carbon 60 Competition / Society of Fašade Engineering
This page shows the list of papers given at the 2003 CIBSE/ASHRAE Conference many of which are available to download as pdf files (where a link appears over the paper title). Please click on the session titles below to go to the appropriate section.
---


[Click Banner To Learn More]
[Home Page] [The Automator] [About] [Subscribe ] [Contact Us]