A Review of BAPI's "Free"
Temperature & Humidity Sensor Handbook

Ken Sinclair, Editor AutomatedBuildings.com.
---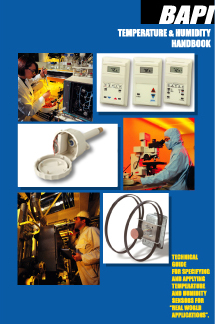 Just received by the snail mail one of the first copies of BAPI's new Temperature and Humidity Sensor Handbook. Yes this Handbook is being published in paper and is intended to be kept on the consultant's desk or in the control contractor's tool box. The Handbook also includes a CD-ROM containing samples specifications and a full-line catalog.
Who is BAPI? Following description from their web site http://www.bapihvac.com/
Building Automation Products, Inc. (BAPI) specializes as a manufacturer of sensors for the commercial heating, ventilation, air-conditioning and refrigeration (HVAC/R) industry. Related products include signal conditioners for platinum RTD's, humidity sensors, air quality sensors, and power supplies. Our focus on the technical aspects of these products and related services has proven to be a real solution to real needs.
BAPI maintains an informative web site with several complete pdf catalogs plus a complete overview of their sensor product line in HTML with links to detailed pdf cut sheets.
The intent of the Handbook is to remind and educate busy building automation professionals of the importance of good sensing in the complete building automation loop.
The handbook includes The History of Sensors, Overview, Details, with Specifying and Application notes complete with pictures. The pictures are very important as some players in the building automation loop do not understand the attention to detail necessary to ensure the correct sensor is applied to each application.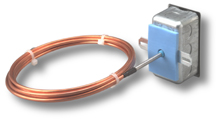 Here is an example: Ever had a consultant specify a single point sensor for use in a mixed air plenum large enough to drive a car through? This handbook gives you an opportunity to gracefully explain the subtle difference between Single Point, Averaging, and Multipoint sensing elements.
The Handbook also includes new sensors like Air Quality Sensors. The purpose of the air quality sensor is to control the amount of fresh air introduced by a ventilation plant and to reduce energy consumption. This is achieved by measuring the level of contaminant gases found in the controlled space and providing a signal to the ventilating plant to control the damper positions, thereby saving on the energy consumed by heating or cooling fresh air during periods of little or no occupancy.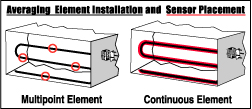 The principal feature of the air quality sensor is that the mixed gas level is monitored and not any one specific gas. The sensor, therefore does not distinguish between contamination from say tobacco smoke or cooking smells and people, thereby providing the air correction necessary for comfort as well as health.
The handbook even takes a shot at bringing the old RTD dinosaurs into the present with a great explanation on Thermistor vs RTD. I think RTD stands for Return To Dark Ages but they must still be in some boiler plate specs of yesteryears. I thought this issue was resolved 15 to 20 years ago during the DDC revolution. Don't get me started oops looks like it is too late :)
CLICK HERE to view an online version of the CD-ROM.
-or-
Contact BAPI to get your free copy of this valuable Handbook with CD-ROM:

Building Automation Products, Inc.
1829 Bourbon Road, Cross Plains, WI 53528

ph: (608) 798-3035 fax: (608) 798-3038
email: autbldg@bapihvac.com http://www.bapihvac.com

"Changing the way you think about sensors."
---

[Click Banner To Learn More]
[Home Page] [The Automator] [About] [Subscribe ] [Contact Us]