---
Distech Controls launches new VAV controller, the ECC-VAVS

Quebec, Canada, March 9th, 2007 – Distech Controls, a leading manufacturer of open building automation solutions, announced today the launch of its new VAV controller line, the VAVS. The ECC-VAVS, is a 2-input LONMARK certified configurable controller, in a compact enclosure, designed for cost efficient installations. The product is designed to make use of the latest technology and to provide the same application benefits offered by the ECC-VAV controller, Distech Controls' popular 4 input VAV controllers. The ECC-VAVS product line allows for a multitude of applications, such as the control of baseboards, duct heaters/cooling, fans, multi-stage heaters, floating valve actuators, lights, etc. Designed for the control of 1 floating valve, 2 on/off valves or 2 duct heater stages, it is a cost-effective product for installations that require a minimal use of inputs and outputs, such as internal building zones. The ECC-VAVS includes models for single duct VAV and VVT control and a model with integrated wireless receiver, for use with Distech Controls' wireless, battery-less sensors and devices. For more information concerning the ECC-VAVS, visit www.distech-controls.com
---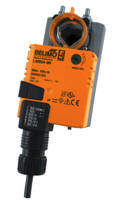 Belimo Introduces "New Generation" Actuator Technology for Valve and Damper Control

Belimo Aircontrols (USA) introduces its New Generation line of actuators, designed with the power, flexibility and efficiency that today's facilities demand. A host of programmable settings make these actuators easy to select and customize for a given application. Enhanced features include:

- Increased torque ratings (45in-lb, 90in-lb, 180in-lb and 360in-lb)
- Universal accessories such as auxiliary switches
- Flexible options such as longer cables and terminal strip protection
- Completely programmable operation for signal, running time and diagnostic capability
- Field-programmable MFT-types for open/close, modulating or 3-point control
-All actuators carry Belimo's 5-year warranty
Visit the website at www.belimo.com for more information.
---
Space-Saving Beckhoff CP72xx Panel PCs – The New "All-in-One" Controller/Display Solution
Arm-mountable Panel PC features powerful processor for control and TFT display in one compact, user-friendly device
MINNEAPOLIS, March 27, 2007 – Beckhoff Automation has announced the CP72xx line of Intel® M-Class Panel PCs, providing industrial applications integrated controllers with the most robust and high tech displays available. These high-performance Panel PCs are designed for simple mounting arm installation and integrate all features required for HMI hardware and advanced PC-based machine control - all in an ultra-compact, slimline housing designed for optimum user-friendliness.
Available in screen sizes of 12", 15" or 19", the IP 65 protected water- and dust-proof Panel PCs feature aluminum housings with high-end motherboards developed by Beckhoff. Powerful, yet compact PC components save valuable space, resulting in a housing depth of just 98 mm. These Panel PCs come with a powerful 1.5 GHz Intel® Celeron® M processor as standard and can be optionally equipped with Intel® Pentium® M processors up to 1.8 GHz. During the second half of 2007, the CP72xx will also be available with industrialized Intel® Core™ Duo or Core™ 2 Duo processors up to 2.16 GHz.
For more product information visit www.beckhoffautomation.com
---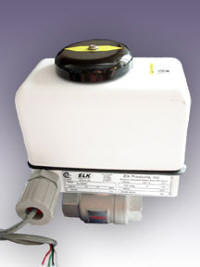 Elk Products Introduces the ELK-WSV Water Shutoff Valve
The ELK-WSV is a Professional Grade, electrically operated water shutoff valve for both residential and commercial use. Used in conjunction with an automation controller, leak detection devices, or a simple manual pushbutton, the WSV can easily and conveniently shut off the main water supply to the building. Unlike competitors units, the ELK-WSV is a stainless steel, 1" full bore, ball valve with commercial grade seats and seals. It is a "non-restricting" valve which meets the approvals of state and municipal water authorities. The motorized actuator has a permanently lubricated gear drive with sufficient torque to open or close the valve under high pressure or after long periods of inactivity. The ELK-WSV valve can be operated via a simple 12 Volt DC input from a security or automation controller such as the ELK-M1 Gold or M1EZ8. It can also be attached directly to a 12Vdc power source through a SPDT Emergency Pushbutton or "Easy: button for manual control. Operating time from fully open to fully closed is less than 5 seconds.
Visit www.elkproducts.com for more information.
---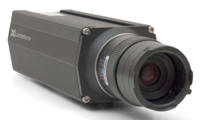 Lumenera Unveils Its First Intelligent Camera Model with Onboard Video Analytics
ISC West 2007, Las Vegas, NV – March 28, 2007 – Lumenera Corporation, a leading manufacturer and developer of high performance digital cameras and custom imaging solutions for security, industrial and scientific markets, today unveiled the Li045 - Lumenera's first intelligent family of cameras featuring onboard video analytics. Lumenera's new intelligent cameras greatly enhance the ability to detect potential threats and events in real-time, providing the opportunity for security personnel to interrupt a crime or attack while in progress. ObjectVideo video analytics heighten the effectiveness of digital video surveillance by offering automated, real-time detection, tracking and analysis of objects of interest and identification of potential threats. Equipped with TI's DaVinci™ technology-based processors, the Li045 makes use of Pixim Incorporated's Orca Chipset – an ultra-wide dynamic range (120+dB) sensor which overcomes the issue of washed out images in challenging lighting environments, and offers excellent color rendition and image quality in any lighting conditions. Additionally, the Li045 is the first intelligent camera to market with selectable MJPEG and H.264 compression to address user requirements for higher quality images or lower bandwidth to stream video data. Visit their website at www.lumenera.com
---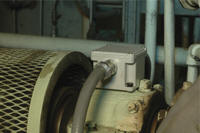 IMI Sensors New Electronic Vibration Switch for Alarm and Shutdown Protection of Fans, Pumps, Motors and Critical Machinery
March 9, 2007, Depew, NY, USA – The new Series 685B electronic vibration switch from the IMI Division of PCB Piezotronics offers two set points with individual alert and alarm levels. Many previous product options are now standard features with this new compact design. In addition to having two solid state or form C relays, each Series 685B electronic vibration switch includes a raw vibration output signal for spectrum analysis, 4-20 mA output signal for overall vibration trending, and unique 4-20 mA calibration feature, allowing for precise threshold setup. It has dual openings for easy wiring and installation. Series 685B switches are available as AC or DC powered units. Variable time delays prevent false relay trips due to machine startup or temporary upset conditions; and the switch can be implemented into a variety of applications, because of its ability to respond to acceleration, velocity, or displacement. For detailed product specifications, drawings or additional information, please visit www.pcb.com
---

HCM Introduces NanoCoreTM Gel-Free Loose Tube Fiber Optic Cables
Manchester, NH, March 7, 2007 – Hitachi Cable Manchester (HCM) is pleased to introduce its NanoCoreTM line of fiber optic cables. The line includes three new constructions of plenum-rated gel-free loose tube fiber optic cables. The three constructions include a 4 to 24 fiber optic strand zip cord, a single jacket construction that can accommodate from 2 to 12 strands and a more robust dual-jacket construction capable of accommodating up to 72 strands. Where more than twelve strands are present, they are separated by a colored binder into12-strand bundles. Designed to work with MT, MTP/MPO and other small form function connectors, the NanoCoreTM line of cables offers higher fiber strand counts in smaller diameter cables. With a UL rating of OFNP, these easy to terminate cables can be installed in plenum environments and therefore, virtually anywhere in a building. And, if you are using conduit or inner duct, the smaller diameter of the cable allows the use of smaller diameter conduit or inner duct, thus saving the owner money. Visit the HCM website at www.hcm.hitachi.com for more information.
---

Matrox Graphics launches TripleHead2Go Digital Edition
New multi-display upgrade converts one dual-link DVI output into three standard DVI outputs for triple-monitor use
Montreal, Canada, March 7th, 2007 – Matrox Graphics Inc., the leading manufacturer of graphics solutions for professionals, unveils the TripleHead2Go Digital Edition, the latest addition to the Graphics eXpansion Module (GXM) line. This new external graphics upgrade device allows users to convert a dual-link DVI output into three standard DVI outputs. TripleHead2Go Digital Edition supports a stretched desktop of up to 3840x1024 (triple 1280x1024)1 across three monitors, allowing an easy multi-display upgrade path for compatible notebook, desktop or workstation systems. Users of the TripleHead2Go Digital Edition can also choose to operate in DualHead® mode with a combined resolution of up to 3840x1200 (dual 1920x1200)1. For more information, visit www.matrox.com/graphics.
---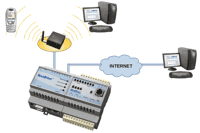 Remote web based I/O server - Active event management
Halmstad, Sweden, March 05 -- IntelliCom announces updates to the NetBiter product for active event / alarm management, together with data logging and web based data access. The NetBiter product provides event management where the device itself can detect and send event information to users as email, SNMP, Modbus TCP or SMS to mobile phones. Events can be configured to appear on I/O changes or at specific Modbus register changes. The built-in data logger can display trend graphs right on the web pages or simply email the log files to an authorized email address. The NetBiter I/O Extender provides a range of I/O possibilities: 4 Digital Inputs; 4 Digital Outputs; 2 Analog Inputs; 1 analog Output; 2 RTD (Temperature) More information here: http://www.netbiter.com
---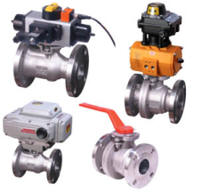 Assured Automations Announces New Flanged Ball Valve
Fire-tested Design Meets Stringent Requirements of Refinery, Petrochemical, Chemical Process, Process Control, Water and Waste, and Pipeline Applications

The Assured Automation 4000 Series (150 or 300 ANSI) flanged ball valve is available in full port or standard port design. The body is available in carbon steel or stainless steel, trim (ball and stem) are 316SS. The 4000 Series is Fire-tested to API607 4th Edition & ISO 10497 with TFM seats providing superior high temperature performance and chemical resistance. ISO 5211 direct mounting with adjustable packing is a unique feature of the 4000 Series product line. It can be equipped with a manual handle or with direct mount pneumatic or electric actuators. The direct mount actuators eliminate the valve-actuator mounting kit provides compact assembly to ease installation and eliminates unnecessary height and expense. A full range of accessory items is available including limit switches, solenoid valves, positioners and manual override devices. Visit www.assuredautomation.com
---
---


[Click Banner To Learn More]
[Home Page] [The Automator] [About] [Subscribe ] [Contact Us]