News Briefs
Electronic Lighting, Inc. Announces Participation in CellNet Data Systems' Application Partners Program
Electronic Lighting Inc. (ELI™), one of the nation's leaders in the design and manufacture of controllable fluorescent lighting systems, has become the first lighting manufacturer to participate in CellNet Data System, Inc.'s (NASDAQ: CNDS) Application Partners Program (CAPP).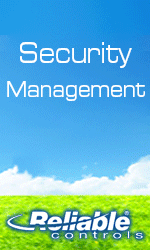 As a CAPP member, ELI uses CellNet wireless network technology with ELI's controls and dimmable ballasts to give facility managers monitoring, verification and control over the lighting electrical loads. In a project currently underway in Southern California, these collective technologies are being applied in several innovative ways. CellNet endpoint devices collect demand (kW) data from the building's electrical meters and low-voltage lighting control panels. Additionally, analog signals from ELI photosensors are captured to validate daylight harvesting. CellNet transmits this data to its server on the Web where it is analyzed and displayed graphically to depict lighting system performance. A facility manager can access this data via the Internet to manage energy costs by reducing the electricity demand of lighting systems during peak demand hours.
Siemens Building Technologies Looks to Asia Pacific for Growth (29.06.99)
Singapore – Zurich, Switzerland – The global building technologies company Siemens Building Technologies is targeting Asia Pacific as a region for strong growth in the next five years. At a press conference in Singapore today, Siemens Building Technologies' President and CEO Oskar K. Ronner announced a growth in global net sales to DEM3.7 billion* for the first half of the current fiscal year (October 1, 1998 – March 31, 1999).

North America's Home and Building Automation Association, is a key source of information, networking and conferences. We have grown to over 290 members including, most recently, AutomatedBuildings.com, Axlon Electronics, Cahners In-Stat Group, Draper & Associates, ELAN Home Systems, emWare, FTM Consulting, HH Expos, Home Wireless Networks, Intelligent Building-Systems Integration Ltd., Invensys, K2Vision, NAPCO Security Group, OnQ Technologies, Power Trunk Corporation, Southam, Inc., Sprint and West Penn Wire-CDT. Follow our link through HomeToys.com or visit our website at http://www.caba.org for more information. While you are there feel free to access free samples of our CABA Home and Building Automation QUARTERLY, Information Series and Event Reports at our sub-page http://www.caba.org/derek. For more information please contact David Dern, CABA Marketing Director. Phone: 888.798.CABA (2222), or 613.993.6760. E-mail: dern@caba.org.

News from Cristal Controls. The first true Lonworks® low voltage lighting control system. This new software runs on Windows® 95 or 98. The user has the ability to reprogram or apply schedule modifications and logins for relamping, renaming relays (panel or group) in a user-friendly structure. For a demonstration version please call or email a request At pchaput@cristalcontrols.com

JOHNSON CONTROLS OFFICE COST INDEX REPORTS ANNUAL COSTS TO OFFICE AN EMPLOYEE TOTAL $2,690

The Johnson Controls Office Cost Index Survey to Provide Property and Facility Managers Key Benchmarks

ATLANTA - (May 11, 1999) - It now costs an average of $2,690 per year to provide an office-based employee with a place to work, according to the Integrated Facility Management 1999 Spring Business Briefing, an index of costs and trends in facility and real estate management published by Johnson Controls.

This cost has increased nearly 1.2 percent compared with the analysis provided in the 1998 Fall Business Briefing, which documented the average cost per occupant at $2,659.

July, 1999 - Greenheck offers AMCA-licensed Fire/Smoke Dampers. The Air Movement and Control Association (AMCA) has verified the air performance of more than 75 percent of Greenheck's combination fire/smoke dampers.

SILICON ENERGY CORPORATION NAMES ELLEN R. SALISBURY AS VICE PRESIDENT OF ENGINEERING

ALAMEDA, CALIF. – July 14, 1999 -- Silicon Energy Corporation, the first company to market with an enterprise-level energy-management software platform, today announced the appointment of Ellen R. Salisbury as vice president of engineering. With over 30 years of experience in the software industry, Salisbury will manage all aspects of software development for Silicon Energy's Enerscape

TM core product modules, including product design and development, product release, and new feature integration.
---


[Click Banner To Learn More]
[Stay Informed - Subscribe to our Update Mailing List]
[Home Page] [Contact Us] [The Automator - Current Issue]
[News] [Systems] [Products] [Resources] [About]

Visit Home Toys to Learn about Home Automation
Web Design by HomeToys
©Enviromation 1999