Two Product Showcases Return to 2002 AHR Expo









Westport, CT. - Two popular, high-tech product showcases - the Building Automation and Control (BAC) Showcase and Software Center - will once again be featured at the International Air-Conditioning, Heating, Refrigerating Exposition (AHR Expo"), January 14-16, 2002 at the Atlantic City Convention Center in Atlantic City, New Jersey.
Both showcases are located on the show floor and are designed to serve as a "show within a show" featuring the latest in BAC and software products for the HVAC&R industry. Every year, these are two of the most well attended and exciting areas of the show floor.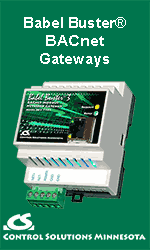 BAC Showcase: This pavilion has proved to be a very popular area and an excellent opportunity for companies to introduce new innovations in technologies that make buildings more efficient. Products and technologies on display include facility management systems, building automation systems, integrated climate control systems, network integration products, and other networked building systems including lighting, security, and energy products. There are currently more than 100 exhibitors signed up to participate in the BAC Showcase at the 2002 AHR Expo.
In addition, a series of seminars on building automation will be conducted during the 2002 Expo by Ken Sinclair, editor/owner of the online industry magazine, AutomatedBuildings.com, and David J. Branson, PE senior vice president, Compliance Services Group, Inc. For more information on the program visit www.automatedbuildings.com/news/nov01/rev/ahr/sessions.htm
Software Center: This pavilion offers the latest software solutions in key management areas such as accounting & business management; energy analysis; equipment selection, estimating, pricing & contracts; project & service management & maintenance; inventory control; and sizing & system specification analysis. Many of the more than 1,000 exhibitors outside the Software Center also showcase software at their booths.
---

[Click Banner To Learn More]
[Stay Informed - Subscribe to our Update Mailing List]
[Home Page] [Contact Us] [The Automator - Current Issue]
[News] [Resources] [Products] [eDucate] [About]

Visit Home Toys to Learn about Home Automation
Web Design by Enviromation