Andover Controls Provides Valley Tech Students with Advanced Learning Opportunities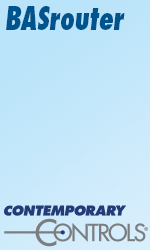 Andover, Mass. - Andover Controls Corporation, a leading high-tech manufacturer of "Intelligent Building Systems" for HVAC, security management, and process control applications, recently donated building automation equipment valued at more than $50,000 to officials at Blackstone Valley Regional Vocational Technical High School in Upton, Massachusetts. This donation will allow students in the local vocational technical system to strengthen their familiarity with state-of-the-art building automation controls they will encounter in today's technically oriented workplace.
Given the multi-faceted capabilities of this highly technical equipment, students being trained for electronic, electrical, drafting, and automotive technology careers could also benefit from the donation. School officials hope that the Andover Controls equipment will form the nucleus of a two-year selective course to be offered to juniors next year.
This is Andover Controls' first training endeavor at the secondary school level. Until now, training in the use of the company's equipment has typically been provided in the workplace or in a post-secondary technical training center or college setting.
To find out more about Andover Controls, visit its web site at www.andovercontrols.com.
---


[Click Banner To Learn More]
[Stay Informed - Subscribe to our Update Mailing List]
[Home Page] [Contact Us] [The Automator - Current Issue]
[News] [Resources] [Products] [eDucate] [About]

Visit Home Toys to Learn about Home Automation
Web Design by Enviromation