---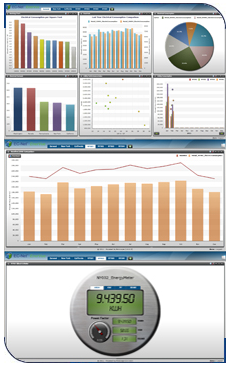 Distech Controls' EC-NetAX EnerVue Web-based Energy Management Dashboard Provides Actionable Analytics that Drive Business Decisions

Distech Controls, a leading provider of building automation and energy management solutions announced the availability of EC-NetAX EnerVue Web-based energy management dashboard. EC-NetAX EnerVue provides proven visualization of vital building metrics through an easy-to-use, browser-based dashboard application. EC-NetAX EnerVue allows users to quickly identify issues, assess relationships, and take action in order to optimize resource efficiencies and sustainability, and ultimately increase energy and operational cost savings across their building portfolio. The application makes use of, and converts into graphics and reports, large amounts of real-time and historical data available in Distech Controls' EC-NetAX Web-based multi-protocol building management system. EC-NetAX EnerVue is appropriate for a broad choice of users responsible for controlling, monitoring, and conserving energy in a building, from owners/operators, to energy managers, to consulting engineers. Suited for single or multiple site installations, EC-NetAX EnerVue allows building managers, energy managers, and executives to identify the greatest opportunities to reduce energy costs, validate capital upgrades, and track their return on investment (ROI). Equally useful for both new buildings, as well as retrofits, EC-NetAX EnerVue enables quick identification of locations that are deviating from their past performance, or operating outside the norm for similar structures.
To learn more, visit www.distech-controls.com.
---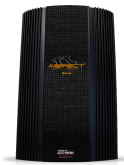 AspectFT‐Nexus™ area controller - American Auto-Matrix

American Auto‐Matrix®, manufacturer of Building Integration, HVAC, and Lab and Fume Hood controls for commercial and industrial applications, announced the release of the AspectFT‐Nexus™ area controller. This device is designed to integrate and manage a wide array of HVAC, monitoring, and critical building systems while giving the user the power and convenience of modern web technologies. With the AspectFT‐Nexus, users get the horsepower of a server with additional ports for building automation applications. Through the use of the AspectFT® technology, a standard web browser can be used to access web pages designed to display critical building information, including historical trends, alarms, energy data, and more. With AspectFT‐Nexus users get the convenience of the internet combined with a powerful building control solution.
For more information please visit http://www.aamatrix.com
---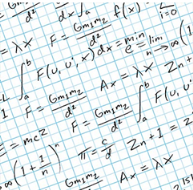 Control See introduces Compound Alarm Condition
The U.C.ME-OPC version 2012, a leading tool for alarm notification and remote control introduces an integrated built-in alarm expression builder and calculator that reduce the time for the alarm definition/maintenance and also helps to avoid false and nuisance alarms. Innovative capability enables flexible two-way communication. No matter where you are, you can exploit U.C.ME-OPC™'s remote bi-directional control functionality via multiple channels such as SMS or phone, ensuring that alerts are promptly addressed. The remote control also provides the capability of changing set-points, query field values, suspending or resuming alarm notifications and more. U.C.ME-OPC™ employs an escalation procedure that can be customized to ensure that alerts are delivered to alternative recipients. Remote alarm acknowledgement prevents unnecessary repeat alarm notifications – reducing nuisance alarms and reducing costs.
For more information visit http://www.controlsee.com



---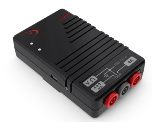 The Revolutionary iDVM Wireless Multimeter and Data Logger

iDVM is the world's first iPhone, iPad, & iPod touch enabled digital multimeter and data logger. This new digital voltmeter makes measuring and data logging resistance, voltage, and/or current easy! With iDVM, you can easily capture, store and share data wirelessly! No other product on the market combines all of the features iDVM offers or surpasses its 100ft (30 meter) wireless range! Redfish Instruments is a manufacturer of iPhone, iPad, and iPod Touch-enabled electrical test and measurement systems. Redfish seeks to provide engineers and technicians a more user friendly way to acquire, store, share and visualize electrical measurements.

For more information about Redfish Instruments and its products, visit www.redfishinstruments.com.
---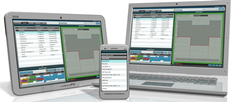 Incenergy Announces New iPhone and Android app to increase Energy Efficiency for Commercial Building Owners and Operators

Incenergy announces its new iPhone application, which gives on-the-go building owners and property managers instant insight and fine-tuned control of their EMS system to increase building efficiency across commercial portfolios. The mobile app provides features such as full device level override functionality, refreshable telemetry graphing and multi-site organization of building portfolio, plus 12 other features and functions. The application is compatible with iOS 3.2 or later and runs on iPhone, iPad and iPod Touch. The Android run on version 1.6 or greater.

For more information on the apps functionality go to; http://www.incenergy.com/mobile


---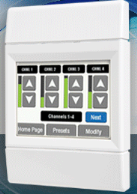 The perfect lighting preset is only a touch away!

The new SYGS Graphical Control Station from Synergy provides affordable, intuitive touchscreen control of lighting in one sleek, compact device. The 3.5" high resolution touchscreen allows the user to easily program customized lighting presets for multiple channels. With a touch of the screen the system activates and presents the user with a list of lighting presets. With 16 presets and up to 32 channels, modifications such as dimming, light levels and fade times can be modified. The user can customize names for preset and channel buttons, making it easy to select the perfect light preset for any application.
For more information about Acuity Brands Controls visit http://www.acuitybrands.com/Brands/Controls.aspx

---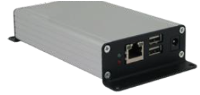 GreenBox Mini BMS
Greenologic brings you a stand-alone, multi-protocol system including LonWorks, ModBus/485, ModBus/TCP, BACnet/IP and BACnet MS/TP. With embedded GreenView, a web-based graphical interface for building automation and process/access control systems. A huge number of buildings, especially small buildings will have absolutely no form of control or monitoring capabilities. In these instances, it will be unproductive to install a full-blown BMS, which is where GreenBox comes into play. Combine GreenBox with 2B Connection , and allow any building to now have the means of monitoring and control remotely via the Internet, creating a reliable and robust wireless mini BMS System
The Linux operating system is used for enhanced security and stability. The user interface utilizes Adobe Flash to allow for advanced graphical features, platform-independence and drag and drop setup. Absolutely no knowledge of HTML, XML, Flash, JavaScript or any other programming language is required to set up or use GreenBox. All set up and user interactions are performed via a web browser. No dedicated PC or external applications are required.

For more information visit http://www.greenologic.co.uk

---

Touch Panels with Built in Control System

Aurora Multimedia Corp has a complete line of in-wall / podium / rack mount touch panels in a variety of sizes and colors to control just about any AV and environmental equipment on the market. What makes our panels different is the added value of having control ports and a full control system built in without the need for additional remote units. Currently we offer 3.5", 4.7", 7", 10.1" and the all new 13.3". The 7", 10.1" and 13.3" are available with video preview option for composite, S-Video, YPbPr, RGB, and HDMI. All panels have unlimited port expandability and have built in web servers to work with iPads, iPhones, Android based devices, computers, or just about anything with a web browser. Tools are available for free (YIPI & WOWE) for content creation and programming. For multi-room installs we offer TRACS which is an global asset management software designed to run on Linux, Windows, and OS X. Best of all is the pricing. By combining these technologies into a complete all in one solution, it is the most cost effective control product with superior capabilities compared to other market offerings.

For more information visit http://www.auroramultimedia.com

---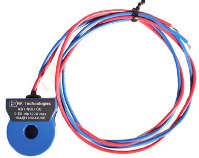 Easily Monitor Energized Circuits in Tight Spaces with new AS1 Compact Case Current Sensing Switch from NK Technologies
NK Technologies introduces the AS1 Series Compact Case Current Sensing Switch. With its tiny 1 inch housing, the AS1 is a compact and cost-effective solution that enables users to monitor an energized circuit in tight spaces. The easy-to-use ring design easily slips onto a conductor to reliably detect currents as low as 0.5A with a single conductor pass, eliminating the need to wrap conductors multiple times. Reliable, solid-state output with no moving parts provides a nearly unlimited number of operations. The AS1 has 24 inch leads that can be connected directly to controller input terminals or brought out to a terminal block to facilitate remote operation. The contact can control either AC or DC circuits to 120 volts, with a maximum load capacity of 150mA. There is near zero off-state leakage providing positive indication of the presence of AC current, and the output easily handles the coil of an industrial quality relay.

For more information visit http://www.nktechnologies.com
---
New data logger for humidity, temperature, CO2 and air pressure

The new HUMLOG20 data logger from E+E Elektronik does not need to hide in any application. The state-of-the-art, elegant housing and the large display make the data logger a real attention-grabber. The current measurement values can be read off easily thanks to the large display, even from a distance of several metres. The excellent price-performance ratio and the corresponding optics make the HUMLOG20 the optimal choice for numerous applications. Typical fields of application include the monitoring and recording of humidity, temperature, CO2 and air pressure in museums, conference rooms or classrooms as well as climate monitoring in clean rooms, greenhouses, storage rooms or calibration laboratories.
For more information visit http://www.epluse.com


---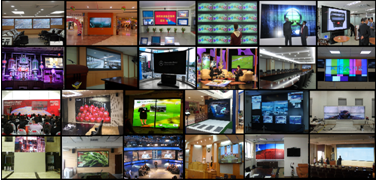 CIMA Digitec Multi display manufacturer in Korea
1. Multi PDP Displays

1) 120" Multivision Display: Consists of 4 60" PDP Panels. Seam size 3.6mm.
2) 60" Multivision Display: 60" seamless panel that has no restriction in configuration. Seam Size Only 2.8mm.

2. Multi LCD Displays

1) 46" LCD Multi Display: Infinitely expandable, Seam size 7.3mm.
a. CL-46CMH10: 450 cd/m2 Model
b. CL-46CMH20: 700 cd/m2 Model

2) 55" LCD Multi Display: Full HD. LED BLU. Seam Size 5.7mm. 700cd/m2.
Visit http://www.cimadigitec.com for more information.


---
---


[Click Banner To Learn More]
[Home Page] [The Automator] [About] [Subscribe ] [Contact Us]