November 1999
Delta is hosting live demonstrations of "BACnet™ in MOTION" aboard the BACbus, a mobile training and presentation facility. Delta Controls Inc. will be exhibiting at the 2000 AHR Expo, February 7-9, in Dallas, Texas. This is the largest annual HVACR trade show in North America. Contact Delta Controls via our web site and book a demonstration time to join us at booth #2315.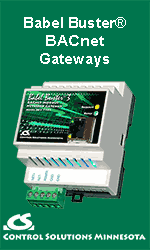 Delta's ORCA series of native BACnet™ controllers deliver connectivity at all levels. This modular, scalable and user-friendly DDC system can be centrally controlled through ORCAview™. ORCAview's top to bottom, native BACnet™ operator interface provides superior 3-D mechanical graphics. Facility operators may navigate and seamlessly control multiple vendor products and multiple remote sites with ease. ORCAview allows Delta to lead the way and make the difference in serving your interoperability needs.
As an ISO 9001 certified manufacturer, Delta ensures you receive quality product through our world wide partnership network. To learn more about Delta Controls Inc. and our world of intelligent control solutions, visit us on the web at www.deltacontrols.com.
---


[Click Banner To Learn More]
[Stay Informed - Subscribe to our Update Mailing List]
[Home Page] [Contact Us] [The Automator - Current Issue]
[News] [Systems] [Products] [Resources] [About]

Visit Home Toys to Learn about Home Automation
Web Design by HomeToys
©Enviromation 1999