Coactive Networks Extends Control Systems to the Internet with Router-LL 4.0
Fourth-Generation Tunneling Router Enhances Performance and Streamlines Installation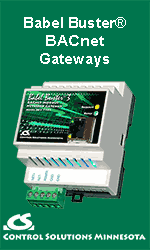 SAUSALITO, CA - February 7, 2000 - Coactive Networks, the leader in connecting open control systems to Internet technologies, today announced the availability of the Coactive Router-LL 4.0, Coactive's fourth-generation multi-protocol tunneling router. The Router-LL 4.0 accommodates both large and small facility control systems, providing instant configuration options and easy changes across an entire network.
The Router-LL 4.0 extends building and industrial control systems across Internet Protocol, enabling control systems to take advantage of building LANs as well as network resources such as remote access and wide-area links. A network architecture using the Router-LL can dramatically reduce wiring costs and enhance system functionality. The Router-LL 4.0 expands Coactive's Router family by providing a complete web interface and unique "V-Hub" and Central Configuration Server features for easy administration, as well as a host of additional features to enhance security and performance.
The Coactive Router-LL 4.0, which is shipping this quarter, is sold through distribution partners and value-added resellers (VARs) as well as Coactive's System Provider Partners (SPPs). For more information, please contact Coactive at 1-888-COACTIVE (1-888-262-2848) or via the Web at www.coactive.com.
---


[Click Banner To Learn More]
[Stay Informed - Subscribe to our Update Mailing List]
[Home Page] [Contact Us] [The Automator - Current Issue]
[News] [Systems] [Products] [Resources] [About]

Visit Home Toys to Learn about Home Automation
Web Design by HomeToys
©Enviromation 1999