---
Reliable Controls® unleashes the power of the MACH-Pro™ Series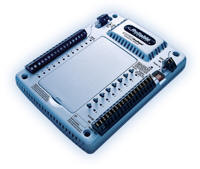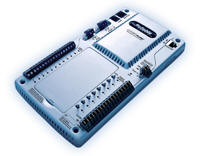 Reliable Controls® is proud to announce the release of two new products, the MACH-ProSys™ building controller and the MACH-ProPoint™ expansion module. Two years in the making, these products recently made a prominent splash at the AHR Expo 2008 in New York and are now available for purchase through a Reliable Controls® Authorized Dealer near you.
The MACH-ProSys™ is a sleek and powerful 32-bit based BACnet® device that delivers unprecedented value in a high performance programmable building controller.
The MACH-ProPoint™ is a general purpose expansion module designed for use with the MACH-ProCom™ and MACH-ProSys™ BACnet® controllers.
For more information on these exciting new products visit www.reliablecontrols.com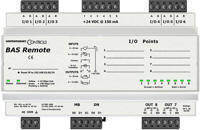 Contemporary Controls' BAS Remote Upgraded to Support Modbus/TCP Protocol in Addition to BACnet/IPÒ
Downers Grove, Illinois (Janurary 29, 2008) - Demonstrated at AHR Expo 2008, Contemporary Controls' BAS Remote has been upgraded to support the Modbus/TCP protocol in addition to BACnet/IP. Any Modbus/TCP client can read the BAS Remote inputs and write the BAS Remote outputs. The BAS Remote also acts as a Modbus router. A Modbus/TCP client can also communicate with 2-wire Modbus-RTU or Modbus-ASCII devices which are connected to the Modbus (MB) port of the BAS Remote. Another upgrade to the BAS Remote is the ability to provide 150 mA at 24 VDC to function as a power supply for any loop devices that need to be installed.
For more information visit www.ccontrols.com
---
American Auto-Matrix preparing to release three new variants of the small display in February
The NB-SD (BACnet Small Display), The FHC-SD (Fume Hood Controller Small Display), and the BBC-SD (BACnet Building Controller Small Display). Two of these products in particular (the FHC-SD and the BBC-SD) are industry firsts and we would like to promote their unique capabilities.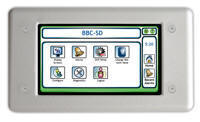 BBC-SD
BACnet

Building Controller Small Display
T
he BBC-SD, available through distribution, is a BACnet MS/TP-based touch-screen interface providing local display information for BACnet-based Building Automation Systems. Through utilization of the intuitive graphical interface, building owners and tenants can navigate through the local display to learn more about working variables such as temperatures, set-points, schedule parameters, alarm data and much more. The BBC-SD can integrate with systems of any size as well as interact and display information from any BACnet device regardless of manufacturer or vendor.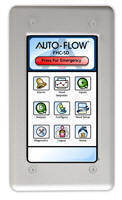 BACnet Small Display and Fume Hood Controller

The NB-GPCFHC in combination with the FHC-SD color touch-screen Local User Interface (LUI) offers unprecedented technology combined with flexibility of control found nowhere else in the industry today. Through utilizing the NB-GPCFHC™, fume hoods can now be configured to support either Face Velocity or Sash Position methods through a single BACnet® controller. In addition, flexibility is expanded through the use of the FHC-SD, a color touch-screen display that offers multiple levels of configurability and accessibility; designed to give users security and safety on a highly visible, live local user interface.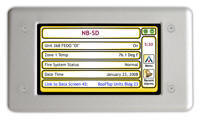 NB-SD
Native BACnet Small Display

For more information on the American Auto-Matrix API line of small displays please visit www.apidisplays.com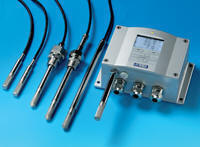 Humidity Transmitter HMT330 from Vaisala features integrated data logging
Vaisala HUMICAP® Humidity and Temperature Transmitter Series HMT330 now offers several new features including a data logging option, Chinese as a new user interface language, the new generation Vaisala HUMICAP® 180 R sensor and a USB connection cable for computers. In addition, the HMT330 has a new display with a white background light for easier reading. The new data logging option is a module that is slotted into the transmitter. The module has an enhanced memory that can store data of three measured parameters. When logging is fixed at 10 second intervals, data can be stored for as long as 4 years and 5 months. A real-time clock with a battery backup ensures accurate date and time stamps even when no power is supplied to the transmitter. The logging feature does not require any pre-setting; data is ready and available when needed. The stored data can be viewed graphically on the display throughout the logging period, and the user can zoom in and out as necessary. Any period of measured results can be downloaded via a serial interface to a computer.
Vaisala also introduces the new generation of its proven Vaisala HUMICAP® Relative Humidity Sensor, the HUMICAP®180R. This new sensor provides further improved long-term stability and chemical tolerance as well as resistance against various contaminants.
For more information visit
www.vaisala.com/HMT330
1-2-1VIEW Introduces New Products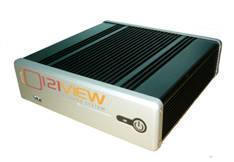 1-2-1VIEW will showcased its new generation Linux-based media player with H.264 capability at Integrated Systems Europe in Amsterdam. Designed for digital signage operators looking to "wow" their audiences with high quality content, the Ninja N406 is the latest addition to 1-2-1VIEW's award winning portfolio of media players. Supporting resolutions from 800 x 600 to high quality 1366 x 768, the N406 delivers content in pristine quality to take full advantage of the high resolution offered by HD-ready displays widely available now. The Ninja N406 is small and light weight at just 1.6kg and can display both information updates in real-time and pre-stored video content simultaneously. It also supports multi-zoning with different content which can be easily controlled through 1-2-1VIEW's one-click to go, web-based management software.
Also launched at ISE 2008 was 1-2-1VIEW's fully integrated InterFaceTM Viewer Validation Tool that accurately tracks quantity and duration of viewership, providing operators and advertisers with sought after viewership data. Developed in-house by 1-2-1VIEW, InterFaceTM is based on unique Viewership Validation technology that accurately tracks quantity and duration of viewership in real time across a digital signage network. 1-2-1VIEW InterFaceTM provides sought after viewership data as opposed to relying on estimates or paid surveys, enabling network operators to charge a premium for advertising space and maximise their network's effectiveness. Operating with most common webcam brands, InterFaceTM enables multiple cameras to be linked to get a wider or semi-panoramic viewing angle to cover larger audience areas to give operators maximum flexibility.
For more information visit www.121view.com
---

Standardize Your Control Systems Documentation
Control System Documentation: Applying Symbols and Identification, 2nd Edition
Thomas McAvinew and Raymond Mulley
Ideal for engineers, managers, salespeople, technicians, and students, this book brings together in one place most of the symbols and identifiers that are related to instrumentation, subjects them to objectively critical review, and gives practical examples of their application in the form of sample P&IDs and numerous examples of symbols and tagging concepts.
To order visit www.isa.org/
---
Independent Study Course on SCADA Technology

SCADA: Supervisory Control and Data Acquisition, 3rd Edition
Stuart A. Boyer
Supervisory control and data acquisition (SCADA) technology has evolved over the past 30 years as a method of monitoring and controlling large processes. This reference book offers overviews of SCADA's component technologies, as well as details necessary to understand the big picture. SCADA processes cover areas that may be measured in the thousands of square miles, and have dimensions that may be hundreds, occasionally thousands, of miles long. Now a mature technology, SCADA includes, but is not limited to, software packages that can be incorporated in a larger system.
To order visit www.isa.org/
---

Elk Products, Inc. launches ElkGuardTM
Elk Products, Inc. launches self-contained, wireless security system. ElkGuardTM has built-in siren, motion detector, and GSM Cellular Communicator and operates up to 3 months without AC power. It supports up to 23 additional wireless sensors. Ideal for construction sites, homes without land lines, apartments/dorms, marinas/boats, mobile structures, and more.
For more information visit www.elkguard.com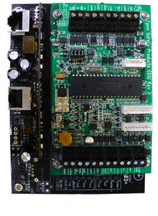 Power over Ethernet Access Control - Completing the CEM IP Solution
The DIU 220 (Power over Ethernet Door Interface Unit) completes the CEM IP security solution. As one of the key players in the market, CEM Systems has taken advantage of PoE Plus technology to be the first in the industry to offer 1.6 Amps to reliably power a complete door set (consisting of a controller, two 650mA Maglocks, door holder, sounder and strobe) via one CAT 5/6 Ethernet cable. Using CEM's range of intelligent IP card readers the DIU 220 completes the CEM IP solution. Clients simply allocate an IP address for the Ethernet card reader at the door and connect directly to the central communications room using the DIU 220 (Door Interface Unit) - taking advantage of connectivity via Power over Ethernet. With an internal database for offline card validation, the IP readers also ensure the highest possible level of security as they uniquely continue to operate at all times

For more information visit http://www.cemsys.com

---
---


[Click Banner To Learn More]
[Home Page] [The Automator] [About] [Subscribe ] [Contact Us]