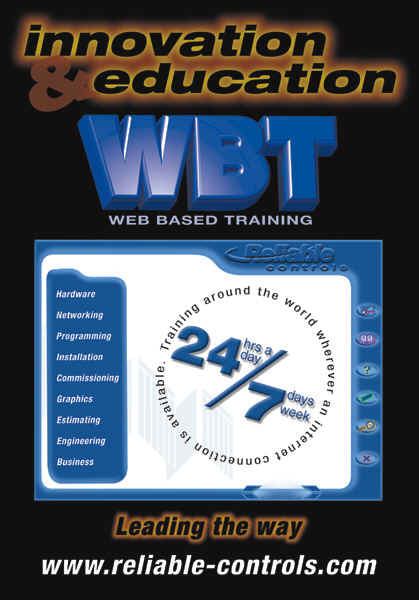 Reliable Controls Delivers Web Based Training for HVAC Controls
In September 1999, Reliable Controls of Victoria, British Columbia, Canada, began delivering training using self-study, Computer Based Training (CBT) methods. Now these informative and exciting courses are available as Web Based Training (WBT) modules over the internet. Courses cover a variety of MultiNet Building Automation System topics at introductory, novice, intermediate and advanced levels. Registration, delivery and evaluation are all completed using free-streamed media over the internet. To view the introductory module free of charge, simply visit the Reliable Controls web site at www.reliable-controls.com, download the Macromedia Authorware player, and you're ready to enter the world of web based training. Look for abstracts of available courses, fees and registration details to appear soon. For more information call Reliable Controls at (250) 475-2036, visit the web site at www.reliable-controls.com, or come to the Dallas show and visit Reliable Controls in booth #2806.
Reliable Controls Steps Up International Dealer Recruitment Efforts
Looking for a new DDC controls line that is simple to install and program, yet is flexible enough to cover a diverse range of automation applications? Come to the ASHRAE show in Dallas and visit Reliable Controls at booth #2806, and speak with company executives to understand the benefits of becoming a MultiNet Building Automation System dealer. With over 30 independent MultiNet Building Automation System dealers across Canada, and a strong track record of innovative designs, outstanding technical support and competitive pricing, Reliable Controls is ready to accept international dealer applications from your controls company based outside of Canada. For more information please call Reliable Controls at (250) 475-2036 or visit the web site at www.reliable-controls.com.
---


[Click Banner To Learn More]
[Stay Informed - Subscribe to our Update Mailing List]
[Home Page] [Contact Us] [The Automator - Current Issue]
[News] [Systems] [Products] [Resources] [About]

Visit Home Toys to Learn about Home Automation
Web Design by HomeToys
©Enviromation 1999