News Briefs
BACnet Specifiers' Guide Now Available! NISTIR 6392, GSA Guide to Specifying Interoperable Building Automation and Control Systems Using ANSI/ASHRAE Standard 135-1995, BACnet, is now available for public use and download in Adobe .PDF format. The NIST Information Report was prepared by NIST under contract to the General Services Administration for use by GSA "staff or design consultants when preparing specifications for interoperable building control systems using BACnet technology." While not a "guide specification" per se, the document explains the issues that need to be considered when specifying the communication details of a BACnet communication system and makes some recommendations for the choices involved. The IR is intended to complement more general guidelines for direct digital control systems in buildings by providing detailed suggestions for specifying BACnet as the data communication protocol of choice
---
AlliedSignal-Honeywell Merger Receives Clearance From European Commission; Will Close Merger Later Today To Launch New $24-Billion Technology Leader Called Honeywell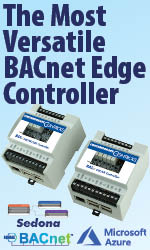 MORRIS TOWNSHIP, New Jersey and MINNEAPOLIS, Minnesota, (December 1, 1999) -- AlliedSignal Inc. and Honeywell Inc. announced today that they have received clearance from the European Commission to complete their merger. The companies said they plan to complete the merger today after the close of trading on the New York Stock Exchange, marking the historic launch of a new $24-billion global technology company operating under the Honeywell name
---
WIRELESS 2000
February 28 - March 1, 2000—New Orleans, Louisiana
Aeris will be exhibiting WIRELESS 2000—the Premiere Event for the Wireless Industry February 28 through March 1, 2000 in New Orleans, LA.
http://www.wow-com.com/convsem/wireless/2000/info/about.cfm
---
PC Soft Extends LonWorks Technology to the Web
Innovative tools reduce development time and costs of Web-based HMI applications.
Mansfield, MA, November 15, 1999 -- PC Soft International unveils today its innovative Web-enabled HMI product Unity InterActive™ with full support for Echelon Corporation (NASDAQ: ELON)'s LonWorks® network.
---
Power Measurement and Conectiv Solutions Partner
Power Measurement today announced Conectiv Solutions to be their first certified integrator under its newly formed Channel Partner Program. Conectiv Solutions, an energy service provider offering a vast array of energy management, maintenance and efficiency services to large commercial and industrial customers, will now recommend, sell and integrate Power Measurement's advanced power metering and power quality products exclusively.
"After an extensive evaluation of several companies, we selected PML because they offer the most comprehensive and complete system," said Dean Musser, Conectiv Solutions' vice president of engineering and operations. "Their innovative solutions and approach will enable us to offer even better technologies and service to our customers, creating a win-win situation for everyone. Their suite of power quality tools is very flexible allowing us to provide robust, reliable and cost-effective custom energy solutions for our customers. No other vendor offers their level of flexibility, diagnostics or functionality
---
Westwood Energy joins Siemens
New partnership offers independent energy procurement and consulting services.
Energy users now have a major, new independent source for both the purchasing and management of their utilities. On October 20, 1999, Siemens Building Technologies, Inc., announced the acquisition of Westwood Energy Group, a prominent energy procurement consulting firm based in Boston, MA. The move, which makes Siemens the only major source for unbiased, non-energy-producer procurement and facility improvement services, was announced by Glen Wegworth, vice president, marketing sales and field support for Siemens.
---
Rockwell Software Products Now Available Online
Rockwell Software WebStore expands Rockwell Automation's global channels, support capabilities
MILWAUKEE, Nov. 22, 1999 - Complete automation leader Rockwell Automation, a unit of Rockwell International (NYSE: ROK), has opened its Rockwell Software WebStore www.rockwellautomation.com/rsstore. to deliver software solutions and services online to its customers worldwide.
---


[Click Banner To Learn More]
[Stay Informed - Subscribe to our Update Mailing List]
[Home Page] [Contact Us] [The Automator - Current Issue]
[News] [Systems] [Products] [Resources] [About]

Visit Home Toys to Learn about Home Automation
Web Design by HomeToys
©Enviromation 1999