New Products - Updated February 1st

Belimo's Pressure Independent Characterized Control ValveTM (PICCV) Does What Others Can't
Belimo Aircontrols' (USA) new PICCV Pressure Independent Characterized Control ValveTM provides everything an owner, contractor, or engineer ever wanted in an automatic flow control valve. It accurately maintains flow control regardless of pressure fluctuations, plus it's lightweight, plus it's competitively priced! All this in a valve that is backed by a 5-Year warranty that demonstrates the manufacturers' confidence that the PICCV will perform.
Visit the website at www.belimo.com for more information.
---

Balmac Inc. Introduces New Vibration Switch
New Model 2024 24-Volt Vibration Switch for Commercial Building Automation Systems and Industrial Plant Automation.
For more information visit website at www.balmacinc.com.
---
Reliable Controls® Lighting Interface Modules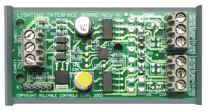 The Reliable Controls® Lighting Interface Modules provide the ability to switch Douglas 'HID' or General Electric 'RR' series relays directly from Reliable Controls® MACH-System universal outputs. Each module supports two inputs and outputs. Separate modules are available for Douglas and GE systems.
The module takes a digital 12 V signal and provides a 24 VAC pulse to the latching relay of the system (both on and off). Power for the Lighting Interface Modules is supplied by the MACH-System output; no external power supply is required. The Douglas Lighting Interface provides relay position feedback. Both modules are conveniently mounted in standard 3.25" snap track to provide a low-cost lighting integration solution.
For more information on the Lighting Interface Module please see www.reliablecontrols.com/products/accessories/.
---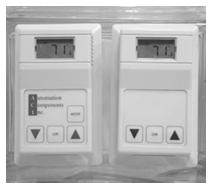 ACI Unveils NEW Temperature Sensor with LCD
ACI/TUC Unit provides reliable membrane pushbuttons for adjustment
Middleton, WI, February 1, 2004 – ACI has a NEW line of micro-processor based LCD temperature sensors ready for production. The ACI/TUC uses membrane pushbuttons for reliable adjustment of setpoint, override, or fanspeed options. Output options include dual 4-20mA, 0-5VDC, 0-10VDC, or resistance. The power supply to the ACI/TUC may be +5VDC, +15-24VDC, or 24VAC. The ACI/TUC is engineered to be versatile and compatible with any PLC or Building Automation controller on the market.
For more information visit www.workaci.com
ACI Unveils NEW Precision Grade sensor line
PG/ Series sensors
ACI's PG/ Series sensors are designed for applications where precision is the most important factor. All PG sensors can be used in field calibration applications where validation is applied annually. Each PG temperature or humidity sensor will include a 5 point calibration certificate against an NIST traceable standard. Additional point calibrations are available upon request.
For more information visit www.workaci.com/pdf/pglowres.pdf
---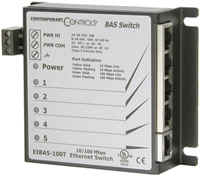 New BAS Switch Addresses Ethernet Needs in the Building Automation Industry
Downers Grove, Illinois - With the trend for using Ethernet in building automation systems (BAS), Contemporary ControlsŇ has introduced the compact BAS Switch for reliable operation. Inexpensive and simple to use, the significance behind this device is that it addresses one of the key concerns in building automation systems and that is convenient installation in control panels.
This switching hub is also valuable for the building owner because it provides a well-documented installation. The label on the switch can be written upon so that port connections can be documented as to the location of the connected equipment.
More information is available at www.ccontrols.com
---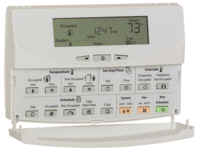 Honeywell Unveils Newest Commercial Programmable Thermostat
T7350 Helps Contractors Save Time and Reduce Labor Costs
MINNEAPOLIS, Nov. 13, 2003 - Honeywell has introduced its newest commercial programmable thermostat, the T7350. Honeywell worked closely with contractors to develop the thermostat to meet the industry's specific time- and cost-saving requirements. The T7350 includes features such as a simplified user interface, dehumidification, occupancy detection, modulating outputs, and Palm OS compatibility.
For more information visit www.honeywell.com
---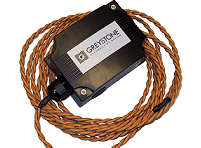 Greystone Introduces New Line of WD-100 Series Water Detectors
The WD100 is a microchip-based device that uses gold-plated sensing probes to detect the presence of water or other conductive liquid. The WD100 is powered by an AC or DC source, 14 - 30 volts. It features normally open and normally closed (form C) relay contacts rated at 5A @ 120 VAC/30 VDC for connection to a monitoring system, or direct control of another device. The mounting legs will allow a sensing height adjustment from 0" to 1/2". The WD100 is designed to signal an alarm if one or more of the three conditions are met: water is detected, power is lost to the unit, or if there is an internal failure. The WD100 provides the highest level of water detection confidence.
For more information visit www.greystoneenergy.com/english/products/otherproducts/list_otherproducts.html
---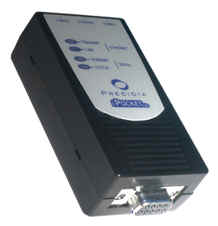 Precidia Launches the iPocket232
Ottawa, Canada - Precidia Technologies, a global leader in IP enabling products announced today the highly anticipated launch of its iPocket232, a low cost, compact RS232 to Ethernet adapter featuring DIN Rail mounting and modem replacement capability. The iPocket232 leverages the proven, reliable technology of Precidia's globally deployed Ether232 product.
Ideal for a wide range of industries from telecommunications to energy, manufacturing and security, the iPocket232 connects serial equipment to Ethernet via its RS232 interface, for instant real-time access from any location on the user's network. Remote access to serial devices reduces costs associated with equipment maintenance and diagnostics, with an operation that is seamless to existing systems and applications. Designed for easy incorporation into any environment, the iPocket232 is smaller than a credit card and offers 'plug and play' installation.
For more information, visit Precidia on the Web at http://www.precidia.com
---

Omnipotence Software releases Linux version of "ECS" Automation Software
Now available for Linux, ECS is a low-cost all-purpose automation program suitable for virtually any tasks. Boasting an intuitive object-oriented design and support for a wide array of devices/platforms (including N2/MetaSys and Omni), ECS is elegantly simple, yet extremely powerful. Automated tasks may be implemented via simple time-based schedules and/or English-like scripts. And as it supports a browser-based user-interface, ECS may be accessed from any desired Internet connection or WAP-enabled phone/PDA. For more information, see http://omnipotencesoftware.com/
---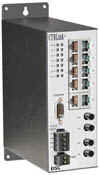 New Ethernet Fiber Switches Provide Noise Immunity and Extra Ports
Downers Grove, Illinois Contemporary Controls family of configurable switches is now complete with fiber versions that double the number of ports. The growing need for fiber underscores the demand for noise-free signal transmission. The EISC12-100T/FT has ten twisted-pair wired ports, and two multimode fiber (1300 nm) ports with ST connectors. The EISC12-100/FC is identical except it has SC connectors. The EISC12-100T/FCS also uses SC connectors but with single-mode (1300 nm) ports. Like their sister product, a 16 port 10/100 Mbps twisted-pair switch, they boast advanced features typically only available in high-end switches: Port VLAN, trunking, QoS (Quality of Service) and programmable fault relay, configured via a console port connected to a Windows-based configuration program included with each product.
More information is available at http://www.ctrlink.com/eisc.htm
---
---


[Click Banner To Learn More]
[Home Page] [The Automator] [About] [Subscribe ] [Contact Us]