---
IoT Actuators, Ethernet Connectivity, and the Belimo Cloud
Belimo now offers a full IoT Product Range of cloud-enabled products including the Energy Valve and Ethernet connected damper and valve actuators leveraging data and cloud technology enabling more efficiency and advanced applications. The Belimo Energy Valve is a cloud-enabled product leveraging captured system data and utilizing advanced analytic technology to improve coil and system. Belimo IoT actuators include two sensor inputs for monitoring passive or active inputs like temperature, pressure, humidity, air quality, or analog meter readings. Sensor values stored in the Belimo Cloud can be used by your web applications to optimize system performance and enhance occupant comfort.
For more information visit https://www.belimo.us/en_US/solutions/links/ethernet_product_range.html

---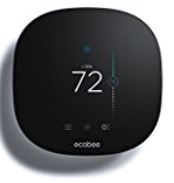 ecobee4 Alexa-Enabled Thermostat with Sensor, Works with Amazon Alexa

Comes with built-in Alexa Voice Service, so you can ask your ecobee to set a timer, read you the news, adjust the temperature, and more. With Far-field voice technology your ecobee4 can hear you from across the room. Room sensors help manage hot or cold spots in your home, delivering comfort to the rooms that matter most. Easily adjust temperature and comfort settings from anywhere using your Android and iOS devices. Also works with Apple HomeKit, Google Assistant, Samsung SmartThings & more
Save up to 23%* on heating and cooling costs each year. *Compared to a hold of 72F Fast, easy installation you can do yourself. Use our handy step-by-step guide right on your phone.
For more information visit https://www.amazon.com/dp/B06W2LQY6L/ref=cm_sw_r_tw_dp_U_x_GGupAb38TTPSM

---
enza Visual Sense

emza is bringing a unique extremely efficient technology of Machine Learning based Computer Vision. This technology is the basis for our always-on intelligent visual sensors that operate for years on small batteries. Our proprietary Machine Learning system allows the sensors to be re-trained for practically any application. Our Computer Vision algorithms require a fraction of the memory and CPU power typically needed for such algorithms. Integrating the algorithms with custom made CMOS sensors and extremely lean processors yields a sub 1mW, coin-sized IoT sensor, that can detect and classify humans (or any other object), count people, perform queue monitoring and describe the observed activity.
For more information visit https://www.emza-vs.com/

---
EnOcean Easyfit portfolio for Bluetooth® lighting systems
EnOcean now offers wireless and self-powered Easyfit switches for Bluetooth® lighting systems for worldwide usage, enabling maintenance-free, ready-to-use LED lighting applications based on energy harvesting technology. The self-powered and wireless Easyfit switches can be commissioned by Near Field Communication (NFC) to allow simple or complex lighting scenes and effects, and enable easy, flexible installation of lighting applications. The wireless Easyfit switches are maintenance-free as they do not require batteries, are freely positionable and allow flexible control as well as intuitive usage. Easyfit Bluetooth® switches are being employed in hundreds of lighting solutions, offering self-powered control for Bluetooth® lighting systems in 2.4 GHz. At CES 2018, EnOcean will be also presenting the first prototypes of solar-based sensors for Bluetooth® lighting systems, for example, a door and window sensor, a temperature/moisture sensor, an occupancy sensor and a light sensor.
For more information visit http://www.enocean.com/

---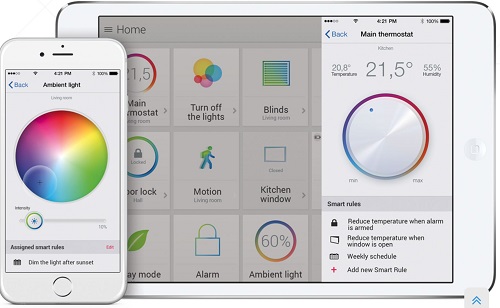 Sophisticated heating algorithm learns energy requirements of each room.

It reaches desired temperature quickly, efficiently and precisely.

Zoned regulation
System controls temperature in heating or cooling zones. All zones are displayed on one screen.

Equithermic regulation
Exterior temperature is taken into account and performance of heating or cooling system is adjusted accordingly.

Eco mode
Turn heating or cooling to eco mode when leaving home or office for a longer time. One press of a button does the job.

Learning system
PID algorithm learns to correct for past errors. It reaches desired temperature without fluctuations.

Weekly schedule
Setting weekly schedule takes just a few seconds. No more studying manuals!

Dew point calculation
For hydronic ceiling cooling, dew point calculation increases cooling performance while mitigating the risk of dew accumulation.

For more information visit https://taphome.com

---
---

[Click Banner To Learn More]
[Home Page] [The Automator] [About] [Subscribe ] [Contact Us]