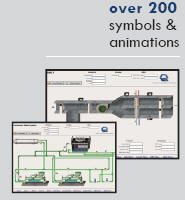 3D Symbol Library for The Building Controls Industry
Quality Automation Graphics announced their latest 3D symbol library for building automation systems. The pieces and parts library is available for most building automation systems. The library consists of common graphics and animations needed to build building controls system graphics. With over 200 components in the library, the customer will be able to build almost any system required on the project. Quality Automation Graphics offers the library to any company interested in gaining a competitive advantage in the building automation industry. Options for custom graphic libraries and source code ownership are available.
For detailed information and options on the symbol library please contact Quality Automation Graphics sales@qagraphics.com or visit www.qagraphics.com.
---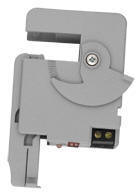 Functional Devices Inc. introduces two new self-calibrating current sensors, RIBXGA-SCAL and RIBXGTA-SCAL, to its line of over 35 different current sensor models.
Functional Devices' self calibrating current sensor begins it's 30 second self calibration process the first time current is applied within the operating range. This procedure uses the user selected differential to set the trip threshold at a 15 or 25% level. Selection is completed prior to install using the appropriate DIP switch setting keeping the installer's hands away from possible shock hazard as well as saving installation time. Models are available with terminal strip or prewired connections and, as always, more information can be obtained from Functional Devices' website (www.FunctionalDevices.com)
Functional Devices' new Self-Calibrating Current Sensors help the installer avoid catastrophic "Arc Flash" by eliminating the need to manually calibrate sensors in a live electrical panel.By using Functional Devices' S-CAL current sensors there is no need for presetting the current rating of the load being sensed as well as no annoying "Lean Mode" stages before resetting.
For more information visit http://www.functionaldevices.com/indexEmail_E1016.html
---
Contemporary Controls' BAS Remote Expansion Module Can Greatly Increase Point Count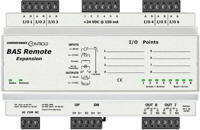 BAS Remote Master Can Be Expanded to a Total of 32 Universal I/O Points and 8 Relay Contacts
Contemporary Controls new BAS Remote Expansion Modules (BASR-8X) can be daisy-chained together to the BAS Remote Master (BASR-8M) to meet specific I/O requirements at a cost and space savings. With the addition of three compact BASR-8X modules, the BASR-8M can be expanded to a total of 32 Universal I/O points and 8 relay contacts to suit any building automation installation. The configurable Universal I/O can support BACnet/IP or Modbus/TCP points. They are both analog inputs and analog outputs, in addition to accommodating a contact closure. Digital inputs can accept pulse trains in the range of 0 to 40 Hz (50% duty cycle) to measure flow rates. Unlike conventional expansion modules, the web page that resides in the master allows users to configure each of the expansion ports without requiring dip switches.
For more information visit www.ccontrols.com
---
New Software Key from Reliable Controls®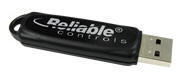 After extensive discussions with our Authorized Dealer network, Reliable Controls® has moved forward with initiatives to strengthen our software authorization process by employing a software key. RC-Archive™ 2.0 Update 1.10 is the first software offering from Reliable Controls® to require the use of a software key (USB-Key) for authorization. The Reliable Controls® USB-Key offers several key advantages. Firstly, the USB-Key will not automatically de-authorized if something changes on the PC (e.g., bios setting, hard drive upgrade, etc). Secondly, it is easy to move the license on the USB-Key between machines. If the client buys a new machine, simply download the latest software from the web, and insert the USB-Key, and the installation will be automatically authorized. Another advantage of the USB-Key is that administrators can expand the number of archives permitted by purchasing additional licenses and adding them to an existing USB-Key. The new RC-License Manager™ software that ships with RC-Archive™ 2.0 Update 1.10 allows this to be done easily. Yet another advantage of a USB-Key is that administrators can borrow the license from the USB-Key and hold it in a machine for up to 7 days. This is very handy if end-users or administrators wish to operate a machine temporarily without a USB-Key, or to temporary authorize a machine for a balancing contractor or commissioning agent. And lastly, in the future, administrators will be able to add licenses for RC-Studio®) or RC-Toolkit™, or any other Reliable Controls® software, when those software products are updated for use with a USB-Key. For more information visit www.reliablecontrols.com
---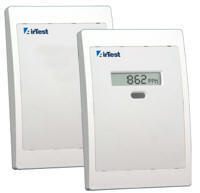 New, Affordable LonMark® Certified CO2 Sensor
AirTest has just added LonWorks® communication capability to its popular line TR9290 line of self calibrating CO2 sensors. This capability is now offered in the TR9294 wall mount the TR9292 duct mount and the TR9293 splash resistant enclosure. All these product are certified to LonMark® Version 3.4. Analog output versions of these zero maintenance CO2 transmitters are also available.
Link: https://www.airtesttechnologies.com/product/co2-ventilation/tr9290.htm
---

PROFIBUS: A Pocket Guide
Ron Mitchell
PROFIBUS: A Pocket Guide provides a basic overview of PROFIBUS operations, installation and configuration, wiring schemes, troubleshooting, and tips and tricks. Also useful for engineering management seeking a summary understanding of PROFIBUS. Illustrative figures and technical tips are provided for quick reference.
Please go to the ISA website for more details, pricing, and to order. www.isa.org
---
Introducing the newest energy conservation product at TXU Energy …the TXU Energy iThermostatTM.
Replace your old thermostat with the innovative, FREE TXU Energy iThermostat, designed to help you manage your home's energy use, save money and help the environment. Control your home's temperature from anywhere: Home, work or on the road, monitor and manage your home's air conditioner temperature setting from any Internet-connected device via your secure, customized Web site. Save money: Adjust settings for weekdays and weekends, with up to four programmable periods a day. It's easy to maximize the comfort of your home when you're there to enjoy it – and save money when you're away. Help the environment: Your iThermostat helps the environment by allowing TXU Energy to manage peak electric use which can prevent power interruptions and help keep rates lower. For more information visit http://www.txupartners.com/thermostat/programdetails/index.php
---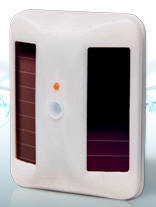 LC&D Wireless Photosensor
The Wireless Photosensor 2400-W-IPC-G is designed to be ceiling mounted where one of the photovoltaic collectors is facing a window or source of light. The photosensor can transmit a signal to a receiver up to 90 ft away. The photovoltaic cell must receive at least 10 foot candles of light for several hours a day to charge the storage capacitor. A Wireless Receiver 2400-WR must be on the GR 2400 Bus within the transmitting distance.
Features: • Extended sensitivity range • Transmits data every 10 seconds if light level change is detected • Uses STM 110C EnOcean Transmitter Module • Easy Installation • Can be used in both open loop and closed loop applications • 315 MHz frequency • Optional coin battery if required
For more information visit www.lightingcontrols.com
---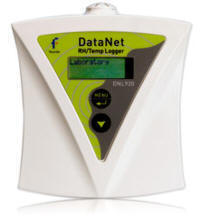 Fourier Systems DataNet High-End Wireless Data Acquisition System
The DataNet is a 16-bit data logging system with 4 inputs for direct measurement and recording of PT-100, thermocouple (J, K, T), voltage, current, frequency and pulse. Data transmission from units to the central computer utilizes the brand new ZigBee wireless telemetry protocol. ZigBee wireless protocol uses a 2.4 GHz license free frequency RF band. Each DataNet unit also serves as a transmission repeater to neighboring units, forming a reliable mesh network of up to 65,000 nodes. The ZigBee key features include: - Reliable transmission ensuring no data loss - Transmission range that can be constantly expanded by adding additional nodes - Minimal costs thanks to wire-free infrastructure - Portable units facilitating easy deployment in various environments
For more information visit www.fouriersystems.com
---
---

[Click Banner To Learn More]
[Home Page] [The Automator] [About] [Subscribe ] [Contact Us]