---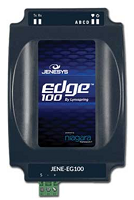 There's A New Programmable Controller from Lynxspring

Delivering Niagara to the Edge The JENEsysŪ Edge™ 534 Controller: Is a Niagara Edge Controller; Has 34 IO on-board; Utilizes the same ProBuilder workbench software tools and Fox Protocol; Leverages your library of applications, leverages your Niagara investments, integrates with Niagara/Fox, BACnet, Modbus, etc.; No retraining required; The Niagara stations are portable; Is easy to expand to additional IOs; Is ideal as a Plant Controller, Equipment Controller and Field Controller and small site applications; Fits with a Field Bus and Supervisor; Takes Niagara into smaller and mid-sized opportunities; Is a low-cost entry point, perfect for price-sensitive applications; Can be installed quickly and easily; Is ideal for delivering edge connectivity, interoperability, data access and analytics for today's building energy management systems, machine-to-machine applications and IoT environments; Small foot-print, fast operating speeds; Received the Best Tech Innovation Intelligent Buildings Award at iBCON 2017; Is in hundreds of deployments already.

For more information visit http://www.lynxspring.com


---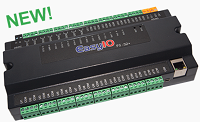 EasyIO FS-32 controller
The EasyIO-FS-32 is a high performance server class controller with a 1.2 Ghz quad core processor, 512 MB RAM and 8GB flash memory. Its software capabilities are very powerful with HTML5 graphics and multifunctional adapter widgets. The built-in VPN client and server makes your connectivity safe and unique for BMS controllers. And of course, the EasyIO-FS-32 has and can do everything you expect from an EasyIO controller: it's freely and live programmable via CPT Tools, it supports protocols and services such as BACnet, Modbus, Sox, Haystack and TCOM and it has a built-in HLTM5 web server.
For more information visit https://www.easyio.eu/product/easyio-fs-32-controller/8595
---
New CP6906 Control Panel from Beckhoff Expands Entry-Level Product Offering

In order to provide high-quality industrial display solutions to cost-sensitive applications, Beckhoff has introduced the new CP6906 Control Panel display. Offering a 7-inch touchscreen with 800 x 480 WVGA resolution, and a robust housing consisting of an aluminum bezel and sheet steel rear cover, this passive display is the ideal solution to answer applications with pronounced budgetary constraints – without sacrificing quality. With the latest addition of the CP6906, Beckhoff offers a full range of low-cost options for cost-sensitive applications in the low to medium performance range. The entry level range now spans from the most basic Control Panel in the CP6906, all the way up to full-featured IPCs and Panel PCs with powerful CPU options.
For more information visit http://www.beckhoff.com/cp6906/
---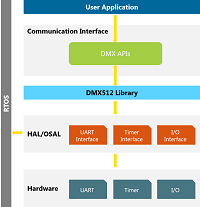 SoftDEL's DMX-512 Stack for stage lighting – Royalty free, Platform Agnostic, Scalable & Customizable

DMX-512 (Digital Multiplex) is an open, serial (RS-485) standard communication protocol that has been used for controlling lighting dimmers and fixtures. SoftDEL offers a ready DMX-512 Receive and Transmit Stack on royalty free basis. The stack enables lighting end-points and transmit devices to achieve compliance with DMX-512 standard. We also offer services such as porting of DMX-512 stack to device platform, integration with device application and complete product testing.
Visit this page to know more about SoftDEL's DMX-512 stack - http://bit.ly/1NORBeZ
---
IRLYNX Designs and Sells Advanced Human Activity Sensing Modules

One of IRLYNX differentiation is to offer a complete sensor module ready to be integrated into a wider system requiring thermal imaging solution (far infrared). The sensor module is made of: A LOW COST PEHD OPTIC; A LOW-COST UNCOOLED PYRO-ELECTRIC DETECTOR ARRAY; A HIGH-END LOW POWER MICRO-CONTROLLER; A BUNCH OF ADVANCED IMAGE PROCESSING ALGORITHMS.

For more information visit http://www.irlynx.com/product/
---
Sine Everything you need to manage people and assets at site

Solutions across the web, tablet and mobile. SinePoint Pro is a free App for iPad which syncs to your Sine account to check in visitors & contractors instantly. Repeat visitors, busy contractors and staff can quickly check-in to your business with the Sine app for iPhone and Android. It's free and easy to use. Check-in visitors right from Sine Web. Perform reporting and analytics on all your sites and devices linked to your Sine account. Set up a portfolio of national or global sites on one account and share your administration rights with your team. Access Sine on any web browser on any device anytime, anywhere.
For more information visit https://www.sine.co/features/
---
Aircuity Launches its 2.0 Platform for Smart Commercial Buildings

Aircuity 2.0 is ideal for a wide variety of commercial buildings looking to significantly reduce energy costs, improve cognitive function and productivity, and achieve quantifiable results as part of a smart building strategy. Aircuity 2.0 includes the brand new MyAircuity web and desktop apps that, out-of-the-box, deliver actionable insights, transparency, and accountability to building owners and facility managers implementing demand control ventilation – one of the highest total return on investment energy conservation measures available.
For more information visit http://www.aircuity.com
---

Kodaro Niagara 4 Port for the Dell Edge Gateway
With Kodaro's Niagara 4 port, building IoT networks can plug directly into the Dell Edge Gateway to operate in an integrated building ecosystem. Powerful Dell process allows for capacity to process analytics locally on the machine. Kodaro's software adds a secure remote access layer, built on HTML5 for fast, visual displays. Our Niagara 4 port allows the Edge Gateway to encrypt data at the edge to secure all network communications across devices to building systems. The Dell Edge Gateway can be connected into your building automation system with ease. Our system configuation and quick start guide will help you through the two-step process and our support team is always available if you get stuck.
For more information visit http://www.kodaro.com/products/niagara-port-for-dell-edge-gateway.html
---
---
---


[Click Banner To Learn More]
[Home Page] [The Automator] [About] [Subscribe ] [Contact Us]