NEW PRODUCTS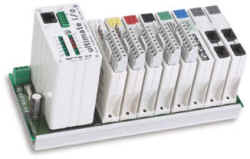 Opto 22 Announces SNAP Ultimate I/O™
New product combines I/O, control, networking, and enterprise connectivity into a single system
Temecula, CA - Opto 22, a supplier and innovator of I/O systems for data acquisition and control, announced the release of SNAP Ultimate I/O, the latest in its successful line of industrial automation products. Based on Opto 22's field-proven SNAP Ethernet I/O™ system, SNAP Ultimate I/O delivers powerful new processing, programmability, and connectivity features that bring significantly greater functionality to the I/O level. Now, I/O handling, control functions, Ethernet networking, and enterprise connectivity are combined into a single, cohesive I/O system. For more information visit www.opto22.com.
---
Z-World Introduces the Wildcat Series Compact Boards
The Wildcat gives OEM designers Ethernet connectivity in a low-cost, high-performance single-board computer. These compact boards are rich with the features designers need for embedded control and monitoring applications, and the BL2000's compact board size of 3.43 x 4.15 inches allows for easy integration.
Available in four configurations—two with Ethernet, two without— all BL2000 models feature up to 28 digital I/O (including 5 or 7 dual-purpose analog or digital inputs), 3 RS-232/485 serial ports, Rabbit 2000™ microprocessor at 22.1 MHz, 128K SRAM and 256K Flash (expandable), onboard SPDT relay, LEDs, 7 timers, and battery-backed time/date clock.
For more information visit www.zworld.com/products/bl2000/index.html
---
Carrier Announces Remote Comfort @ Your Fingertips!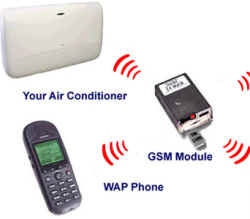 MyAppliance.com is the first system in the industry to offer web-enabled and WAP (Wireless Application Protocol) phone technology. Beginning with a pilot program to be offered this summer in Europe, this "smart" air conditioner is equipped with a Wireless Communication Device that enables real-time communication between the Air Conditioner and a service technician anywhere in the field via a hand held device for desktop computer. For the end-user, the service-oriented, interactive Web site called allows connected users access to the controls of their air conditioning equipment.
For more information visit www.myappliance.carrier.com/
---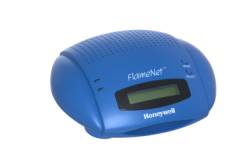 Honeywell Products
Web Access
Honeywell's FlameNet Web server is the first to give facility users and contractors Web access to commercial and industrial burner and boiler controls.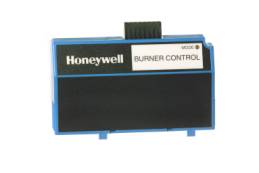 Streamlined Integration
Honeywell S7810M ModBus Networking Module offers a streamlined solution to integrate its 7800 SERIES burner controls with industrial automation systems or building automation systems.
For more information visit www.honeywell.com/bbc
---
Gigabit Ethernet to Fiber Media Converters Announced by MiLAN Technology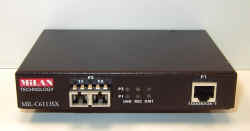 Sunnyvale, CA ---- MiLAN Technology, a division of Digi International (NASDAQ: DGII), today announced release of the MIL-C611x Series of 1000BASE-T to 1000BASE-LX and 1000BASE-T to 1000BASE-SX media converters. The MIL-C611x's convert UTP signals to fiber and can extend network distances from 220m using multi-mode up to 70km using single mode.
The MIL-C611x series are designed with a wide variety of fiber connector types and distance specifications, including SC connectors for distances of 220m, 5km, 20km, 50km or 70km, MT-RJ for distances of 10km, and LC in 5km or 50km. Each converter comes with Auto-Detection MDI/MDI-X capability on the UTP port, allowing the user to insert RJ-45 Cat 5 cable without concern about straight-through or crossover recognition.
More information about the MIL-C611x Series can be found at www.milan.com
---
---


[Click Banner To Learn More]
[Stay Informed - Subscribe to our Update Mailing List]
[Home Page] [Contact Us] [The Automator - Current Issue]
[News] [Resources] [Products] [Systems] [About]

Visit Home Toys to Learn about Home Automation
Web Design by Enviromation