---
Updated June 1st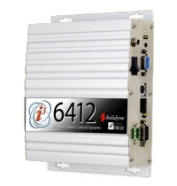 Solidyne Unveils a New Work Horse in the i3 Family, the i3-6412
Rolling Meadows, IL – Solidyne announces their new, more powerful i3-6412 Browser Based Control System with 64 MB RAM and 128MB of storage. The new 6412 Web Based device will comfortably network Solidyne systems with more than 5,000 I/O points while providing extensive data logging capabilities. The i3 can be configured to accommodate unique user requirements ie; touch screen applications, hard disc drive, parallel port connection, floppy disc and connections of PC104 bus devices. Additional RAM and Flash memory configurations are also available.
Contact Solidyne for details www.solidyne.com
---

Distech Controls Introduces New LonMark® Certified Equipment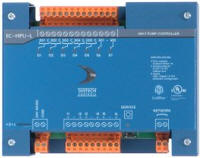 Heat Pump Unit Controller
Distech Controls, Brossard, Canada, introduces its new EC-HPU-L, a LonMark Certified heat pump unit controller. This microprocessor-based controller is designed to work with all types of heat pumps, including dual mode and water to refrigerant heat pumps. The EC-HPU-L can be configured through any LNS® compliant software, such as Distech Controls LonWatcher. An easy-to-use LNS plug-in is used to configure the EC-HPU-L. More advanced features such as frost protection and optimum starts are available. Distech's EC-HPU-L is the best and easiest solution for your heat pump control requirements.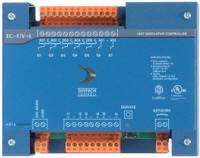 Unit Ventilator Controller
New LonMark® Certified unit ventilator controller, the EC-UV-L. The EC-UV-L is designed to work with all types of unit ventilators, including two pipe and four pipe unit ventilators. An easy-to-use LNS plug-in is used to configure the EC-UV-L through any LNS® compliant software, such as Distech Controls LonWatcher. Advanced features such as frost protection, optimum starts, and a dehumidification cycle make Distech's EC-UV-L a one-stop solution for your unit ventilator control requirements.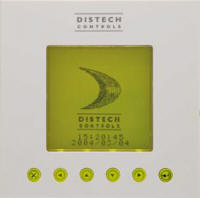 New LCD Display with Scheduling Capabilities
LCD display with scheduler, the EC-Display. This is the perfect LCD interface for small to medium sized systems where a PC front end is unnecessary or where quick access is required, such as in mechanical rooms. The simple-to-use 6-button interface is easily configured using an LNS® Plug-in. It provides access to any LonWorks® device, displaying up to 250 SNVT, UNVT or Distech internal points. These points can be viewed, managed or scheduled on the EC-Display. Provided with a built-in scheduler and real time clock, the EC-Display can manage up to 16 different zone schedules. It also includes a yearly calendar, one-week default schedule, 4 exception date schedules and 6 events per day. An optional flush mounting kit and DIN rail kit are available.
For more information visit
http://www.distech-controls.com/DISTECH_2004/ENG/CONFIG_CONTROLLERS/config_controllers.htm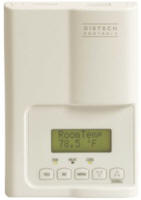 Thermostats Series
Multi-stage, LON based thermostats, the EC-STAT Series. They are specifically designed for single stage and multi-stage control of heating/cooling equipment such as rooftop and heat pump units. The backlit LCD offers an intuitive, menu-driven operator interface enabling the user to configure the device locally. A supervisory station can equally access all configuration options over the LonWorks® network and lockout local programming if necessary. Accurate temperature control is achieved using the product's PI time proportional control algorithm, which virtually eliminates the temperature offset, associated with traditional, differential-based thermostats. For more advanced applications, an economizer control logic has been integrated onto the thermostat for use with proportional damper economizer actuators. All programmable models contain an SPST auxiliary switch, which can be used to control lighting or disable the economizer function.
http://www.distech-controls.com/pub/EC_Stat_Lauch.htm
---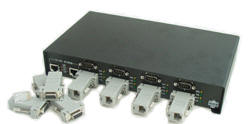 New DeviceMaster® PRO Programmable Serial Device Server with Free Software
Comtrol Corporation, a leading provider of serial device integration technology, has a new programmable device server called DeviceMaster PRO. The DeviceMaster PRO 8-Port 10/100 Base-T device server provides bus-independent serial port expansion, a platform for hosting and running application-specific programs, and the ability to remotely monitor and manage serial devices. Customers who currently own, purchase, or upgrade to DeviceMaster® device servers can receive Comtrol's new PortVision™ serial port management console free!
For a copy of the new DeviceMaster PRO brochure, or for more information visit Comtrol's Web site at www.comtrol.com.
---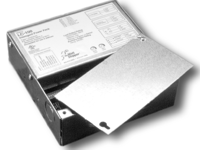 The Watt Stopper - New Dual Relay Power Pack Offers Both Switching and Dimming Control of Lighting Loads
SANTA CLARA, CA - The Watt Stopper's new LC-100 Intelligent Power Pack greatly expands the control capabilities of conventional lighting controls by adding dimming and daylighting functionality.
The LC-100 features two relay outputs and dimming channels for up to 100 ballasts per channel. It also contains inputs for connecting occupancy sensors, photosensors, building automation systems, and relay-based lighting control panels. This enables dimming, daylighting, load shedding, blink warnings and other convenient scenarios for two separate lighting loads simultaneously. The device operates at either 120 or 277 VAC, and installs as a standard power pack. Users can deploy the LC-100 to implement control strategies compliant with bi-level switching, daylighting and lighting shut off energy code provisions.
For further information visit www.wattstopper.com.
---
New from Vaisala Hand-held Dewpoint Meter - Measures Dewpoint down to -60 °C
The Vaisala DRYCAPâ Hand-Held Dewpoint Meter introduces a new probe that measures dewpoint temperatures down to -60°C with accuracy of ±2°C. The unique probe has a sensor purge feature that heats and dries the sensor prior to measurement. As a result, the response time from ambient to dry conditions is exceptionally fast. The DM70 is lightweight, and does not use bulky desiccant containers.
The new DMP74B probe, with sensor purge builds, on Vaisala's patented auto-calibration system that maintains the instruments' accuracy by regularly monitoring dry-end performance and correcting for any drift. Auto-calibration is fully automatic and requires no external apparatus or calibration gas.
For further information visit www.vaisala.com
---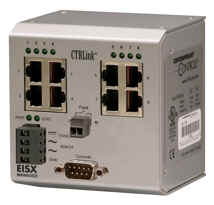 New EISX8M Ethernet Switch Provides Management Functionality
Downers Grove, Illinois - Contemporary Controls has designed a new version of the EISX switches in the CTRLinkŇ family that provides management functionality. This Ethernet EISX8M-100T switch offers eight 10/100BASE-TX twisted-pair ports while supporting the Simple Network Management Protocol (SNMP).
Equipped with the conventional features common in standard Plug and Play switches, the EISX8M-100T benefits from features such as VLAN which is important in isolating building functions from one another in secure areas. Other features are trunking, Quality of Service (QoS) and a programmable fault relay that can be connected to a supervisory system. Individual port parameters can be set via a console port attached to a terminal emulation program, allowing for custom configuration.
For further information on the EISX8M-100T, visit www.ctrlink.com/eisxm.htm.
---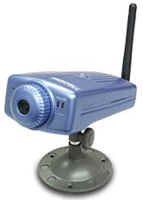 TV-IP100W Wireless Internet Camera Server
TRENDnet's TV-IP100W Wireless Internet Camera Server is the perfect device for remote monitoring and transmitting real-time events over the Internet. With the flexibility of IEEE 802.11b and 10/100Mbps LAN connectivity, the TV-IP100W functions as a video/surveillance camera allowing you to view live events with your web browser via Internet or Intranet. This Internet Camera Server has VGA quality streaming video, automatic image capture, and event notification via e-mail, making it the ideal solution for Internet video broadcasting applications.
For further information visit www.trendnet.com/products/TV-IP100W.htm
---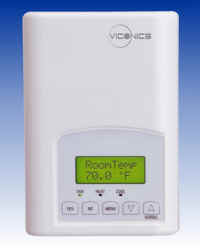 T7600 series LonMark Communicating Multi-stage Thermostats
Viconics Inc, Montreal, Canada, introduces the T7600 series LonTark® , multi-stage, communicating thermostats. Features include an intuitive, back-lit LCD screen, remote indoor/outdoor sensor capability, and two digital inputs. Models with and without scheduling capability are available for conventional and heat pump HVAC equipment. In addition, a unique model with proportional economizer output is also available. Conforms the LonMark® functional profile no. 8500 (Space Comfort Controller). Plug-in for LNS tool and .xif file is supplied free of charge. Provides networking capability on a LonWorks bus using Free Topology Tansceiver (FTT). Automation contractors and integrators can purchase the product through Distech Controls ( www.distech-controls.com.
For more information visit www.viconics.com
---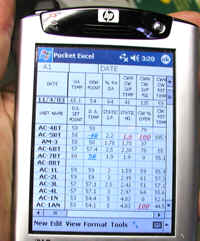 HVAC Data Tracker
Our principal product is the HVAC Data Tracker. This is a numerical based software program designed to provide Facilities Administrators with a comprehensive overview of their entire system and facility personnel with the tools they need to conduct effective and timely maintenance. The HVAC Data Tracker has utility in new system commissioning by providing data confirmation of performance over all outside temperature ranges. This alternative system-operator interface is what HVAC personnel want and managers need.
Don't you wish real time mechanical values were displayed as neatly and comprehensively for your evaluation on a minute by minute, hourly, daily or weekly basis? Get a format that uses your mind instead of confusing it.
For more information visit http://www.hvacdata.com/
---
SMC Introduces the LC8 to its Family of Electric Actuators and Controllers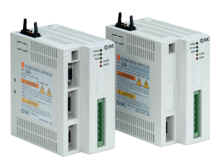 Tustin, CA - SMC Corporation, the world's largest manufacturer of pneumatic automation products has announced the release of the LC8 AC Servo Motor Controller. The LC8 is a servo amplifier / controller for the LJ, LG and LTF series actuators and provides high-level features at mid-level pricing.
Up to 7 LC8s can be slaved together for control from a single PLC, which can execute 117 steps that can command any or all of the actuators to move to a specific position, move a specific distance or apply a specific amount of torque. The position accuracy is ±0.005 mm to ±0.025 mm, depending on the feed screw lead of the actuator. There are also 5 palletizing steps that can use the same command from the PLC to move 2 axes sequentially through pallets of up to 10,000 rows by 10,000 columns. The simple method for configuring and running the palletizing features has been awarded a US patent.
The LC8 comes with easy to use human / machine interface software for configuring and testing the controllers. This HMI software includes features for 'teaching' positions by moving the actuators either manually or under power and all of the configuration data can be stored in files so that a setup for one machine can be easily duplicated on many others.
For more information please visit www.smcusa.com.
---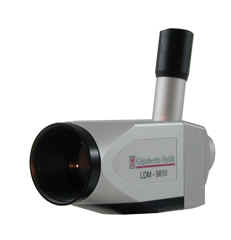 Viewer Module Luminance Detector
The new Gigahertz-Optik LDM-9810 is a modularly designed viewer module that combined with the PD-16VL01 plug-in photometric detector and any Gigahertz-Optik optometer, forms a luminance measurement system featuring a viewable and sizeable target spot. A wide achromatically corrected 50 mm lens aperture objective and focusing feature satisfies the tightest requirements for the suppression of stray light and image formation.
The measurement spot is visible through an ocular viewfinder with a cross hair targeting aid making alignment very simple over a useable measurement distance from 0.3 meters to infinity.
Visit www.gigahertz-optik.com for more information.
---
---


[Click Banner To Learn More]
[Home Page] [The Automator] [About] [Subscribe ] [Contact Us]