Contemporary Controls Releases the BACnetÒ Portable Router for Building Automation
A Convenient Device Used to Connect a Laptop Computer to an MS/TP Network
Downers Grove, IL (April 8, 2008) - Contemporary Controls announces the release of the BAS Router Portable, the newest edition to the company's line of building automation BACnet routers. The new BASRTP-B is a convenient device to connect a laptop computer to an MS/TP network. All the electronics are provided in a lightweight, small plastic case. The unit is powered from a USB port. This small device can easily be carried from jobsite to jobsite in a laptop computer bag while utilizing a CAT5 cable for communication and a USB cable for power. No batteries or wall wart power supplies are required. Because the BAS Router Portable operates on USB power from the computer, no source of power (like a 120 VAC receptacle) is required other than the laptop.
For more information visit Contemporary Controls.
---
Control Systems Engineering Exam Reference Manual: A Practical Study Guide - Bryon Lewis

This practical, fact-filled study guide reviews the foundations of process control and demonstrates the breadth and width of the CSE examination. Topics in the book include process measurement and calibration, sizing process control elements, digital logic, analog signals, process safety and shutdown, NEC and NFPA codes, and industrial control networks.
Recommended reference material and detailed examples are also provided.
The Control Systems Engineering Exam Reference Manual: A Practical Study Guide is available as a pdf file for downloading.
Please go to the ISA website for more details, pricing, and to order www.isa.org
---
Minicom offers the most complete player-to-screen solution for the "DS Last Mile™" of any digital signage network.
The DS Vision 3000™ is a long range CAT5 based distribution system delivering HD video and stereo-audio content to multiple screens up to 600m/2000ft away. Its unique, fully bidirectional RS-232 serial management capability allows administrators to remotely query and turn on/off remote displays and provides centralized management control. Minicom is also unveiling its new cutting-edge Dual Cascade Receiver Unit (DCL) for the DS Vision that significantly expands the system's potential by supporting not only star configurations, but also daisy chains. With the DCL you can cascade up to ten units in a row enabling easier positioning of screens and reduced cable clutter. In addition, the DCL has double the power of a regular video receiver allowing you to put two back-to-back screens on a single unit while still controlling each screen separately.
For more information visit www.minicom.com
---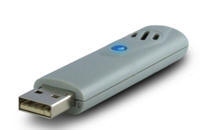 Saelig - Thumb-drive-sized Temperature, Humidity and Dew Point USB Sensor
Pittsford, NY: EL-USB-RT is a new USB- connected ambient sensor. When plugged into the USB port of a PC installed with the purpose designed software, EL-USB-RT measures temperature and relative humidity from -10 to +60°C (+14 to +140° F) and 0 to 100%RH. The PC displays the temperature, humidity and dew point (the temperature at which water vapor present in the air begins to condense) in real-time and saves it to a file which can store up to 7 day's worth of data. This data file is overwritten at the beginning of each new logging session. The software provides the option for the user to save the data file permanently to the hard-drive. Temperature, relative humidity and dew point can be graphed, printed and exported to other applications.
For more information visit www.saelig.com
---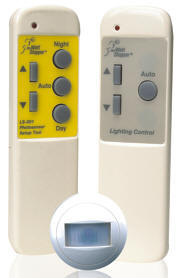 Dimming photosensor uses groundbreaking technology to save energy and ensure convenient commissioning and operation
SANTA CLARA, CA April 2008 – Watt Stopper/Legrand has developed the LS-301 Dimming Photosensor, carefully combining features for optimal performance and ease of installation and use. At the heart of the device is the groundbreaking sliding setpoint control algorithm pioneered by Watt Stopper/Legrand. The LS-301 also employs a handheld setup remote to facilitate quick and convenient commissioning. The sliding setpoint algorithm allows the controller to compensate for the disparate spatial distribution of daylight and electric light. By having two different setpoints for day and night, the target setpoint changes based on the current light level conditions.
For more information visit Wattstopper.
---

Digital Signage 101: Symon's LobbyView Now Makes It Easier Than Ever
Symon LobbyView is a 42" LCD, media player, and software all-in-one. If you want the easiest and simplest digital signage solution to implement this is it.
For more information visit Symon Communications, Inc
---
---


[Click Banner To Learn More]
[Home Page] [The Automator] [About] [Subscribe ] [Contact Us]