---
ISA - Automation Books - Authoritative and Practical Solutions
Written and reviewed by experts in their fields, these authoritative and thorough technical publications focus on real world application of technologies and methodologies with the necessary theory for a complete understanding of the subject.
To learn more about these books visit the ISA website Automation Books section.
---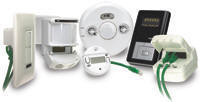 Watt Stopper announces Digital Lighting Management, a distributed lighting control system offering greater ROI

Digital Lighting Management is an all-digital suite of plug-together lighting controls that automatically configures to the most energy efficient operation based on components in the system. DLM meets and exceeds energy code requirements, saves more energy than conventional controls, and provides an unprecedented return on investment for both new construction and retrofit projects. With DLM, each room or space in a building has its own control network where you simply connect room controllers, occupancy sensors, switches and photocells as needed. Plug n' GoTM technology then recognizes what is connected and automatically configures the space to the most energy efficient operation.
More information is available at www.wattstopper.com
---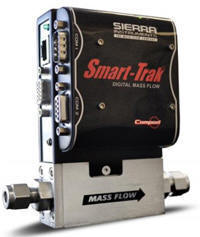 Sierra Instruments - Programmable Control Module Multi-Drop RS-485/MODBUS RTU Communications

Simplify basic flow control installations With Compod! With its advanced capabilities, the Compod, coupled with Sierra's Smart-Trak® Model100 mass flow meters (MFM's) or controllers (MFC's) greatly simplifies basic flow control installations and permits networking of multiple instruments using open-source MODBUS RTU protocol.

Unique Benefits of the Compod
• Controls simple processes without the need for external PLCs or computers
• Acts as a vital link in a complex process control network
• Monitors the operation of instruments and provides potential problem alerts
• Is available with a local LCD Display for local monitoring
• Can be used with new instruments or added to existing models
For more information visit www.sierrainstruments.com
---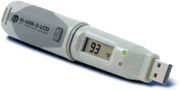 Recording temperature at the extremes
Lascar Electronics has extended its range of stand-alone USB data loggers with the introduction of the EL-USB-TC thermocouple data logger. Capable of accepting input from a J, K or T-Type thermocouple via a mini-thermocouple connector at the base of the unit, the EL-USB-TC can measure temperatures from -328°F to +2372° F / -200° to 1300° C depending on the type of sensor used and store up to 32,000 readings. Each logger is supplied with free configuration software, a K-type probe and a 1/2AA lithium battery. Once the software is loaded on the PC, all the user need do is plug the EL-USB-TC logger into the USB port to program it.
For more information visit www.lascarelectronics.com.
---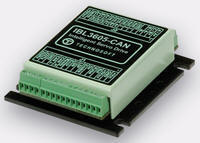 IBL3605 – An Ultra Compact 180 W Intelligent Drive with CANopen
Technosoft announces the new IBL3605, a remarkably compact intelligent servo drive measuring only 65 x 58 x 19 mm, which reaches up to 600 W peak power. Although extremely compact, IBL3605 embeds motion controller, drive and PLC functionality in one unit, and has the flexibility to control brushless, step, DC or linear motors up to 180 W (36 V, 5 A). It can be mounted right beside the motor, all cables and maintenance thus being significantly reduced.
For more information visit www.technosoftmotion.com

---
TI's CC2480 ZigBee Network Processor — ZigBee made easy!
Texas Instruments' (TI) SimpliciTI™ is a low-power RF protocol aimed at simple, small RF networks. This open-source software is an excellent start for building a network with battery-operated devices using one of TI's low-power RF System-on-Chips (SoC) or the MSP430 ultra-low-power MCU and a TI RF transceiver. SimpliciTI was designed for easy implementation and deployment out-of-the-box on several TI RF platforms such as the MSP430 MCUs and the CC1XXX/CC25XX transceivers and SoCs.
---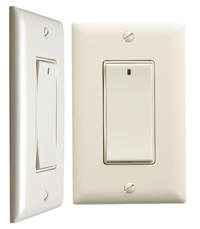 Watt Stopper announces first 0-10V wall box controller with wireless RF capability and occupancy sensor input
SANTA CLARA, CA - Watt Stopper/Legrand has launched a versatile 0-10 volt wall box controller that can be used to dim or switch lighting loads or raise and lower shades. The DRLV1 controller is the first such device to include an input allowing automatic control by an occupancy sensor when used for lighting control. The device is RF-enabled and is also the first 0-10 volt wall box controller that can be incorporated into a wireless scene control system.
More information is available at www.wattstopper.com
---
---


[Click Banner To Learn More]
[Home Page] [The Automator] [About] [Subscribe ] [Contact Us]