NEWS BRIEFS
Medica Trade Fair Dusseldorf, Germany 21-24 November, 2001
ELPAS & MEDcom Technologies GmbH, an ELPAS partner, will be presenting ELPAS' LPS products in their booth. Location: Hall 15 E 35
Mediplan, a UK manufacture of Nurse Communication Systems, will present a stand alone and an integrated approach of EIRIS with their system. Location: Hall 12 C20-04
Web-site: www.medica.de
---
Strong Advance Numbers for 2002 AHR Expo In Atlantic City
Show management reports that 107 new exhibitors have signed up since September 11th, and that the Expo - the HVAC&R industry's leading exposition and conference - has sold 96% of the more than 300,000 sq. ft. available exhibit space at the Atlantic City Convention Center.









According to Clay Stevens, president of International Exposition Company (IEC), 20 of the new exhibitors are international, representing such countries as Australia, Taiwan, Kuwait, Germany, Hong Kong and Canada. "We've had strong interest in the 2002 AHR Expo from all corners of the world. It has been 19 years since the AHR Expo was last in Atlantic City, and show management is expecting a strong turnout. The number of pre-registered visitors is more than 5,000, equaling the 2001 event's advance numbers at the same point in time.
---
Johnson Controls Creates Unit Dedicated to Energy Management
MILWAUKEE - (November 8, 2001) - Johnson Controls, Inc., has created a new business unit called Energy and Power Management Services that will be dedicated to energy issues and solutions for customers of the Controls Group. Steven E. Quick has been named vice president, energy and power management services, and will lead the unit. In his new role, Quick will be responsible for defining the total energy and power management solutions that Johnson Controls provides customers. This will include integrating a variety of product offerings, such as demand side management, information management, program management, supply side management, power assurance and finance solutions.
For more information visit www.jci.com
---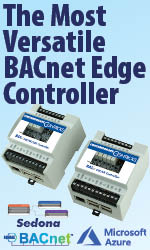 Power Measurement Selected by Italian National railway for Rome Energy-Management Project
VICTORIA, BC, Nov. 8, 2001 - Power Measurement, a leading provider of enterprise energy management systems, and Ampere Spa, the company's agent in Italy, have been selected by Rete Ferroviaria Italiana (RFI) and the Italian Railways Group to provide digital power meters and energy management software for a power-monitoring project in Rome. Under the terms of the agreement, Power Measurement and Ampere Spa have supplied a system consisting of ION(R) power and energy meters and ION Enterprise(TM) energy management software. The system is designed to provide full metering and energy management services for each of the 13 substations owned by Rete Ferroviaria Italiana and the FS Italian Railways, and link consumption data to the national grid operator GRTN.
---
Cost-Effective DDC with the Trane Tracer(TM) MP581 Controller
ST. PAUL, MN - The Trane Tracer MP581 field-installed programmable controller is appropriate for new construction, upgrades, and renovations. With the MP581 controller, building owners can benefit from centralized monitoring, more consistent comfort, and reduced operating costs.
The Tracer MP581 controller's features make it simple to use for building staff, enabling optimal use of the system. The optional touch screen display of the Tracer MP581 controller allows building operators to easily perform the most common daily tasks such as checking status, changing setpoints, editing the building schedule, performing manual overrides, and troubleshooting problems.
---
U.S. General Services Administration Chooses Tridium Software to Automate Intelligent Building Project for Chicago Federal Facilities
Richmond, Va. – Two major government facilities in Chicago, comprising more than 72 floors and 2.5 million square feet of building space, are now fully automated – from their HVAC and power monitoring to their lighting systems – thanks to Tridium's Vykon(TM) Building Automation Suite software.
The U.S. General Services Administration's (GSA) intelligent building project (initiated in 1996) has been working toward improving energy inefficiencies and simplifying the management of thousands of independent building control devices shared by the Everett M. Dirksen U.S. Courthouse and John C. Kluczynski (JCK) Federal Building. The facilities are critical sites for the federal government – housing various tenants including the Federal Courts, GSA, Department of Justice, U.S. Marshals Service and federal law-enforcement agencies. GSA's goal was to upgrade and optimize the facilities' operating systems into an open system environment that allowed their facility managers to efficiently manage energy consumption and costs.
---
CABA JOINS GROWING LIST OF ASSOCIATIONS ENDORSING AHR EXPO" 2002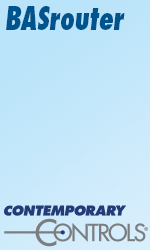 Westport, CT. - Continental Automated Buildings Association (CABA) recently announced that it will be joining 15 other industry leading associations in endorsing the 2002 International Air-Conditioning, Heating, Refrigerating Exposition (AHR EXPO"), January 14-16 in Atlantic City. CABA is dedicated to promoting advanced technologies for the automation of homes and buildings in North America. Representing several thousand HVAC&R professionals worldwide, these 16 endorsing associations provide their members with distinctive opportunities to experience the latest innovations and practical solutions for residential, commercial, institutional and industrial applications.
---
BAPI Finishing Development of Two New Combination Sensors
Madison, WI - Building Automation Products, Inc., manufacturer of temperature and humidity sensors for the commercial HVAC/R industry, is in the final development stages on two new combination sensors. The RuPI incorporates temperature measurement, setpoint adjust, fanspeed adjust, local readout, tenant override, and an infrared occupancy detector into one enclosure. Projected release date for the RuPI is December 2001. The LON compatible sensor features measurement and display of local temperature and relative humidity with optional temperature setpoint, humidity setpoint, and local override. An onboard Neuron chip allows connection directly to a LON network, and the sensor uses the FTT 10A transceiver topology. Projected release date for the LON compatible sensor is January 2002. For more information, as it becomes available, visit www.bapihvac.com.
---
Ottawa Valley ASHRAE Chapter are pleased to invite you to attend our first Seminar/Trade Show on Interoperability.

This seminar will be designed to offer an introduction to this topic in several areas such that all attendees should leave with a basic understanding of Interoperability and its related issues. Ottawa Valley ASHRAE Chapter Seminar/Trade Show on Interoperability November 20th, 2001 - 10:00 am to 5:00 pm Nepean Sportsplex Salon A & B more info http://www.ashrae.ottawa.on.ca/text/nov01mtg.htm
---
Power Measurement Partners with Dillon Engineering Associates to Expand Energy Management Capabilities
VICTORIA, BC - Power Measurement, a leading provider of enterprise energy management systems, has announced a channel-partner agreement with Dillon Engineering Associates of Jacksonville, Florida. Dillon Engineering will offer Power Measurement's ION(R) hardware and software systems as part of its complete substation automation and PLC automation services.
---
SimplexGrinnell Announces Comprehensive 10-Point Commitment for Supporting Customers with AUTOCALL® Fire Alarm Systems
HOUSTON, Texas and WESTMINSTER, Massachusetts - SimplexGrinnell, a unit of Tyco Fire and Security Services and a leader in fire protection, life safety and integrated security, today announced its commitment to a 10-point program of ongoing service, support and upgrades for the hundreds of thousands of customers who protect their buildings and facilities with the AUTOCALL® brand of fire detection and alarm systems.
---
Johnson Controls Appoints Darryll Fortune as Director of Public Relations
MILWAUKEE -Darryll Fortune has been named director of public relations for the Controls Group of Johnson Controls, Inc. In this position, Fortune is responsible for identifying, implementing and evaluating public relations opportunities for Johnson Controls and works with senior managers and group marketing staff to develop public relations programs that are an integrated element of the company's overall marketing communications plan.
---
Net@Home2001 stands out as the key event of the year in Europe in the field of Home Networks & Gateways, Connected Appliances and Internet Services
France - Net@Home2001 (www.Net-atHome.com), the largest European event on "Home Networks & Gateways, Connected Appliances and Internet Services" is being hosted by Sigma Consultants from November 26 to 30 at the Méridien Hotel in Nice (South of France). This year, Net@Home features a pre-conference workshop (Nov 26), a conference & exhibition (Nov 27 & 28) and industry association meetings (Nov 26, 29 & 30). Now in its 4th year, Net@Home2001 brings together all the major European, North American and Asian players addressing the market for Home Networks & Gateways, Connected Appliances and Internet Services. Net@Home2001 explores the business, marketing and technical issues facing residential gateways, home networks and key ensuing applications.
---


[Click Banner To Learn More]
[Stay Informed - Subscribe to our Update Mailing List]
[Home Page] [Contact Us] [The Automator - Current Issue]
[News] [Resources] [Products] [eDucate] [About]

Visit Home Toys to Learn about Home Automation
Web Design by Enviromation