---
Venstar's Surveyor Energy Management System and ColorTouch Commercial Thermostat to Be Featured at Edison Electric Institute (EEI) Show This Fall

CHATSWORTH, Calif., Oct. 5, 2011 — Venstar®, a leading thermostat and energy management systems supplier, today announced that its Surveyor® Energy Management System (EMS) and ColorTouch™ Commercial touch screen thermostat will be featured at the upcoming Edison Electric Institute's (EEI) Fall National Key Accounts Workshop (Booths #413 and #414) being held Oct. 16–19, 2011, in San Antonio, Texas.

"We're looking forward to gathering with energy managers from some of the country's leading companies and sharing our energy management solutions with them at this event," said Steve Dushane, president and CEO of Venstar Inc. "With Surveyor, more than 13,000 retail stores are saving their companies millions of dollars in energy costs while they reduce their carbon footprints."

"With ColorTouch Commercial, users can dramatically reduce their energy usage and costs by taking advantage of the wide variety of programming options, including 365 day programming for heating and cooling," Dushane added. "This touch screen thermostat also lets businesses display their logos, ads or promotions right on the thermostat screens."

About Surveyor EMS

Venstar's Surveyor EMS has saved millions on retail chain customers' energy bills at more than 13,000 locations in North America. Combined, chains' energy use was reduced by 1.3 billion kilowatt hours, which is equivalent to taking 185,057 cars off the road and eliminating more than 2.1 billion pounds of CO2 emissions. Designed for small-box retail chains, Surveyor is installed in more than 13,000 locations throughout North America, including many big-name retail stores.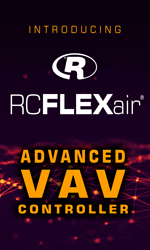 Surveyor empowers small-box retailers and other multi-location businesses to remotely monitor, control and manage their HVAC, lighting/electrical and mechanical systems in all their stores, giving them unprecedented visibility into their energy usage. Designed specifically for small-box retail chains with hundreds to thousands of locations, Surveyor provides powerful energy management tools for energy and facility managers responsible for managing multi-location companies.

About ColorTouch Commercial Touch Screen Thermostat

ColorTouch Commercial is a multi-functional, simple-to-use, touch screen thermostat designed for commercial installations. With ColorTouch Commercial, users can display their business logos, advertisements or promotions on their thermostat screens as a slideshow screensaver or background wallpaper. ColorTouch Commercial also includes a 365-day holiday programmer, automatically updatable firmware, and added security for public display. ColorTouch Commercial helps businesses go green by providing a wide variety of programming options that help improve energy efficiency while keeping the business environment comfortable. ColorTouch Commercial is priced at approximately half the cost of competitive touch screen thermostats.

About Venstar Inc.

Founded in 1992, Venstar Inc. is a leading thermostat and energy management system (EMS) supplier, known for providing value to its customers via ease of use and installation, proven cost savings, improved energy efficiency, quality and reliability. Venstar's Surveyor is a leading energy management system, typically saving small-box retailers 25 percent of their energy costs, which translates to millions of dollars in savings and dramatic reductions in C02 emissions. Surveyor currently controls the energy usage of more than 13,000 retail locations across the United States, Mexico, Puerto Rico, and Canada. Venstar is one of the largest thermostat suppliers in the world and designs and produces Venstar-branded products, as well as OEM thermostat products for the biggest names in HVAC. For more information visit Web site: www.venstar.com
---


[Click Banner To Learn More]
[Home Page] [The Automator] [About] [Subscribe ] [Contact Us]