---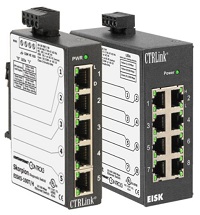 Contemporary Controls - Skorpion Diagnostic Switch Series ideal for network troubleshooting
Skorpion Diagnostic Switches assist the user in troubleshooting Ethernet networks by allowing a network sniffer such as Wireshark® to attach to an unused port on the switch and observe all traffic on the network. Skorpion Diagnostic Switches retain all the features of an unmanaged switch but perform like a repeating hub where all received messages are flooded to all other ports. There are two 5-port diagnostic switches in the series which differ only by the highest data rate supported. The EISK5-100T/H supports 10/100 Mbps networks while the EISK5-GT/H can additionally support gigabit speed. The EISK8-GT/H supports up to eight ports at 10/100/1000 Mbps speeds.

One benefit of switched Ethernet technology is that the switch restricts directed messages to only those ports party to the communication. This improves overall network throughput by not burdening end stations with useless traffic. However, this feature makes protocol debugging difficult because a sniffer (protocol analyser) tool attached to an unused port on the switch cannot observe any directed messages of interest. In the past, the solution was to change out the switching hub with a repeating hub but with the Skorpion Diagnostic Switch this is unnecessary.
For more information visit https://www.ccontrols.com/ctrlink/index.htm


---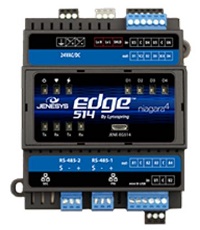 Lynxspring Announces New Fully Programmable JENEsys® Edge™ Controller
The JENEsys® Edge™ 514 IoT Controller is a fully programmable Niagara 4 Controller with 14 IOs built-in and expandable IOs available, delivering edge connectivity, control, data access and analytics for today's buildings.

Part of Lynxspring's portfolio of JENEsys Edge products, the JENEsys Edge 514 Controller, with 14 I/Os, offers more flexibility with the full features of the Niagara Framework®, creating a superior edge device for the smart building and equipment ecosystem. The 514 Edge Controller can be easily tailored to specific applications, allowing easy application programming, selection and configuration. Built with fully programmable and licensed Niagara software, the 514 Edge Controller works with the Niagara programming tools, Workbench and Fox Protocol, and easily connects to a Niagara Supervisor, an Enterprise and the Cloud.
For more information visit http://www.lynxspring.com.

---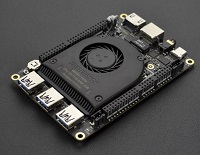 LattePanda Alpha 864s (Win10 Pro activated) – Tiny Ultimate Windows / Linux Device

Has an Intel cpu, 64gb of emmc, pci slots for modules or ssd drives, 8gb of ram and an onboard Arduino with gpio header for real-time applications. You can run Linux or Windows and no longer restrained to the embedded OS. The Alpha Edition uses the same Intel 7th generation Core m3 processor as the latest MacBook. The Core m3 processor is the perfect choice for superior performance and low power consumption. We have shrunken this computing monster from a laptop to the size of a phone.

For more information visit https://www.dfrobot.com/product-1729.html


---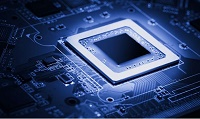 Adesto's FT 6050 Smart Transceiver Now Natively Supports both LonWorks® and BACnet® Protocols - Adesto Technologies
Adesto Technologies Corporation (NASDAQ: IOTS), a leading provider of innovative application-specific semiconductors and embedded systems for the IoT, announced that its FT 6050 Smart Transceiver system-on-chip (SoC) now natively supports LON®, LON/IP, BACnet/IP and BACnet MS/TP protocol stacks – uniquely enabling the popular LON and BACnet industrial protocols to communicate simultaneously over the highly reliable and widely adopted Free Topology (FT) channel. Adesto®'s FT 6050 Smart Transceiver will modernize and simplify automation and control networks, especially in smart buildings. Its unique and powerful open systems approach allows BACnet workstations and LON network manager and integrator tools to natively field-configure, provision and monitor controllers as either LON or BACnet devices, or both.

For more information visit https://www.adestotech.com/
---
BACnet certificate renewed - Beckhoff

Starting with version 4024 of TwinCAT 3, the new BACnet supplement is available. With a total of 657 possible combinations of basic device, CPU, operating system and display size (for Panel PCs), the right solution is available for any application. Each controller can process data volumes for a number of BACnet objects ranging from 400 to 5,000.
The globally standardized BACnet compliance check included testing and certification of BACnet Revision 14, the routing between BACnet/IP and MS/TP, along with twelve new object types. The advanced AS-B profile of the AMEV was also recognized in connection with the certification process.

Issued in January 2019, the BACnet certificate will be valid for five years. BACnet Revision 14 also features significantly improved and expanded alarm properties. In addition, basic data types such as, for example, a date, a character string or floating-point values can now be mapped with twice the precision as before by help of the "primitive value" objects. The Remote Manager in TwinCAT 3 ensures downward compatibility with legacy objects in BACnet Revision 12.
---
---


[Click Banner To Learn More]
[Home Page] [The Automator] [About] [Subscribe ] [Contact Us]