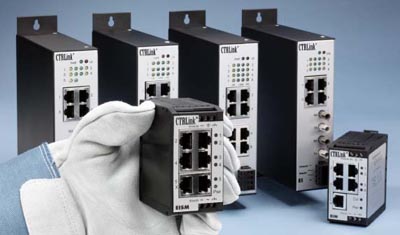 Affordable Industrial Ethernet
CTRLink™ delivers rugged, compact and cost-effective Industrial Ethernet with fast service and comprehensive support.
Reliable Industrial Ethernet switches are essential for successful factory information and control systems. CTRLink 10/100 Mbps switches segment your factory LAN into easily maintained, deterministic automation islands. Our miniature switches are designed for control panels where space is at a premium. Look to CTRLink for a wide range of Industrial Ethernet products including repeating hubs, switches and media converters.
The CTRLink family is designed to meet regulatory agency approvals and supports redundant power connections and low voltage AC or DC power sources. DIN-rail mounting makes installation quick and easy. Products are available from stock across three continents. Do you have unique requirements? Receive qualified guidance from the Industrial Ethernet experts.
To receive your FREE informative guide '10 Issues To Consider Before Installing Industrial Ethernet,' E-mail your street address to support@ctrlink.com. Visit www.CTRLink.com to keep informed about our expanding CTRLink line.
Company Profile
Ethernet has become universally popular in Building Control systems, and Contemporary Controls has set a new standard on this technology. Our CTRLinkÒ line of DIN-rail mounted hubs and switches packs industrial-strength electronics into very small packages, so that you get years of trouble-free performance in your building automation system (BAS). These units will offset the hazard of downtime, high cost, and give you a valuable edge on your competition.
The company builds on a 28-year history of designing and manufacturing network interface modules, hubs, repeaters, bridges, routers, gateways and analyzers - aggressively developing hardware that stands the test of time. A preferred supplier to BAS OEMs, Contemporary Controls offers a variety of other network formats including ARCNETÒ.
Our products bridge the gap between expectations and performance. High quality is not an option. Contemporary Controls builds products that pack in more functionality to solve your networking challenges anytime, anywhere. We have proven our ability to deliver our products across six continents 24/7 in tough industrial and commercial environments, supported by technical assistants that are able and capable to meet your requirements.
To understand how we make ideas that work, visit Contemporary Controls' websites: www.ccontrols.com and www.ctrlink.com.