EMAIL INTERVIEW - David Clayton & Ken Sinclair
David Clayton is a Senior Analyst with ARC and is responsible for following global industrial and building automation markets, writing in-depth research reports, and managing automation advisory accounts, with particular focus on Building Automation Systems (BAS) and final control elements. David has conducted numerous market analyses and custom reports on automation technologies such as BAS, control valves, variable speed drives, and flowmeters. David has also written several Strategies Reports and Insights for distribution to clients of ARC's advisory service. Email: davec@arcweb.com
Market Opportunities and Challenges in the Building Automation Industry
---
Sinclair: What Benefits are available to building owners who invest in an integrated BAS infrastructure?
Clayton: Despite signs pointing toward a global economic recovery during 2002, there remain tremendous pressures on building owners to find ways to lower their variable costs. According to a survey recently conducted by ARC, most building owners are narrowly focused on lowering energy costs through the incorporation of integrated BASs. There are many life cycle cost benefits of networked BASs beyond energy conservation. Networked BASs optimize manpower by allowing companies to manage all of their systems in one building or across multiple buildings from a remote location. Networked BASs also reduce maintenance costs by helping facility managers monitor building equipment performance. Perhaps the biggest cost benefit, however, is a BAS' ability to reduce the company's cost of operations by increasing employee comfort.

There is a direct link between employee comfort and productivity. In the US alone, billions of dollars are lost each year due to decreased productivity resulting from employee discomfort. Traditional approaches taken by building owners to create a productive working environment for employees consist of trying to make the entire building comfortable for all occupants all the time. It is impossible, however, to satisfy the needs of all employees with the same environmental settings. ASHRAE standards show that a facility manager is doing well when 80 percent of the workforce is comfortable at any given time. This benchmark implies that the productivity of more than 20 percent of the workforce in the average company is hampered by discomfort on a regular basis.

Expanded use of intelligent sensors and software packages, however, now allow facility managers to define an ever increasing number of areas and comfort ranges to best suit their facility's climate control requirements. Integrated BASs allow facility managers to independently control the environment in each of the facility's defined areas and make each workspace comfortable to the individual needs of its occupants. By greatly increasing the environmental customization available, BASs empower facility managers to make an ever greater percentage of the workforce comfortable, which greatly improves the company's overall productivity and bottom line. New BAS technologies also provide building owners and operators a chance to overcome HVAC limitations due to poorly designed ductwork. Even a small increase in employee productivity translates into thousands of dollars in savings. Ultimately, by investing in establishing an integrated BAS infrastructure, facility managers create a more productive environment, which greatly improves the company's operating efficiency and lowers its total cost of operations.
Sinclair: What additional benefits are available to manufacturing companies who successfully integrate their building automation and industrial automation systems?
Clayton: In addition to the productivity enhancement opportunities available to all building owners, many manufacturing companies have an additional opportunity to optimize their manufacturing operations by integrating their building automation and industrial automation systems. Many mission-critical manufacturing environments, such as electronic components, integrated circuits, and pharmaceutical production, require precise control of temperature and humidity in order to ensure the quality of the final product. Fluctuations in either temperature or humidity can have dramatic negative results on the quality of prescription drugs or integrated circuits and can mean the difference between a batch of product ultimately being accepted or rejected. In addition, a strict level of air cleanliness is required to ensure the final goods are not fouled by dust or other stray particles during production. To reduce the effects of changes in the environment on the final product, manufacturing plants are striving to integrate their industrial automation and building automation systems. Once integrated, BASs used to monitor and control mission-critical environments can send information about the quality of the environment to industrial automation control systems. Optimization tools within industrial automation systems can then correlate variations in the manufacturing environment with scheduled workflows.

By integrating industrial automation and building automation systems, manufacturers are assured that the quality of their final product will not be adversely affected by changes in the environment. In addition, manufacturers can program their BASs to control air quality to the lowest common denominator mandated by the minimum requirements for the particular application. By setting their BASs to enforce only the minimum air quality conditions, manufacturers can significantly lower their energy costs without adversely affecting their manufacturing operation. Synergies created by the integration of BASs and industrial automation systems, therefore, allow manufacturers to, not only ensure final product quality, but also reduce energy consumption, and optimize production scheduling.
Sinclair: Are industrial automation suppliers A Threat to BAS suppliers?
Clayton: Many industrial automation system suppliers have taken note of the trend toward manufacturing companies integrating their building automation and industrial automation systems. Industrial automation suppliers have responded by increasingly expanding their capabilities in the BAS arena to take advantage of the coming convergence of the two markets. Siemens, for example, has been aggressively pursuing market share in the BAS market through acquisitions. After its acquisition of Electrowatt in 1998, Siemens formed its Building Technologies division, which also includes the building automation businesses of Landis & Staefa and Cerberus Pyrotronics. Invensys is another example of a leading industrial automation supplier making inroads into the BAS space. ARC feels that, as the two markets continue to converge, traditional BAS suppliers are going to experience increasing competition from industrial automation suppliers.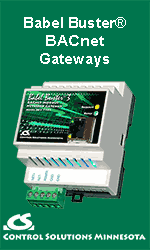 Sinclair: What additional challenges do BAS suppliers face as the market redefines itself?
Clayton: Building owners, struggling to do more with less, are increasingly turning to BAS suppliers for help reducing operating and maintenance costs. Reduced staffs and tight budgets are forcing building owners and operators to reassess their core competencies and align their operating strategies to focus on those competencies. Restructuring in the market is also redefining the traditional relationship between customers and suppliers, which typically only exist for the term of a project or the term of supplied services. As more building owners turn to performance contracts as a means of purchasing a desired outcome, as opposed to a system or piece of equipment, long-term partnership between building owners and BAS suppliers will become more common.

In addition, rapidly evolving technology enhancements and the integration of Internet and IT technologies are redefining the needs of the market and the role BAS suppliers play in the market. Building owners and operators today are increasingly looking to building automation suppliers to enhance the performance of their BASs and maximize their return on investment by helping them integrate the system into their existing IT infrastructure. The increasing need for integration between various automation systems and real interoperability between competitors is further adding to the burden being placed on BAS suppliers. Building owners are increasingly turning to BAS suppliers to help them transform their disparate automation systems into an integrating infrastructure that assimilates the separate systems and services into a cohesive solution. Consequently, the traditional role of BAS suppliers is rapidly evolving from product and system suppliers to complete solution providers.
Sinclair: How Should BAS Suppliers React to the increasing challenges in the market?
Clayton: To meet the increasing challenges ahead, BAS suppliers must shift their focus to providing improved customer service and long-term support capabilities. To accomplish this, BAS suppliers should work toward developing solutions oriented business units aimed at providing customers complete solutions. Honeywell has already begun this transformation by developing its solutions and services business, which provides products and services that help customers improve their productivity and competitiveness by improving their overall building and facility performance. Johnson Controls has also done some work in this area by establishing its Retail Solutions business, which encompasses a range of systems and services that meet all of a retail chain's needs.

BAS suppliers should also try to develop integrated products and services that identify trends, problems, and potential areas of improvement to maximize building performance and profitability. Johnson Controls, for example, has developed software technologies aimed at establishing proactive service strategies, designed to eliminate outages due to failures in power, cooling, or security. Honeywell's LifeSafety Manager, Building Manager, and Security Manager applications are another good example of building automation products and services aimed at providing a complete solution. Honeywell designed its suite of intelligent building automation products so that each application manages a particular facet of a building, while integrating the various applications to optimize the operation of the entire facility.

As customers increasingly look for long-term relationships with their suppliers, a supplier's ability to forge fluid relationships that can attach and detach from project to project as needed is becoming critical for survival. BAS suppliers must be able to reinvent themselves to gain control of newly expanded, but still highly fragmented, markets. Suppliers must also learn to redefine their system offerings more quickly than ever before in order to keep up with changes in technology, business opportunities, and customer expectations. The ever-changing role of BASs and suppliers represents numerous challenges for these suppliers, but also provides new business opportunities for those willing to adapt to the new demands of the marketplace.
Sinclair: How can our readers find out more about the future impact industrial automation systems will have on the BAS market?
Clayton: Automatedbuildings.com will be publishing an article I wrote in the May issue concerning the benefits of integrated BASs beyond reducing your energy costs. I have also recently completed a market outlook study, which quantifies and forecasts the North American BAS market through 2006. This report provides an in-depth analysis of the North American BAS business and is an effective planning guide for companies interested in purchasing BASs and/or providing BASs to the North American marketplace. The report is specifically prepared to provide strategic information to industry executives responsible for planning, marketing, purchasing and development of their company's BAS business. In addition to providing market shares and overall market size, the study also forecasts overall growth in the market by system type and building sector. For more information and price, visit us on-line at www.ARCweb.com/ARCstore.
---


[Click Banner To Learn More]
[Home Page] [The Automator] [About] [Subscribe ] [Contact Us]