---
| | |
| --- | --- |
| AHR Expo New York Jan 22-24 2008 | Ken Sinclair Editor |

I
AHR Expo 2008 Overview AHR 2008 News AHR Innovation Award Winners
Below is a list of the folks presently registered in the Building Automation & Control Showcase. We have bolded and linked our advertisers. Be sure to see their booths.
Company Contact Booth# Telephone Url
ABB Inc. Ms. Tricia Meye 257 262/785-3206 www.abb.us/drives
Air Products and Controls Inc. Ms. Rochelle McGee 231 248/332-3900 www.ap-c.com
AirAdvice, Inc. Ms. Jacque Schmidlin 136 866/247-4800 www.airadvice.com
Alerton Ms. Lacey Hein 278 425/897-3974 www.trendcontrols.com
American Auto-Matrix Mr. Rocky Moore 102 724/733-2000 x 328 www.aamatrix.com
ANCHER Technology Inc. Mr. Gary Wang 123 011-886-2-8667-1155 x111 www.ancher.com.tw
Auto Tran Incorporated Ms. Mya Holzemer 109 800/735-8998 x27 www.autotraninc.com
Automated Logic Corporation Ms. Kathleen Magee 164 770/429-3000 www.automatedlogic.com
Automation Components, Inc. Mr. Chad Schwenn 165 608/831-2585 www.workaci.com
BACnet International Ms. Natalie Nardone, CMP 113 678/852-2961 www.bacnetinternational.org

Belimo Aircontrols (USA), Inc. Ms. Lisa Hickey 228 203/749-3341 www.belimo.com

Bray Controls Mr. Steven Drollinger 169 262/215-1555 www.bray.com
Building Automation Products, Inc. Mr. Michael Lawton 157 608/735-4800 x110 www.bapihvac.com
Sinro Air-Conditioning Group Co., Ltd. Ms. Jocelyn 149 011-86-20-83936008 www.sinro.com
Chemtrol Division, Santa Barbara Control Systems Mr. Rick Cummings 206 800/621-2279x113 www.sbcontrol.com
China Chamber of Commerce for Import and Export for Machinery and Electronic Products (CCCME) Mr. Wang Shang En 211 011/86-10-67794089 www.cccme.org.cn
Connect-Air International, Inc. Mr. Sean McCarthy 153 253/813-5599 www.connect-air.com

Contemporary Controls Ms. Judy Thomas 246 630/963-7070 x120 www.ccontrols.com

Control Resources, Inc. Mr. Jim Quirk 245 978/486-4160 www.controlres.com
Control Solutions, Inc. Mr. Jim Hogenson 273 651/426-4410 www.csimn.com
Critical Environment Technologies Mr. Bob Davidson 221 604/940-8741 www.critical-environment.com

Delta Controls Inc. Ms. Melinda Bartee 130 425/444-1447 www.deltacontrols.com

Distech Controls, Inc. Ms. Caroline Cadieux 114 450/444-9898 x237 www.distech-controls.com

Dodge Engineering & Controls, Inc. Ms. Jeannie Clemons 209 978/244-1200 www.deicontrols.com
Domosys Corporation Mr. Bernardino Camba 275 418/681-8022 x 226 www.domosys.com
E + E Elektronik Ges. m.b.H. Mr. Florin Cojocaru 222 011/43-7235-605-0 www.epluse.com
Echelon Corporation Ms. Mona Quinones 223 408/938-5232 www.echelon.com

Elodrive USA, Inc. Mr. Blake Bonnabeau 146 203/798-9811 www.elodriveusa.com

EMCO Flow Systems Ms. Carol Torrise 119 303/682-7063 www.emcoflow.com
Enolgas Bonomi spa Mr. Marco Bo 217 011/39-030-2184311 www.enolgas.it

FieldServer Technologies Mr. Stephen R. Ferree 125 408/262-2299 www.fieldserver.com

Functional Devices, Inc. Mr. Mike Koloszar 267 800/888-5538 www.functionaldevices.com
Genesis International, Inc. Ms. Cindy Mak 237 636/282-0011 www.genesis-international.com
Greystone Energy Systems, Inc. Mr. Scott McKinnon 268 506/853-3057 x108 www.greystoneenergy.com
Heat-Timer Corporation Mr. Frank Pacifico 202 973/575-4004 x126 www.heat-timer.com
Hoffman Controls Corp. Mr. Terry Waldron 229 972/243-7425 x104 www.hoffmancontrols.com
ICM Controls Corporation Mr. Kevin Jobsky 259 315/233-5266x362 www.icmcontrols.com
Innotech Control Systems Mr. Paul O'Connor 218 011/61-7-3841-1388 www.innotech.com.au
Intellidyne LLC Mr. Mike Ruff 182 516/676-0777x227 www.intellidynellc.com
Kele, Inc. Ms. Janet Flickinger 134 901/382-4300 www.kele.com

KMC Controls Ms. Aimee Trammell 256 574/831-8195 www.kmccontrols.com

LonMark Americas (LMA) Ms. Heather Deal 271 214/213-7233 www.lonmarkamericas.org
LOYTEC Americas, Inc. Mr. Al Mouton 208 512/689-6847 www.loytec.com

Lynxspring, Inc. Bob Mealey 173 913/649-5969 http://www.lynxspring.com/lcd.jsp

MAMAC Systems, Inc. Ms. Renee S. Paul 230 800/843-5116 www.mamacsys.com
NEMI / TABB Ms. Lori Ferrigan 190 703/739-7100 x 661 www.smwia.org
ONICON Incorporated Ms. Heather Williamson 118 727/447-6140 www.onicon.com
Optimum Energy, LLC Mr. Nathan Rothman 272 888/211-0918x80 www.optimumenergyco.com
Pro-Temp Controls, Inc. Mr. Pete Lockwood 107 714/327-1857 www.ptcontrols.com
Quatrosense Environmental Ltd. Mrs. Tracy McLaughlin 111 613/838-4005 x313 www.QEL.dedesco.com

Reliable Controls® Corporation Ms. Mishelle Rowland 158 250/475-2036 www.reliablecontrols.com

Richards-Zeta Building Intelligence, Inc. Ms. Brooke Raffetto 264 805/692-5560x211 www.richards-zeta.com

Rockwell Automation Mr. Paul McCabe 176 262/751-5081
Samyoung S & C Co., Ltd. Mr. Kim Jung Hyun 100 011/82-31-741-1833 www.samsungsnc.com
SenseAir AB Mr. Björn Österlund 200 011/46-0-653-717770 www.senseair.com

Setra Systems, Inc. Ms. Diane Shaughnessy 203 978/263-1400 x3601 www.setra.com

Smart Controls, LLC Mr. David Kniepkamp 239 618/394-0300x2110 www.smartcontrols.com
Spartan Peripheral Devices Ms. Shannon Blackwood 247 888/554-4465 www.spartan-pd.com
TCS Basys Controls Mr. Steve Allison 235 608/836-9034, ext. 440 www.tcsbasys.com
Tekmar Control Systems Ltd. Ms. Leta Naumenko 179 250/545-7749 www.tekmarcontrols.com
Toxalert International, Inc. Mr. Craig Wolfe 219 952/472-4541 www.toxalert.com
Trend Control Systems USA Ms. Lacey Hein 172 425/897-3974 www.trendcontrols.com

Tridium Ms. Julie Hardesty 142 219/763-9302 www.tridium.com

Trs Systems, Inc. Mr. Alex Wong 286 952/745-4510 www.trssys.com
Tunstall Corporation Ms. Laura Maspo 2724 413/594-8695 www.tunstall-inc.com
Tyco Flow Control Ms. Annette Smith 250 713/986-6359 www.tycovalves.com
Valley Tool & Design, Inc. Mr. Robert F. Carr, Jr. 243 540/249-5710 www.valleytool-design.com
Valve Teck Mr. John Green 180 901/794-5790 www.valveteck.com
Vector Controls Ltd. Ms. Tanya Yang 121 011/41-44-7617026 www.vectorcontrols.com

Veris Industries Ms. Vicki Bergers 129 800/354-8556x257 www.veris.com

Viconics Electronics, Inc. Ms. Maria Pensato 103 514/321-5660 www.viconics.com

Watt Stopper / Legrand Ms. Kaitlyn Huynh 213 408/988-5331 www.wattstopper.com
Yaskawa Electric America, Inc. Ms. Terry Skup 159 847/887-7082 www.yaskawa.com/site/products.nsf/productgroup/hvacdrives.html
Dave Branson and I are doing our 9th consecutive year of free education sessions at AHR Expo New York. http://www.ahrexpo.com/education/freesessions.php As you can see below we are Greener and more Sustainable please join us.

Greening the Big Apple with New Building Automation Ideas
A preview of new technologies and ideas that can be found at this year's Building Automation & Control Showcase. This season will also include an introduction to the Building and Automation winners and runners up of the 2008 Innovation Awards. We'll provide an overview of new trends, concepts and ideas that have emerged since the 2007 AHR Expo, Dallas.
Automation for a Sustainable Future
Real changes are occurring in our industry - Green Buildings, GridWise, Demand Response, Net Zero Buildings all involve the ability of automation systems to monitor, control and report on non-renewable and renewable resources, place buildings on and off the energy grid, and provide consistent and complex responses to building needs. Come and understand how to make automation part of your sustainable future.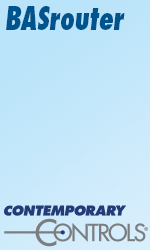 Impact of Evolving Energy Priorities on the Building Automation Industry
The push for North American energy sustainability and independence is now being forged in the ASHRAE Energy Standards 90.1. Couple this with the new perspective about the future of buildings which restates the proposition of integrated building systems, automation, controls, and energy management. These evolving priorities will lead to full integration of all aspects of building automation with IT and other building system components such as digital displays, voice and data communications, security, vertical transport, parking systems, etc. In addition this energy impact will improve the reliability and efficiency of the National Electric Grid using Information Technology (IT) and the Internet to enable interoperability between equipment on both sides of the electric meter.
Preparing Buildings for a Sustainable World
Reacting to the change in our industry we must prepare our buildings for a sustainable world. This session will deal with real concepts and tools that are now available to achieve this goal. Concepts like the affect of evolving energy standards deep integration and the components of Demand Response such as Day Lighting, storage, alternate energy sources, plus different approaches to traditional problems of ventilation such as Photo catalytic Oxidation (PCO).
In addition Jack Mc Gowan and the GridWise folks will be providing these free informative sessions; Global Warming and GridWise GWAC Building technology integrating with the Electric Grid to save energy and improve the environment. The New Building Automation: Energy Demand Response GWAC How to build an HVAC business on Smart Energy Technology for Building Electric Demand.
---


[Click Banner To Learn More]
[Home Page] [The Automator] [About] [Subscribe ] [Contact Us]