---

EMAIL INTERVIEW – Marc Petock and Ken Sinclair
Marc Petock, Chief Marketing & Communications Officer, Lynxspring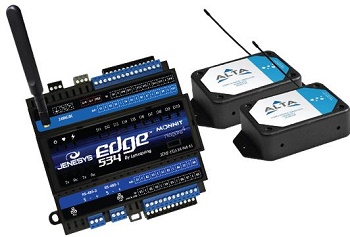 A Look at Lynxspring's

New JENEsys Edge 534 Monnit Controller
Sinclair: I see that Lynxspring has just released a new product called, the JENEsys Edge 534 Monnit. Tell me about it?
Petock: Yes, we have. We are extremely excited about it. The JENEsys Edge 534 Monnit is part of our Edge Enabled™ portfolio of embedded, IP edge controllers that brings together our highly successful JENEsys Edge 534 (Niagara 4), IP programmable controller with the addition of a built-in 900 MHz wireless transceiver and application for direct connectivity to Monnit sensors.
Sinclair: So, is this a fully featured Niagara controller?

Petock: Yes. It combines the full features and functionality of Niagara 4 with the capability of a wireless, Monnit connected sensor network through an on-board Monnit radio. With the on-board Monnit connection, the unit eliminates the need for an additional Monnit gateway.

Sinclair: How is it programmed?

Petock: It is programmed with Niagara Workbench software, standard Niagara 4 programming tools and Fox Protocol. It easily connects to a Niagara Supervisor, an Enterprise and the Cloud.

Sinclair: What sensors are available?

Petock: With this release, we are supporting nine types of sensors including: button press, dry contact, humidity, PIR motion, 1-input pulse counters, temperature, tilt, commercial ultrasonic ranger and water detection. Additional sensor types are planned for release in the coming months.

Sinclair: Why did you select Monnit sensors?

Petock: We did so for a number of reasons. We felt it important to align ourselves with a proven sensor provider who offered cost-effective wireless sensors that could measure a variety of variables within the building environment. In addition, we wanted sensors that were easy to set-up and deploy, had low power requirements, had long battery and life spans, kept security in mind, and had good range. We also did not want sensors that required additional gateways and that all the data collected could remain local to the controller or be sent to a Cloud if desired.
 
Sinclair: What role are you seeing sensors play in today's-built environment?

Petock: As information and operational technologies have converged, sensors are playing a crucial role in a wide variety of applications and in facilitating intelligent building solutions. Wireless sensors, in particular, amplify the benefits of smart building solutions because of their ease of connectivity, and they present a strong business case for wireless systems versus wired systems due to labor and wiring costs.

Sinclair: How about use cases and applications?

Petock: For use cases the JENEsys Edge Monnit is ideal across a wide range of commercial and industrial buildings (new and retrofit), restaurants, retail, multi-sites, data centers, green houses, hotels, universities and equipment such as HVAC, rooftop units, chillers, boilers, fan coil units, heat pumps, air handlers coolers and freezers.
For applications, well there are many including remote monitoring, light, temperature, humidity, CO2, IAQ, equipment monitoring, occupancy and power to mention a few. There are many, many more.

Sinclair: You mentioned this product is part of Lynxspring's Edge Enabled portfolio. Tell me more about this portfolio?

Petock: Our Edge Enabled™ portfolio is part of our One Platform, Many IP Possibilities™ initiative consisting of a collection of modular controllers, gateways, applications and services supporting IP connectivity, integration, interoperability, data access and control at the edge. The portfolio is ideal for any building and facility including small to mid-sized facilities, multi-site environments; plant and equipment control and IoT applications requiring smart, edge technology.

The Edge Enabled portfolio, enables users to maximize their investment in Niagara and make use of one platform across the entire building architecture and meets today's requirements to connect, manage and control closer to where the data actually is whether it be equipment, a single facility or a multi-site environment. The versatility, functionality and broad footprint of the portfolio using the industry's most widely deployed platform makes them powerful, cost-effective and economical solutions for system integrators, building operators and equipment manufacturers.

Sinclair: Where can folks go to see the portfolio?

Petock: For a look at the portfolio. I invite readers to go to our website: https://www.lynxspring.com/technology/jenesys-edge


---

[Click Banner To Learn More]
[Home Page] [The Automator] [About] [Subscribe ] [Contact Us]