EMAIL INTERVIEW
Ken Sinclair and Kevin Lynch


As Executive Director of the LONMARK® Interoperability Association Kevin Lynch is responsible for on-going worldwide technical and marketing activities. He also serves as the Director of Channel Marketing at Echelon Corporation (since 1999). In this capacity he is responsible for marketing activities associated with System Integrators, Resellers and Distributors worldwide.
Prior to joining Echelon, Kevin spent five years as a general manager and in various sales and service management positions for the IT consulting business at Ciber Inc., and Entex Information Services. Prior to that Kevin spent 15 years at Rockwell International as Director of System Integration and in various engineering, project, and program management positions. Kevin holds an MBA from the University of Southern California and a BS in Civil Engineering from Worcester Polytechnic Institute.
Our September Issue will deal with Industry Restructuring. Is it happening?
---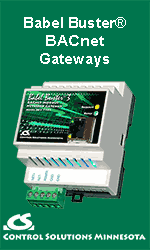 Sinclair - Browser based presentation of all industry information appears to be the now trend. Do you have any concerns?
Lynch: We see this as a trend across all industries that use information and it's almost inevitable that web-based interfaces will be the norm. So, from our perspective, it's really an opportunity, not a concern.
Sinclair - As our industry rapidly migrates towards Information Technology type presentation and procedures are there concerns that we may lose our industry identity?
Lynch: The migration toward IT is really what platforms like LonWorks(r) deliver. Combining the operating network for controls with business networks is clearly the next logical step in helping businesses better manage their overall costs and increase efficiencies. For facility management companies and building owners, giving access to tenants to automation data has a direct benefit in allowing them to drive down the tenants operating costs, like energy consumption.
Sinclair - Is our industry positioned to accept daily convergence opportunities? By convergence I was thinking about the convergence of technologies and procedures used by other industries.
Lynch: The LonWorks device networking platform is a great example of the building industry using this 'convergence' to its advantage. Services, Internet command & control, energy management at the device level, and combining ERP and automation information are all examples of the benefits gained by thinking and acting outside the traditional buildings industry. Companies that embrace this convergence and offer the right combination of services, benefits and cost efficiencies are the ones that will win in the long run.
Sinclair - How would you recommend that owners handle protocol standards and IT convergence to allow themselves the option of changing control contractors in the future?
Lynch: Clearly the right path is to embrace the Open Systems model endorsed by many of the companies in the LonMark(r) Interoperability Association and Echelon's Open Systems Alliance program. Both of these initiatives are all about choosing best of breed products, services, contractors and integrators. The building industry is moving rapidly to open systems with open choices, get over it or get out.
---


[Click Banner To Learn More]
[Home Page] [The Automator] [About] [Subscribe ] [Contact Us]