EMAIL INTERVIEW

Ken Sinclair and Tom Zaban

A world of opportunity and a world of change is a fitting way to describe today's controls industry and business at Reliable Controls Corporation. With many new hardware and software products being released, Reliable Controls Corporation is expanding to better serve our global clients. Facilitating growth and development in manufacturing secures Reliable Control Corporation's long-term and valuable position in the international building automation systems industry
Our September Issue will deal with Industry Restructuring. Is it happening?
---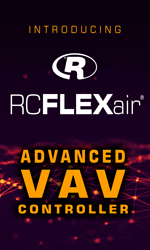 Sinclair - Has your company had to restructure to accept the IT approach?
Zaban: Yes, we have fibre and servers now. We even have a firewall, and there is much more we need to do.
Sinclair - Building Automation is often being bundled as part of larger packages i.e. performance contracts. What are the pros and cons?
Zaban: I believe performance contracting has benefited the contractor far more than the contractee. First the bundled approach means the contractor compromises on some of the components because he cannot offer "all" of the best components because he is not able to integrate all the best components because he simply does not have the know how. The contractor wins. Second, once the contract is signed, the customer is now locked in for a prolonged period to a "fixed" system where changes cannot be made easily or inexpensively. The contractor wins. Third, often the contractor imposes a maintenance contract with the ESCO that comes to the customer at a premium, but the customer agrees to as a result of the bundle. The contractor wins. All this is balanced by a "turn-key" retrofit upgrade designed, installed, maintained and most importantly "financed" by the contractor in return for constant monthly energy payments. The customer wins.
Sinclair - The traditional bid and spec approach is giving way to request for proposal and or design build. What are the pros and cons?
Zaban: I personally prefer the RFP approach. I think it is a more civil and humane way of doing business. It fosters creativity, flexibility and competition while enhancing the customer-contractor relationship. Bid spec is simply put - a dog's breakfast. The heart in the bid spec world is cold.
Sinclair - Is the integration contactor likely to be an independent contractor or an added value to existing automation contractors?
Zaban: Good Question. I predicted some years ago that the integration contractor would go the way of the dinosaur once open protocols began taking hold. It is only logical, that as open protocols become easier to understand and implement, and as the number and variety of open protocol products become commonplace, that the controls contractor will take on the role of the integrator. This is a natural progression.
Sinclair - How would you recommend that owners handle protocol standards and IT convergence to allow themselves the option of changing control contractors in the future?
Zaban: Make sure the vendor is a BMA member and their products are BTL certified. (no bias here)
---


[Click Banner To Learn More]
[Home Page] [The Automator] [About] [Subscribe ] [Contact Us]