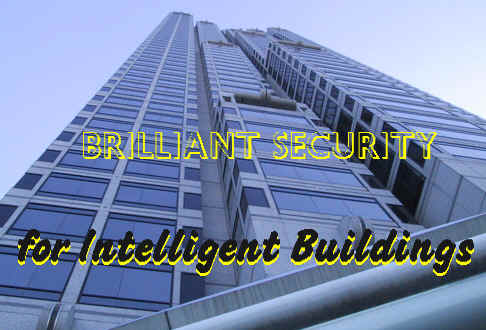 Julia Webb
Vice President, Global Marketing, Bioscrypt Inc.
The impact of fingerprint biometrics on security is profound - it verifies individuals rather than the cards they carry.
Security is inherent in the concept of intelligent buildings. And as anyone who has seen a Bruce Willis movie in the last ten years can tell you, it had better be good.
As automation and information accessibility grows more centralized and more powerful, the need to secure control of it grows even faster. Fortunately, the security industry is ready for the challenge with systems based on finger scanning biometrics.
The impact of fingerprint biometrics on security is profound - it verifies individuals rather than the cards they carry. Consider for a moment the importance of that distinction. Historically efforts went into making identity credentials more secure, but buildings and systems remained vulnerable to low tech attacks like lost or stolen credentials. These risks virtually disappear with the use of biometrics.
Combining fingerprint biometrics with smart cards or proximity cards elevates security systems to strong, two-factor authentication for the highest levels of security. We call this one-to-one security: one security credential and only one person who can use it.










Security managers are not the only winners, system users get a benefit too - life becomes simpler. Fingerprint biometrics solutions replace passwords and PINs with the convenience of touch.
Fingerprint biometrics can secure anything in an intelligent building. While off-the-shelf readers are available for doors, hardware and software solutions are also available for embedded systems so that integrators and manufacturers can use the technology in information, energy, facility management, maintenance or emergency response systems. In addition, manufacturers of electronic devices such as cell phones, PDAs and laptop computers are planning to add fingerprint biometric sensors to secure information and to enable the devices for electronic commerce.
There are other biometric technologies, but fingerprint biometrics is the most mature, reliable and cost effective. It is also the least intrusive. The number of devices already in use may surprise you -- our company alone has over 30,000 fingerprint technology physical access devices installed worldwide. Every day, an estimated one million people touch a device with "bioscrypt on board,"™ our own brand for fingerprint biometrics, for simple and secure access to facilities, equipment and information. Although admittedly we are the market leader, these large numbers clearly show the technology is well established and that momentum is building rapidly.
While the market today is sizable, the deployment of fingerprint-based biometric solutions for access control is on the verge of rapid expansion. A recently released Frost & Sullivan study forecasts that industry revenues will grow fivefold from 2001 to 2003. Three factors are driving this growth - technology advances that have achieved high reliability levels; reductions in sensor cost and size, and an increased need for security in everything from facilities to cell phones. A review of these factors explains why this technology is ideal for securing intelligent buildings and the systems that control them.
The improvements in reliability levels of fingerprint biometrics systems are significant even compared to systems two years ago. They result from technical advances based on more than ten years of field experience and development in the two essential areas of a biometrics system - algorithms and sensors.
There are basically two types of fingerprint biometrics systems, minutia-based and pattern-based. Most companies use minutia-based algorithms that analyze the fingerprint image coming in from the sensor and look for minutia, which are distinguishing places in the fingerprint where the ridges break, intersect, join or divide.
Our company pioneered another approach that has led to far more reliable systems -- a fingerprint verification algorithm that employs a pattern-based approach. Bioscrypt's fingerprint matching is based on the ridge pattern which remains unchanging throughout a person's lifetime. Features such as creases, cuts and dirt are removed using the most sophisticated image enhancement software available. Here is why this approach leads to the most accurate and complete fingerprint verification systems available today.
In each instance that a finger is applied to a fingerprint scanning device the ridge pattern exhibits a different degree of distortion. To illustrate this, just push your fingertip onto your thumb and watch your fingertip distort. The key to accurate comparison of the ridge pattern is the ability to ascertain and then remove the relative distortion between the fingerprint template that was stored upon enrollment and the candidate fingerprint image, submitted for verification or live scan.
With the fingerprint pattern matching technique, the fingerprint image is passed through a very sophisticated image enhancement routine. During this process, the image is filtered, smoothed and conditioned to produce a high quality representation of the ridge pattern. Feature such as creases, cuts, abrasions, and pores that appear inconsistently or move from place to place within the image are removed. In this way, the data that Bioscrypt's algorithm uses for comparison are the entire ridge pattern, which remains unchanged throughout a person's lifetime.
Importantly, pattern-matching algorithms like that of Bioscrypt remove the relative distortion between the candidate fingerprint and the previously enrolled template fingerprint. Using in our case a unique and patented approach that is something like smoothing the wrinkles in a blanket, every ridge of the candidate is aligned with every ridge of the template image, providing maximum use of the entire fingerprint image. The ridge patterns are then correlated, emphasizing areas in which the images are clean and highly complex and down weighting areas where the images are noisy or bland. This technique is termed likelihood detection and is frequently utilized in mission critical U.S. Defense applications.
The result is that pattern-matching becomes an extremely reliable fingerprint matching algorithm that is very effective at handling distortion. In contrast, minutiae algorithms often experience difficulty in handling distortion, because eliminating areas of distortion can result in eliminating minutia, making it impossible to verify the fingerprint.
This point is clearly illustrated in the two AuthenTec AES3500 images below, both from the same finger. The image on the left exhibits a single minutiae point, the ridge ending that is circled in red. The fingerprint on the right appears to contain no minutiae points. Clearly the minutiae approach will exhibit unacceptable accuracy. In contrast, it can be seen that the fingerprint pattern is quite rich and provides a much stronger means for discriminating the two fingerprints.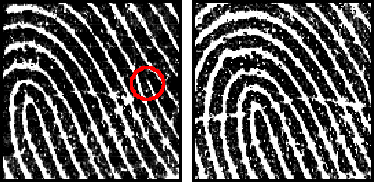 From this explanation, you can see the critical role the fingerprint algorithm plays in the reliability of a system. For companies like Bioscrypt, it is the algorithm the forms the core of our added value. With the lessons learned over a very large number of installations and years of experience, today's leading algorithms deliver very high levels of reliability and performance.
Equally important however to the algorithm is the sensor - the part of the device you actually touch. Sensors are developed and manufactured both by specialized companies like AuthenTec and by the large players in electronic components and semiconductor technologies, such as Infineon, ST Micro and Atmel. These components represent the front-end of the process, so the quality of the image they create affects the entire system.
The latest technology for sensors, such as those we use in Bioscrypt's VeriSeries™ readers, come from companies such as AuthenTec. These sensors are dramatically better than products of two years ago. The new technology is based on silicon instead of optical readers, and actually reads below the surface of the finger, minimizing some problems like scratched or dirty fingers and eliminating others, like latent images on the reader from a prior user. This type of sensor is most effective when combined with a fingerprint pattern-matching algorithm like Bioscrypt's, because both the algorithm and sensor reliably adjust to variations in the fingerprint.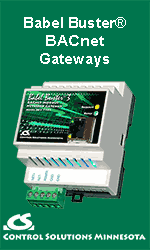 As in most electronics-based technologies, along with gains in reliability have come dramatic drops in cost. Fingerprint biometrics is clearly cost effective for access control and embedded systems today. The sensors are so becoming so affordable we see built-ins for mobile phones, PDAs and PC keyboard evolving from specialty items to becoming commonplace.
Another impact to consider is the decreasing size of the sensor because in electronic components size and cost are generally proportional. As sensor size decreases the fraction of the total fingerprint image is reduced. As this occurs, it becomes increasingly critical that all of the fingerprint information in that reduced area be utilized in order to achieve high levels of reliability. This is best achieved with a pattern-matching algorithm.
Finally, there is the unfortunate fact that the world is forever changed by the events of last September, and the demand for higher levels of security are everywhere. In addition to access control, fingerprint biometrics will likely play an important role in new systems for airport and airline travel, immigration and passport management, government sponsored national I.D. cards, automated delivery of prescription drugs and patient record management, and financial services for payment processing. Development of these potentially vast markets will keep the technology moving forward at a rapid pace.
The same three factors -- reliability, cost effectiveness and the need for greater security --are compelling arguments for making fingerprint biometrics the new standard in access and control systems for intelligent buildings. Fortunately for all of us, our industry is up to the challenge of delivering brilliant security for intelligent buildings.
---
Julia Webb is the vice president of global marketing for Bioscrypt, Inc., ranked as the worldwide market leader in finger scan biometrics by Frost & Sullivan for 2001. Among the many cutting-edge companies and partners using Bioscrypt technology are the U.S. Army, NASA, Continental Airlines, Intel, Atmel, HID Corporation, Honeywell and Northern Computers.
---

[Click Banner To Learn More]
[Home Page] [The Automator] [About] [Subscribe ] [Contact Us]