EMAIL INTERVIEW - Kevin Lynch & Ken Sinclair
Kevin Lynch is the Director, Building Solutions, Echelon
and runs Echelon's Open Systems Alliance program.
---
How are corporations currently using control networks to automate buildings?
Sinclair: How are corporations currently using control networks to automate buildings?
Kevin Lynch: Companies in all different industries--from electrical machinery to food processing to power generation-- are using control networks, such as LONWORKS® technology, for materials handling, web process automation, heating and refrigeration, waste management, environment monitoring and other functions. There are over 18 million LONWORKS devices alone installed worldwide.

Fuji Electric, Japan's largest industrial integrator, announced that they are creating a business that uses the LONWORKS platform to tie together factory floor automation systems with enterprise applications like MRP, ERP, CRM, etc.

MST Measurement systems uses LONWORKS to help semiconductor companies monitor and control gas leaks. They can collect more detailed information, like status of the alarm, sensor cells, general system status and concentration levels and can help companies to save 40% in installation costs.

Echelon's headquarters is networked with LONWORKS. Our employees can program heating and lighting control settings to conserve energy, saving us about 25% annually.

Nestle, General Motors, W.R. Grace, Texaco, Shell and Proctor & Gamble also use LONWORKS technology.










Sinclair: What benefits are available to manufacturers and integrators that adopt Echelon's LONWORKS platform?
Kevin Lynch: A big selling point to both manufacturers and integrators is the open nature of the LONWORKS platform. Manufacturers are able to introduce more robust devices into the market faster and at lower cost, because of the simplicity of the technology and the cost savings associated with spreading the IC, transceiver and software costs over many industries. They can ensure interoperability with other building systems and platforms with a technology that has been proven many times over in the real world. For manufacturers looking to get into this market, the LONWORKS platform lowers barriers to entry with a one time networking engineering effort.

Integrators using the LONWORKS platform have greater flexibility -- greater freedom in choosing installation tools, system configuration, suppliers, etc. They can also provide IP integration, remote monitoring and management, and greater interoperability with LonMark certified products. Add-on revenue streams are available to them in the form of remote monitoring and other services.

These benefits mean faster, more cost-effective installation for corporations and networked solutions that are more robust and scalable.
Sinclair: What is the difference between the LONWORKS system and other technologies on the market?
Kevin Lynch: A big difference is the open nature of the LONWORKS platform. In fact, Open Systems are what the LONWORKS platform and Echelon are all about. The benefits I mentioned earlier--like choice in vendors, easier integration and industry-wide support--are all delivered through open systems based on the LONWORKS platform. No other solution delivers on the benefits of openness to owners, integrators, and manufacturers like LONWORKS open systems.

An independent body of over 300 companies -- many of which make LonMark-interoperable products -- defines interoperability and compliance. The LONWORKS platform allows for higher functionality, integration and scalability than other platforms at no additional cost. It is 100% media-independent, enabling systems to match physical plant requirements. In fact, it is the only truly open, interoperable BMS platform in the world, allowing end-users the freedom to choose best-of-breed products and services without getting locked into high-cost maintenance contracts.

It conforms to the standards-criteria of IP, ANSI, IEEE, AAR, IFSF, SEMI, BACnet, and others. The platform is complete from protocol, to ICs, to physical layer, to software installation and management, to operating system, to end-user applications.

With over 18 million devices already installed, the LONWORKS platform has been proven in the real world.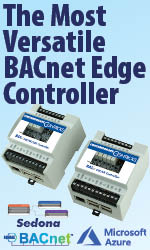 Sinclair: How compatible is the LONWORKS platform with other technologies?
Kevin Lynch: LONWORKS technology can be integrated with any IP-aware system through OSGi gateways using the LONWORKS Bundle Deployment Kit. The kit includes ready-to-use LONWORKS support bundles, example device service bundles, utilities, tools, etc. It can be used by telcos, cable operators, utilities and other service gateway operators.

LONWORKS technology is routinely integrated with IP to provide functions such as connectivity throughout a campus, remote control and monitoring of systems and merge of geographically separated information. These LONWORKS networks typically leverage the investments already made in IT infrastructure thereby saving end users money.

Echelon's LonPoint System products can help to bring legacy systems into a LONWORKS network. LonPoint Modules offer a flat system architecture in which every point performs some control processing. Distributed processing lowers the overall installation and life cycle costs, increases reliability, and provides flexibility to adapt the system to a wide variety of applications. As well, there are many other companies that see the need to integrate planned LONWORKS networks with existing legacy systems and have developed products to enable this integration.
Sinclair: What's the difference between LONWORKS and LonMark?
Kevin Lynch: As you know, Echelon is a networking solutions company and the creator of the device-networking platform called LONWORKS.

The LONWORKS device-networking platform encompasses the products and services that are related to the ANSI/EIA 709.1 standard for control networks. Thousands of companies use this technology platform to provide solutions that sense, monitor, control or deliver services in buildings, homes, utilities, factories or transportation. Echelon has its own line of LONWORKS control and connectivity products, software, development tools, and training/support.

The LonMark Interoperability Association is a group of 300 companies that define, certify and award LonMark certification for products. The group controls the LonMark interoperability mark. Products that earn LonMark certification are based on the LONWORKS platform. The certification means that the products adhere to an interoperable implementation of the LONWORKS technology that make the products easier to integrate into LONWORKS-based networks. A company can have a LONWORKS solution that integrates a mix of LonMark and non-LonMark products.
Sinclair: What do you see on the horizon for control networks?
Kevin Lynch: In the same way we've seen PC's move from local area networks to essentially global networks via the Internet, we will see control networks become integrated into broader global and enterprise networks. Echelon's products help manufacturers and system integrators tie multiple buildings or control networks together to optimize their businesses and offer customers better service and lower costs today. For example, France Telecom is tying together the existing and new LONWORKS networks in over 40 of their buildings for centralized monitoring and control of HVAC and lighting. Elsewhere we see companies beginning to tie control networks to enterprise business applications such as ERP, MRP, CRM, and others. Fuji Electric, for example, has created a Total Factory concept that uses the LONWORKS platform for the device networks on the factory floor and building, this in turn is tied together with core business systems using Fuji middleware. We believe strongly that the next wave of device networks (control, monitoring, or sensing) will be tied to service applications - similar to the examples above.
Sinclair: What are the requirements for manufacturers and integrators to integrate LONWORKS platforms?
Kevin Lynch: Integrators can find out more about Echelon's Authorized Network Integrator Program by visiting: http://osa.echelon.com/Program/application.htm. Both integrators and manufacturers can join Echelon's Open Systems Alliance Program (OSA). The program is designed to bring together companies that are working to promote open systems based on the LONWORKS platform. More info is available on the Echelon web site at: http://osa.echelon.com/Program/Default.htm.
---


[Click Banner To Learn More]
[Home Page] [The Automator] [About] [Subscribe ] [Contact Us]