We know where we've been,
but where might we be going in the future of control systems?
Edward H. Brzezowski, P.E.
Facility Energy Services, Inc.
Consulting Engineers
---
A few years ago I made this sketch of the evolution of control systems and network connectivity.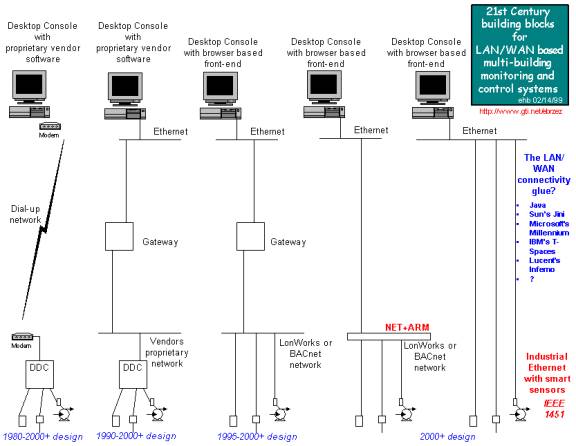 When I look at this today, almost three years later I still see the LonWorks, BACnet and Ethernet backbones. Java is being used, Jini is still in the bottle, and Microsoft's Millennium became their .NET platform.
Ethernet at the sensor/actuator with IEEE 1451 is being pulled into the wireless sensor network vortex. The need for pervasive point-to-point wiring for monitoring and control systems may be eliminated or significantly reduced by 802.11, Bluetooth, or other RF schemes.
It appears that the lighthouse on the Internet for this work can be found at University of California, Berkeley with help from the private sector and military.
One of the key issues will be reducing the cost and power requirements for these wireless networked sensors. "Roll to Roll" technology might help reduce these costs dramatically in the very near future as well as nanotechnology and advances in applying micro-electro-mechanical systems (MEMS) to sensor technology.
I used to see about a five-year delay in technology being applied to the world of HVAC and control systems. This delay in applying current technologies has been reduced to about one to two years.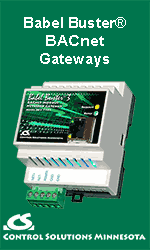 I would imagine that the wireless sensor networks will begin on short & long term data logging systems for building commissioning and troubleshooting, connectivity to wireless PDA's and TabletPC's and distributed sensors for space readings of temperature/humidity and biometrics/security, to name just a few of the first applications.
It will be interesting to watch how these innovations are adopted and applied.
References:
University of California, Berkeley, Center for the Built Environment (CBE) http://www.cbe.berkeley.edu/ http://www.citris.berkeley.edu/SmartEnergy/brainy.html http://blackouts.eecs.berkeley.edu/
MOTES, Tiny, Wireless, Networked Sensors http://www.xbow.com/crossnet/motes/crossbow_motes.htm http://tinyos.millennium.berkeley.edu/
Sensor Webs of SmartDust: Distributed Signal Processing/Data Fusion/Inferencing in Large Microsensor Arrays http://www.darpa.mil/ito/psum2001/K253-0.html
Picoradio, the less-is-more network. Low-cost, low-power wireless networks generate high interest http://stacks.msnbc.com/news/583338.asp
IEEE 1451, Smart Transducer Interface for Sensors and Actuators http://www.motion.aptd.nist.gov/testfront.htm http://www.motion.aptd.nist.gov/
Resource for Sensing, Communication, and Control http://www.sensorsmag.com/ http://www.sensorsmag.com/isensors/
Transistors roll off the printing press, building integrated circuits will be as simple as printing a newspaper, transform the semiconductor and display industries? http://www.technologyreview.com/articles/roush011402.asp
NanotechNews.com, news and information for nanotechnologists http://www.nanotechnews.com/nanotechnews/nano
---


[Click Banner To Learn More]
[Home Page] [The Automator] [About] [Subscribe ] [Contact Us]