---

EMAIL INTERVIEW – Mark Walters and Ken Sinclair
Mark Walters, Chairman, Z-Wave Alliance
Mark has over 20 years experience in all aspects of electronic product solutions. He has a background in product design and development having served as chief engineer for a high-end audio company, a vehicular sensor and controls company and a manufacture of premise wiring solutions. Additionally, he is a seasoned veteran in the building controls market including positions held with Alerton, Encelium Technologies and Leviton Manufacturing. Currently Mark serves as the Chairman of the Z-Wave Alliance, an open consortium of leading global companies dedicated to establishing Z-Wave as the standard in wireless controls. Mark holds bachelor's degrees in Biology and Chemistry from the University of California at Santa Cruz and a MBA from City University, Seattle.
---
Z-Wave
Wireless Technology for Control and Monitoring

Sinclair: Why is Z-Wave being selected by more and more companies, we just heard about the 600th certified product, but it isn't well known in the commercial world, why?
Walters: In the beginning Z-Wave was only used in residential applications, that is where we got our start and where most of our manufacturers do the bulk of their business. What we see today are more Z-Wave products being designed specifically for commercial applications such as thermostats for mini-split systems, card key scanners and shade motor and control system for large spaces. The 600th product, a Whole House Power Monitor for two phase power systems, could just as easily be used in a light commercial power monitoring application. Maybe I want to sub-meter a large piece of 2-phase equipment and have its demand and consumption delivered to my desk or control center. How much energy is that drying oven, pick and place machine or reflow oven really using. With Z-Wave products this is a few hundred dollars, few hours long project.

Sinclair: Other than the obvious reasons for Wireless, ease of installation, placement flexibility and remote operation, what should we know about Z-Wave?

Walters: What is most important in wireless communications is what is known as reliable communications. In techno speak, reliable communications means every message is checked for transmission accuracy and acknowledged by the receiver back to the sender. Z-Wave uses reliable communications and automatically resends the message if it isn't acknowledged by the receiver. This closed loop communication is critical to many commercial control applications. Another concern is security, can the network be hacked? Z-Wave has stood the test of many high security applications including residential and hospitality parameters and lock control. Z-Wave uses the same AES128 bit security that is used for Internet banking transactions.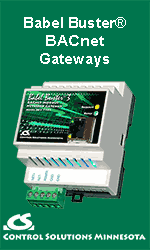 Sinclair: What key applications are you seeing solved with Wireless in general and Z-Wave in particular?

Walters: Some of the key commercial applications for wireless technology are:
Energy monitoring both large scale and local sub-metering applications
Perimeter Security and Access

Window shade and shutter solar tracking solutions for passive solar heating and cooling

Large load control based on Utilities demand response control signals
Sinclair: How does the recent ratification of Z-Wave's MAC and PHY by the ITU-T as the G.9959 standard effect the future of Z-Wave?

Walters: The commercial world has always placed a high value on international standards body standards; IEEE, ASHRAE, IEC, ISO and ITU to name a few. Now that Z-Wave has been ratified by the ITU-T as G.9959 we expect many new manufacturers to begin adopting the technology. We already see many of the companies that started with Z-Wave in the residential space starting to create products for the commercial and industrial markets.

---


[Click Banner To Learn More]
[Home Page] [The Automator] [About] [Subscribe ] [Contact Us]