---
I recently visited Stanford University and in the spirit of supporting them on BAS deployments, I told their IT department that they need to air gap all BAS systems from their networks and have contractors start installing standalone IP networks and switches in their buildings. This raised some eyebrows and spawned a lively conversation, as they just spent the last 10+ years figuring out how to put these devices on their network.

Why did I say that? Because most major manufacturers of BAS systems have, or are releasing, full lines of IP controllers. These new digitally-enhanced products change the architecture we have been helping IT departments with for the last 15 years. Goodbye to RS 485 devices back to a single IP gateway appliance, hello to hundreds of IP controllers, CAT 5/6, managed switches, servers and firewalls. As contractors are shifting to these IP controllers, it quickly becomes clear that they will have to stand up IP networks in buildings without IT departments or they will not be able to complete these new specifications.

As we shift responsibility, should we not shift our engineering practices to meet the requirement that a building's comfort should work regardless of what happens to an over-encompassing IT infrastructure around and within it? Should we not get these systems up and running in an air gapped environment before we securely add a network or internet connection?

As we discussed the topic further, I brought up how hard it is for BAS contractors to implement an IP network solution in the construction process. The mechanical/electrical systems typically have to be online before the IT network is available to be utilized. I further interjected the concept of how there was no way to do the job unless they allowed a BAS technician to install an IP network. How else could they start up and test all of the IP mechanical/electrical systems during the construction process? Thinking this was a very good point, I dropped the mic.

But Stanford had an answer… a Temporary Construction Network, or TCNet for short. A rack of temporary switches that mirror the switch technology that will ultimately be installed in the building, and they built these switches on wheels so they can roll them into the electrical IT closets prior to the rest of the network being installed. This allows the mechanical/electrical systems their precious drops during the construction process and they even included tested network architecture standards, a secured, managed OT network environment to land IP controllers properly on with coordinated IT collaboration services and oversite.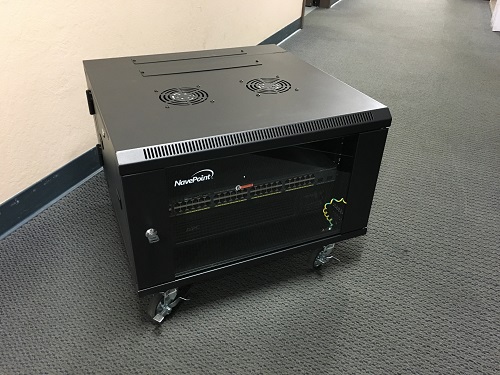 Obviously this was not the first rodeo for them, they have seen many systems already move over to IP and they have adapted their IT policies to include OT networks dedicated to these new tasks. So, okay maybe not ALL BAS systems need to be air gapped on a network stood up by a contractor. Some systems with proper support can be securely connected with owners' networks and services.

OT vs. IT DEBATE SCOREBOARD:

Stanford: 1
Cochrane Supply: 0

Better luck next time, Scott.

Come meet the team from Stanford University at Controls-Con 2019 and find out how to join them on the scoreboard!

Controls-Con will take place May 2nd and 3rd, 2019 at the MotorCity Casino Hotel in Detroit, Michigan. This fast-paced, education-packed event brings together hundreds of integrators, contractors, end users, engineers and more from throughout the United States and Canada to explore the latest technologies and possibilities of Building Controls and the Internet of Things (IoT) in commercial and industrial buildings. Learn more
---


[Click Banner To Learn More]
[Home Page] [The Automator] [About] [Subscribe ] [Contact Us]