Jim Henry
Founder and current chairman of the BACnet Interest Group – AustralAsia (BIG-AA)

Jim Henry has been in controls and automation for over twenty years. He has worked with five different manufacturers in North American and Australia. Member ASHRAE, Member AIRAH
---
Australia has a yearly air conditioning exhibition called ARBS, which is an acronym for Air Conditioning, Refrigeration, and Building Services. The ARBS show was held in Sydney between 25 and 27 March at the Sydney Exhibition Centre. http://www.arbs.com.au/
ARBS is usually held in Sydney or Melbourne, as half the twenty million population of Australia lives in, or close to, one of these two cities. Occasionally ARBS is held in Brisbane, Perth, or Adelaide, the other cities that exceed one million population.










The ARBS show had not been held in Sydney since 1998 (due to the Sydney Olympics in 2000). The combination of ARBS being in the largest city (4.5 million), a long period of time since the last Sydney show, and great weather meant that exhibitors had record attendance for the show. Total number of visitors was over seven thousand, which may seem tiny when compared to the annual ASHRAE show, but provided for good activity for the two hundred or so exhibitors.
Sydney has over thirty controls contractors. Because of strong influences on Australia from virtually every market in the world (UK, Europe, North America, Japan, South East Asia, and the Middle East) Australia has an interesting and thorough cross section of the worlds controls market. This makes it interesting to note trends in the Australian marketplace, and ARBS was a good chance to see these trends.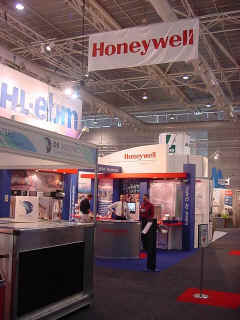 Notable aspects from the building automation perspective were:
First, the only traditional major to exhibit was Honeywell.

Second, the most impressive stand of the show was the TAC booth.

Third, ten BACnet companies combined to create a BACnet Village.
It is interesting to note the trend of the major automation manufacturers. Johnson Controls, Siemens, and Invensys all decided not to display at the show. Honeywell, on the other hand took a large booth. This is their write up:
Honeywell's stand at ARBS 2002 showcased products for four of its key markets - Building Automation, Residential, Indoor Air Quality and Commercial HVAC solutions. Demonstrations of their flagship building automation offering, Honeywell Enterprise Buildings Integrator* (EBI), were available for visitors eager to learn about its powerful and easy to use HTML based user interface. EBI features demonstrated included: alarm handling, comprehensive reporting facilities and various types of data analysis tools available to pinpoint building abnormalities.
The merger of TAC and CSI was important for CSI in Australia. CSI is a major player in the Australian marketplace, and as the following write-up from CSI indicates, they felt it was important to make a big splash at the show.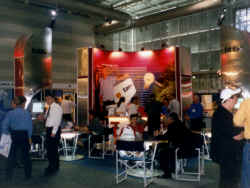 This year's ARBS 2002 was very successful for TAC Pacific being awarded 'best stand' of the show. The stand concept was to have a relaxed atmosphere and provide an area where people could comfortably sit and discuss their various issues, queries and possible solutions. A lot of interest was shown in the TAC Xenta® 511 LonMark® certified Web portal. This allows customers to connect any LON product to the Web.
The event also provided TAC with the perfect venue to promote the new TAC company; this was formed by the merger of CSI and TAC AB. The new TAC has a strong focus on 'Open Systems for Building ITTM based on LonWorks®. The merger created the fourth largest Building Automation company globally and the largest company dedicated to providing "Open Solution" for the Building IT industry.
With their very strong booth TAC were clearly the strongest promoters of Lon at the show. There were some minor companies promoting Lon at the show as well.
Innotech, the strongest Australian controls manufacturer, also had a prominent booth at the show. Innotech began as an electronic controls manufacturer that they have evolved to a full automation system. Innotech will migrate the next generation of their product line to BACnet. Innotech focused their offering on their Maxim Series building automation system and their Micro 2000 line of stand-alone controllers.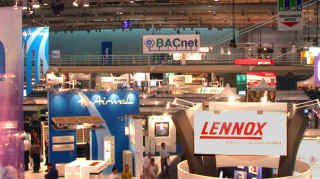 The author of this article is the current Chairman of the BACnet Interest Group - AustralAsia, and consequently, it should be noted that, though he attempts to be impartial, he recognizes that he has a strong bias in favor of BACnet, which will be apparent in the rest of this article.
The most exciting aspect of the ARBS show from a building automation viewpoint was the BACnet village, where six primary companies and four secondary companies setup a BACnet network.
Six companies sponsored the BACnet village, which was a grouping of eight booths forming a corridor of BACnet supporters, with a prominent BACnet banner overhead. This included (alphabetically):
Alerton represented by Alerton Australia

Automated Logic corporate from the US sponsored a double booth

Doust Automation representing Delta Controls for the state of NSW and Delta Controls ACT representing the capital territory.

Electromation representing Delta Controls for Queensland, Western Australia, South Australia and the Northern Territories.

Regulator Australia, a local company who has developed a BACnet VAV controller and VAV box combination that they are selling internationally.

Sphere Systems who have migrated their access control system to BACnet. They have done a large amount of core BACnet research and are also marketing their BACnet stack to other companies looking for BACnet controllers and interfaces.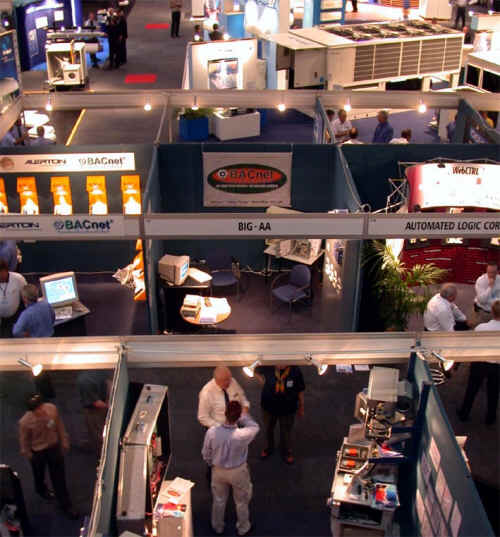 The final booth in the BACnet Village was for the BACnet Interest Group - AustralAsia (BIG-AA), which hosted four other companies who wished to participate in the promotion of BACnet, but didn't wish to take their own booths. These were Daikin, Simplex, TC Technologies, and ScadaEngine.
TC Technologies is one of the larger Australian automation manufacturers who are in the progress of migrating their system to BACnet. TCT has focused heavier on the access control side of the market in recent years. They have finished most of their R&D and will be releasing their BACnet product shortly.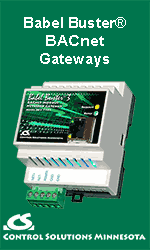 The other three companies all had a combination of controllers and front-end interfaces connected to the BACnet LAN.
On a personal observation note, I am still amazed at how simple BACnet makes interoperability. We connected our controllers and laptops onto the BACnet Ethernet LAN and immediately saw every other controller and workstation and all of their associated BACnet points without any setup whatsoever.
This gave us the ability to view, modify, and use other people's inputs and outputs, as well as schedules, calendars, trend logs, and alarms. Too easy. Throughout the show everybody was demonstrating the simplicity of BACnet interoperability between all the vendors.
Further on BACnet, presenting as chairman of BIG-AA, the author, Jim Henry, gave daily lectures in the three hundred seat centre stage on BACnet as the standard high level interface (HLI) for building services. This talk was a general introduction to BACnet and an explanation of why BACnet has become the de facto standard for HLIs. (We won't mention the fact that the centre stage never came close to being filled for anybody's lecture.)
Following Jim Henry was Eric Craton of Automated Logic, who gave a daily talk on the emerging web services, which has been a hot topic in recent Automated Buildings articles.
All in all the ARBS show was a resounding success for everybody. In particular, there have been numerous comments from clients and consultants about the effectiveness of the practical demonstration of interoperability put on by the participants in the BACnet Village. There was general surprise at the level of cooperation among competing companies. We have consistently found that the companies promoting BACnet tend to consider the evolution of the industry, not only their short-term sales gains.
---

[Click Banner To Learn More]
[Home Page] [The Automator] [About] [Subscribe ] [Contact Us]