---
Unlock Data's Value at Haystack Connect 2019



This event only happens once every two years - make it a priority to attend

John Petze, Executive Director,
Project Haystack

Marc Petock, Executive Secretary,
Project Haystack


Data is the new gold and Haystack is the key to unlocking its value. Whether you are a building owner or operator, facilities manager, an integrator, or OEM, new to Haystack or an old pro, the 2019 Haystack Connect conference has something for you. Join us May 13-15 in San Diego to claim your place in the data revolution.

The understanding of the need for semantic modelling of device and equipment data has matured significantly in the last decade, and the requirements and techniques for applying semantic modelling to equipment data are advancing rapidly. The Haystack community has led the way to address these challenges.

The Haystack Connect conference is known for the quality of its technical program and 2019 will raise the bar. GE, Intel, Siemens, Honeywell, DOE and more than 30 other organizations are scheduled to present at this can't miss event. There's only one month left, so register now at www.HaystackConnect.org.

KEYNOTE Jim Fletcher, Strategy Partner, Momenta Partners
Well, You Didn't Know What You Didn't Know: Bringing Organization to the Data Chaos, to Derive Insight and Generate Actions - the capabilities and disruptions that a data-driven future will create.

HAYSTACK PITCHFEST
New for 2019 and sure to be exciting, Haystack Pitchfest will showcase new products and services using Haystack—think "Shark Tank" for data. Eleven companies will pitch both commercial products and open-source initiatives in a rapid-fire session.

TRACK 1 Real World Applications
Hear how Haystack is being deployed in real-world applications by practitioners from around the world. Topics include: Integrating with CMMS, applying Haystack in data centers, industrial facilities, smart cities and how Haystack enables the application of Artificial Intelligence. Plus, join us on the journey towards high-performance data-driven buildings with sessions on fault detection and diagnostics, and optimized controls with speakers from industry and government research labs including NREL and LBNL.

TRACK 2 Haystack 4 – Continuing to Advance the Standard, Tools and Capabilities
There has been a tremendous amount of work over the past two years to enhance and extend Haystack tagging. A core focus of the Technical Track will be a detailed review of Haystack 4—the result of almost two years of work by Working Group 551 and which includes a suite of new features to take modelling your data to the next level. Get an update on the latest version of nHaystack for Niagara systems, see how Current, powered by GE, is applying Haystack 4 to lighting systems and participate in other working groups.

NEW TO HAYSTACK? We've Got You Covered!
You don't need to be a Haystack expert to attend and benefit from the conference—IN FACT Haystack Connect 2019 is the place to start your journey in learning how to apply semantics to device and equipment data. The conference program includes a special session on day 1 to get new users up to speed quickly.

All of this, plus the expo hall, networking, and the world-famous Interoperable Blues Band. the industry's premier jam band. There's so much to learn, see and do at Haystack Connect and these are only a few of the highlights. Visit www.haystackconnect.org/schedule/ for even more on the schedule, or head straight to www.HaystackConnect.org to register and book your hotel room now. We hope to see everyone at this important event!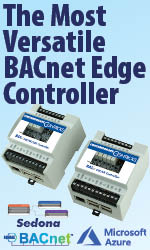 Thank you to the 2019 Haystack Connect sponsors:

Community Champions
• Key2Act
• J2 Innovations

Platinum Sponsors
• Bueno
• Conserve It
• KMC Controls
• SkyFoundry
• Tridium

Gold Sponsors
• Altura
• Contemporary Controls
• Kodaro
• Lynxspring

Silver Sponsors
• BassG
• BTIB
• CABA
• Global Control 5
• Interstellar
• StackHub

Media Sponsors
• Automated Buildings
• Control Trends
• Memoori

IBB Sponsor
• Tridium

Lanyard Sponsor
• EntroCIM


---


[Click Banner To Learn More]
[Home Page] [The Automator] [About] [Subscribe ] [Contact Us]