Zeus platforms enable OEMs and Systems Integrators to implement reliable, secure, long-range, and low-cost wireless data networks for commercial and industrial applications.

Wired & looking for relief ?

Zeus may have your answer. Take a look at the exciting things this company is doing.
---
This month's press release Teletrol & Zeus Bring Wireless Applications to HVAC Industry prompted me to draw your attention to this company's wireless ways. Our readers are always interested in what is happening plus what is real in wireless so take a look at the Zeus site http://www.zeuswireless.com The following are some extracts from their site.
The Benefits of Wireless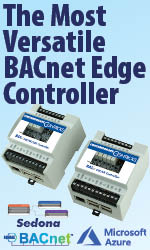 Wireless technology from Zeus can minimize or eliminate the need for control or signal wiring and significantly reduce installation costs in control systems or automated meter reading applications. Designed to be a replacement for wire, Zeus Transceivers are transparent to most of the communication protocols today. Couple this with the inherent flexibility of wireless, and you have the ultimate open architecture solution for data connectivity. Zeus Transceivers can extend this connectivity to the Internet, opening dramatic opportunities for remote access, monitoring, and service/diagnostic capabilities which previously were cost-prohibitive.
Facility Management and Controls
When considering the issues associated with the implementation of controls systems, installed cost almost always ranks near the top of the list of decision-making criteria, along with system functionality and performance, ease of operation, and system integrity.
Labor costs tend to be the single most significant factor among total installed system cost, often with half of labor costs attributable to wiring. As a result, wireless solutions enjoy a distinct advantage over traditional wired systems when it comes to installation costs.
The wireless advantage also is evident in retrofit applications where space is often constrained or physical access to existing systems is limited. In these cases, instead of having to pull new wires, control devices can simply be mounted and connected to existing sources of power and linked through wireless transceivers, eliminating costly labor and reducing the overall time to retrofit controls.
Zeus Transceivers dramatically improve contractor productivity during system commissioning or servicing. A wireless link between network control panel and hand-held laptop allows technicians to stay connected to the control system while roaming the building and communicating with various devices from their laptop.
Zeus Transceivers are TCP/IP addressable — delivering wireless web capability down to the individual controller level within a system — and offering new opportunities for remote monitoring and the operation of critical control system components via the internet.
By deploying long-range frequency hopping transceivers in the license-free band at 2.4GHz, Zeus enables you to think "out-of-the-box" with respect to system installations. More specifically, multi-building campus applications can now be implemented more effectively with wireless links between buildings than with trenches and cables. As building control systems typically limit the length control wiring can be run, the line of sight to the horizon performance offered by Zeus Transceivers easily surpasses what can be reasonably achieved with standard wiring.
Contact Robin Shaffer (rshaffer@zeuswireless.com) for more information about wireless data connectivity solutions for Facility Management and Control.
---


[Click Banner To Learn More]
[Home Page] [The Automator] [About] [Subscribe ] [Contact Us]