EMAIL INTERVIEW Steve Allison & Ken Sinclair
Steve Allison is the marketing manager at Building Automation Products, Inc. BAPI specializes as a manufacturer of temperature and humidity sensors for the HVAC/R industry. Steve's background includes various positions in administration, research and development, production, shipping, sales, and marketing; giving him a unique perspective on the many facets involved in a manufacturing company. Steve holds a BS in Applied Optics from Rose-Hulman Institute of Technology, is based in Madison, WI, and can be reached at steve@bapihvac.com or through the website www.bapihvac.com.
"The effect of industry restructuring on the HVAC Sensor Industry"
---
Sinclair - Are protocols like BACnet and LON having an effect on the sensor industry?
Allison: Interoperable or open protocols have definitely made it down to the sensor level, but only to a certain degree. From our inception, BAPI has been providing sensors which work flawlessly with many industry leading control systems, in a sense making our product line interoperable. However, in the past this "interoperability" has meant producing similar but different versions of our products for each specific control system. The introduction of BACnet and LON have allowed us to produce a "protocol" compatible unit instead of a "control system" compatible unit; thereby minimizing the "versions" which must exist for compatibility sake. Now, as long as one uses a BACnet enabled sensor on a BACnet job or a LON enabled sensor on a LON job, everything should (at least in theory) integrate easily and work problem-free.










Sinclair - What are the pros and cons of interoperability at the sensor level?
Allison: The pros are greater flexibility and lower job cost. Greater Flexibility - one is no longer bound to a particular physical structure or limited solutions. As long as one can get the network to the site, the site can be monitored/controlled. Network access is the rage these days; dial-up networks, cable networks, fiber networks, and even wireless networks are becoming more common. Computer networks are everywhere and access to them is only limited by one's imagination. Lower Job Cost - I have seen this one argued both ways, and I see both sides. Some say the centralized network integral to an interoperable system saves on installation costs (materials and labor). Others say the added point costs and complexity in system design and setup (because flexibility often means complexity) outweigh any installation savings. Our position is that interoperable sensors can provide some real cost savings when applied correctly in the right situations, and can create new solutions to challenges or applications which were previously unsolvable or cost-prohibitive.

The cons are higher sensor cost and a "new" system structure. Higher Sensor Cost - previously sensors where fairly low tech and low cost; now a sensor must connect directly to a communications network and have onboard processing power. Added "intelligence" translates to added costs. Although these costs are decreasing as the technology becomes more prevalent, the costs are still significant. The added technical expertise required to design and produce "intelligent" sensors adds costs as well. "New" System Structure - we are used to control systems working in a certain way, the sensors connect to a local controller which connects to a central panel or to a network which then ties everything together. In this scenario, the local controller and the application dictate the particulars of the sensor (i.e., thermistor or RTD, resistance or current signal, packaging, and mounting configuration). Specifications are then written around specific sensor types or signal types. With open systems this familiar way of doing things goes away. Now everything is measured at the device and communicated digitally as an actual value, not some electrical property which must be converted at the controller.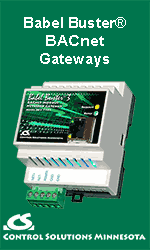 Sinclair - What is the bottom line on "interoperable sensors"?
Allison: We believe the industry is a long way from every sensor being intelligent and interoperable, but the trend toward high tech sensors will continue. We need only look to developments in the computer industry (from monoliths to desktops to laptops to handheld computers) or in the communication industry (land lines to cellphones to satellite phones) to see where things could be headed. As always, customer demand will ultimately decide where things end up.
Sinclair - Are IAQ sensors becoming a larger part of your market?
Allison: The demand for IAQ sensors is definitely growing. Increased awareness of environmental illnesses and of the correlation between occupant comfort and productivity, has lead to more stringent standards and farther reaching recommendations. The scope and number of contaminants which should be monitored keep growing. CO and CO2 measurement are no longer enough. IAQ sensors fit nicely with specific gas monitors to create a more complete picture of indoor air quality. However, the industry is currently lacking a definitive, cost-effective methodology for correctly applying IAQ sensor solutions. In order to fill this void, BAPI is currently researching test/verif ication products and developing recommended application procedures.
Sinclair -The trend is to build more power into the sensors; what capabilities should be logically in the sensor and what capabilities should be in the controller?
Allison: Almost any capability can be built into a sensor. We usually avoid incorporating control functions into sensors, leaving control systems and strategies to the experts. However, if a sizable end user or control system manufacturer wants a specific capability built into the sensors, we would be happy to oblige them.
Sinclair - The trend to build combination sensors continues, what does the future hold?
Allison: We currently have a unit, the X-Combo, which incorporates temperature, humidity, setpoint(s), local readout, tenant override, and a communications jack into one enclosure. Other units, the RuP-XLD and the RuP-HCF, incorporate temperature, setpoint, fanspeed, fanspeed indication, local readout, tenant override, and a communications jack into one enclosure. Our newest innovation, the RuPI, incorporates temperature, setpoint, fanspeed, local readout, tenant override, and an occupancy detector into one enclosure. Finally, we are currently developing both LON compatible sensors and wireless sensors which will incorporate many of the previously mentioned features.
Sinclair - What has been the reception to your new Sensor Handbook ?
Allison: We have had a tremendous response to our Sensor Handbook. Over the last month, we have sent out over 1,000 copies to various contacts throughout the HVAC industry. Every day, contacts from all over the world, request copies of the handbook using the online form at our website. The information within the handbook has been very well received and concisely updates the reader on the latest developments in sensors. In the future, we plan to focus on updating the end users within our industry, and send this handbook to building owners, facility managers, universities/colleges, and key national accounts. If anyone is curious about the handbook, a review is posted here on AutomatedBuildings.com or they can visit our website - www.bapihvac.com.
---

[Click Banner To Learn More]
[Home Page] [The Automator] [About] [Subscribe ] [Contact Us]