EMAIL INTERVIEW John Petze & Ken Sinclair
John Petze is Vice President of Operations for Tridium Inc. He has more than 20 years of experience in the automation industry, having served in a variety of senior technical and management positions with manufacturers of automation hardware and software. He is a frequent speaker at industry trade events and has authored numerous technical papers. For more information about Tridium, visit the company's Website at www.tridium.com.
New Tridium Vykon Energy Product
---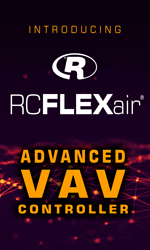 Sinclair - I understand that Tridium will be introducing a new Vykon Energy product in November. Could you share some information about the product and its capabilities?
Petze: Vykon™ Energy is a suite of products targeted at helping building owners and facility managers respond to the need to better manage energy costs. The product makes it easy to visualize energy consumption profiles for a facility and do things like: benchmarking best and worst facilities, analyzing the relative contribution of different sources of energy, identifying exceptions from past historical performance, correlating energy use with equipment operation, setpoints, schedules, etc.










Sinclair - What are some of the major features/components of Vykon Energy?
Petze: There are two major components to Vykon Energy. First it provides comprehensive data collection and analysis tools, and second, it provides the ability to perform coordinated control and management across systems from different manufacturers. It is truly an integrated energy information solution, which breaks through the barriers between different systems to allow the facility manager to manage the facility as a whole.

On the reporting side, Vykon Energy provides a comprehensive set of tools including: Average Daily Profiling, Aggregation Analysis, an Enterprise Ranking Tool and a Contribution Analysis Report. An Exception Report and Equipment Run Hours Tracking help the user correlate consumption data with actual equipment operation.

It also includes a unique tool, based on advanced pattern recognition techniques, called the Spectrum Summary. The Spectrum Summary basically creates a "colorized map" of energy consumption patterns allowing the user to easily identify times and facilities where highest and lowest consumption occurs. It turns your energy consumption data into a view that is similar to a "landsat image" so that you can easily identify areas needing further attention and analysis. For example, periods of high consumption are shown in varying shades of red, while lower consumption is shown with gradients of blue. Users can select any group of data they wish to view, and can quickly drill down to the actual data behind the colors.
Sinclair - How does Vykon Energy differ from other energy enterprise applications?
Petze: The first major difference is that the Vykon Energy Suite is built on Tridium's Niagara Framework™ platform. Because of this, Vykon Energy can assimilate data from diverse systems from different manufacturers. This means it is not tied to single manufacturers equipment. It can work with systems based on BACnet®, LON® and most of the major legacy systems in the market. It also supports meters using ModBus™, DNP and other electrical metering standards.

The second major difference is that all of the reporting and analysis tools are fully browser-based. The user can access all of the reporting features via a standard Web browser. There is no client software to load, manage or learn. This is even more unique given that the reporting tools are fully dynamic and interactive. This means that the user can easily change reporting parameters while viewing and manipulating the report.

This is very different from most Web-based tools, which force the user to fill out a form, which results in the presentation of a fixed static image of a report. Vykon lets the user aggregate and disaggregate meters, or sites in real time; there is no need to go back and forth. This makes the tool far more effective for the user. They can easily transition from one view to another to perform "what if" scenarios and "drill down" to understand the reasons behind their energy consumption profiles.
Sinclair - Why would building owners and facility managers find Vykon Energy useful?
Petze: Vykon Energy offers several benefits to facility managers focused on lowering costs, both energy costs and operational costs. It does this by making data previously locked up in a variety of systems available in a single unified reporting tool. Organizations can use the tool to save money by identifying how to reduce consumption but also get the information they need to better negotiate commodity contracts with their energy supplier to decrease their overall cost per kW and kWH.

In addition, they save time and money by streamlining facility operations. Vykon Energy makes it easy to better manage operating schedules across their enterprise, identify equipment that isn't running effectively and plan maintenance accordingly, and it lets you do all of this remotely from a standard Web browser. No longer is it necessary to travel from site to site, chasing alarms. The learning curve is dramatically lower than with complex proprietary applications. Simply log on to any browser and check performance in real time. With Vykon Energy, you can do more with less and save money doing so.
---


[Click Banner To Learn More]
[Home Page] [The Automator] [About] [Subscribe ] [Contact Us]