| | |
| --- | --- |
| | |
| XML Web Services: Is the End Near? | Ken Sinclair & Edward H. Brzezowski |
---
Special thanks to Edward H. Brzezowski, P.E.Facility Energy Services, Inc. Consulting Engineers ebrzez@fes-nj.com for forwarding the following articles and resource linkage for Web Services.
From the article XML Web Services: Means to an End Ed extracted the following: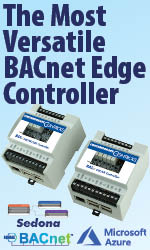 Don Box, an architect in Microsoft Corp.'s developer division told an audience of Web services conference attendees Wednesday: "The end of the XML Web services era is near. I predict two years from now we won't have this conference."
Box said XML Web services are a means to an end. "We have to get the plumbing sorted out," he said. "We have a couple more years of plumbing work, but after that we move on to applications," he said. Box said the "protocol work is starting to wind down, the infrastructure is catching up with protocols and it's time to start thinking about applications."
For complete article follow link below
http://www.eweek.com/article2/0,3959,491852,00.asp
---
Time to start thinking about applications??? I think we all been scheming and dreaming about applications for years and we are all pleased to see that those plumbers have the infrastructure catching up with the protocols. We applaud this progress.
In one of this month's articles Web-Based Control Systems - Doing more with more Steve Tom, PE, PhD, Director Technical Information, Automated Logic Corporation outlines the value and potential of web services.
---
Ed sent more web services information
Briefing Book: Web Services By Richard Karpinski
Extract from article
One of the most telling signs that Web services are taking hold is that a virtual cottage industry -- commercial and open source -- has sprung up around it. You can get your hands on real, working products today to help you edit, write, publish, deploy, manage, accelerate, secure, create QOS, transform, and integrate Web services and applications based on Web services protocols like XML, SOAP, and WSDL.
The article also includes information and linkage about these Development Tools
Microsoft Delivers Web Services Toolkit
Microsoft, IBM, BEA Deliver Specs To Take Web Services To Next Level
BEA Backs Web Services, Implements JAX-RPC Spec
Systinet Updates Web Services Platform
WebGain Readies Web Services Release Of Java Tool
Cape Clear Adds Messaging To Web Services Platform
Sun Delivers Web Services How-To
Kenamea Updates Web Services Messaging Tool
Systinet Updates Web Services Platform
Borland Adds Web Services Support
For complete article
http://www.internetwk.com/story/INW20020830S0006
---
Please review these valuable resources and feedback your comment as to how this is changing our industry by forwarding your interaction to http://automatedbuildings.com/webservices.htm
---

[Click Banner To Learn More]
[Home Page] [The Automator] [About] [Subscribe ] [Contact Us]