---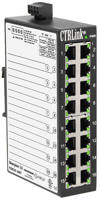 EISK16 Ethernet Switch Provides 16 Ports in an 8-Port Sized Box

The Contemporary Controls' high-density EISK16 switch, which occupies minimal DIN-rail space (1.6″ or 41 mm) for small areas, is now available for $279. This Plug-and-Play (PnP) EISK16-100T compact switch provides 16 copper 10/100 Mbps ports in a box smaller than a standard EIS 8-port unit. Encased in a metal enclosure, it provides reliable connectivity for Ethernet automation systems in a cost-effective manner, backed by a five-year warranty. Marketed under the CTRLink® trade name, the EISK16-100T expands the family of Ethernet 5- and 8-port switches. Just power it up, and this unit will auto-configure each port for data rates at 10 or 100 Mbps and straight-through or crossover cable requirements. These ports support half-duplex operation with backpressure flow control or full-duplex operation with PAUSE control. This device does not need any configuration or software, making installation simple. With Auto-MDIX support, no crossover cables are required when connecting to another switch.
For more information visit www.ccontrols.com
---
Recording System Requires No Bandwidth, Delivers High-Quality Images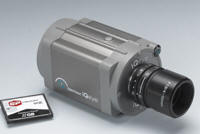 IQinVision's latest generation of IQrecorder boasts a completely new intuitive user interface, improved features, and a redesigned engine to provide better performance for the surveillance industry's only on-camera megapixel NVR solution. New features include simultaneous playback and live viewing, flexible scheduling, improved digital zoom on recorded images, full screen viewing, DVD-like controls, and a graphical time/date search. IQrecorder is ideal for small security equipment applications where simplicity, ease of install, and low total cost of ownership are paramount. Learn more at http://www.iqeye.com/index.php/video-recording-software-iqrecorder.html.
The IQeye Event Recording System (ERS) is a self-contained High-Definition megapixel network video recorder that uses NO BANDWDITH to record crisp, clear video—making it perfect for installations where network bandwidth is at a premium. It includes IQinVision's simple and intuitive browser-based IQrecorder on-camera recording and playback software, which requires no client software. IQeye ERS also offers on-camera solid state storage that is tough, reliable, and able to record more than 20,000 events. Learn more at http://www.iqeye.com/index.php/video-event-recording-system-iqeye-ers.html.
---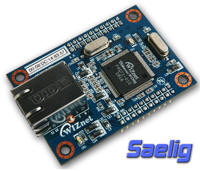 Tiny Webserver With A/D Input, Digital Output
WIZ200WEB is a tiny (2.4" x 1.65") embedded web server featuring an Atmel ATmega128 MCU, which can control a digital output or monitor a digital or analog input via a web browser. The HTTP server webpage is stored in on-board serial flash memory, and can be easily updated through a network connection. Operating on 3.3V or 5V, WIZ200WEB consumes only 170mA, and features 4 status LEDs. The RJ45 connector provides an autosensing 10/100 Mbps hook-up, and with 0.1"-spaced interconnection pins this makes an instant-use module for your next design challenge. On-board memory of 128K Flash, 4K SRAM, 4K EEPROM, leaves plenty of room for all your web server needs. Ethernet protocol is handled completely by WIZnet's W5300 hardwired TCP/IP IC, so no overflows or other instability problems can occur. W5300's fully hardwired TCP/IP algorithm guarantees line speed with on-the-fly processing architecture that is independent of the main processor. It also eliminates a main processor's overhead by offloading network tasks, thus enhancing overall system performance. Connecting a browser to the IP address of the board shows the flash-memory-stored webpage data, enabling control of digital input & output, and access to an analog input or a built-in temperature measurement. An RS232 serial port is also provided, allowing Ethernet-serial conversion too. Local LCD output capability is also easily achieved.
For more information visit http://www.saelig.com
---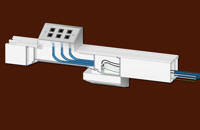 AdvanceWay™
The patent-pending AdvanceWay™ surface raceway balances the dual need for maintaining aesthetic appeal and the physical requirements associated with high performance connectors and cables. AdvanceWay™ successfully meets the needs of today's data and power installations, while comfortably accommodating the needs of cutting edge technologies.

AdvanceWay™ is the obvious best choice for specification and installation on all projects needing multi-compartment raceway.

Please visit Mono-System website for more information and all specification details. http://monosystems.com/advanceway/

---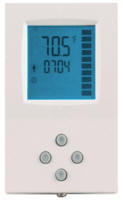 Vector Controls - New Intelligent Controller/Thermostat Controls Temperature, Humidification, and Dehumidification

This new intelligent controller/thermostat offers sophisticated control options, application flexi-bility, and simple configuration in a compact, attractive package. Suitable for commercial, light industrial, and residential applications, the TCY3 Series from Vector Controls is a stand-alone controller with two control loops for two- and four-pipe HVAC systems, and controls both temperature and humidity in one device. TCY3 can be configured precisely for each application through a simple on-board parameter-setting routine. Parameter-setting access levels are available for end-users and experts.

For more information visit www.vectorcontrols.com



---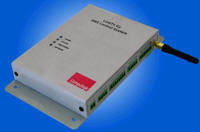 LinkTx G3 Comprehensive Remote Monitoring and Control via Text Messaging
LinkTx G3 is a SMS based remote monitoring and control unit, allowing a GSM mobile phone or GSM enabled computer system to remotely monitor and control systems or equipment based at remote locations. Text messages can be sent to turn equipment on or off, change system parameters and request instant measurement and alarm information, sent directly to a mobile phone or PC. With LinkTx G3, emergency conditions, temperature, voltage, current and digital readings can be sent to up to 16 GSM mobile telephone numbers and 4 number groups. The message format and the trigger conditions are fully user programmable. A powerful feature of the system is the ability to perform programmable local actions based on the value of any of the system parameters (measured values, or I/O states). Text message commands may be sent to the LinkTx G3 unit to perform functions such as setting mobile numbers to receive alert messages, setting alert threshold values for measured temperatures, voltages, currents and digital input states. Additionally, a number of digital outputs are available allowing remote control of external equipment. The system is fully programmable remotely via SMS text messages, dialed connection, or locally using the serial RS232 interface. LinkTx G3 uses a built-in quad-band GSM cellular engine ensuring compatibility with any GSM network worldwide. For added reliability, the wall-mounted LinkTx
For more information visit http://www.saelig.com
---

ZigBee Wireless Networking - by Drew Gislason
Overview
ZigBee is a standard based on the IEEE 802.15.4 standard for wireless personal networks. This standard allows for the creation of very lost cost and low power networks - these applications run for years rather than months. These networks are created from sensors and actuators and can wireless control many electrical products such as remote controls, medical, industrial, and security sensors.

Hundreds of companies are creating applications including Mitsubishi, Motorola, Freescale, and Siemens. This book is written for engineers who plan to develop ZigBee applications and networks, to understand how they work, and to evaluate this technology to see if it is appropriate to a particular project. This book does not simply state facts but explains what ZigBee can do through detailed code examples.
For more information or to order Safari Books Online - 9780750685979 - ZigBee Wireless Networking
---
Industrial Ethernet on the Plant Floor: A Planning and Installation Guide

Ethernet continues to be the network of choice in nearly all business applications; however, merely moving the network that works so well in the office out to the plant floor produces a plethora of problems - the largest of which is noise. In this new ISA publication, Robert Lounsbury uses his 22 years of expertise in industrial networking to guide today's networking professionals on how to select components, layout, install, test, certify, and troubleshoot an industrial Ethernet network that overcomes the challenges the plant floor presents.

Please go to the ISA Web site for more details, pricing, and to order.
---
---

[Click Banner To Learn More]
[Home Page] [The Automator] [About] [Subscribe ] [Contact Us]