---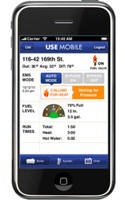 Mobile Application Provides Real-Time, HVAC Status and Building Control

U.S. Energy Group announces USE-Mobile to provide property managers with the ability to control their buildings with their mobile devices, including iPhones, Blackberrys and other smart phones. The USE-Mobile iPhone application harnesses the power of the companyís USE Managerô system and brings real-time status and building control directly into the hands of property managers, no matter where they are and what they are doing. The USE-Mobile iPhone application, which runs on both the iPhone and iPod Touch, allows building owners and managers to know exactly what is happening in each building of a large portfolio and take action remotely and immediately. USE Mobile integrates information from the USE Controllerô Energy Management System (EMS) and the patented USE Verifierģ Digital Fuel Gauge.
For more information visit www.use-group.com.

---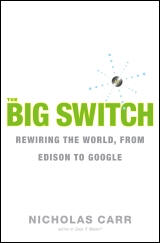 The Big Switch - Rewiring the world from Edison to Google
a Wall Street Journal bestseller; now in its eighth printing
#4 on Newsweek's list of 50 Books for Our Times
"the best read so far about the significance of the shift to cloud computing" - Financial Times
A hundred years ago, companies stopped generating their own power with steam engines and dynamos and plugged into the newly built electric grid. The cheap power pumped out by electric utilities didnít just change how businesses operate. It set off a chain reaction of economic and social transformations that brought the modern world into existence. Today, a similar revolution is under way. Hooked up to the Internetís global computing grid, massive information-processing plants have begun pumping data and software code into our homes and businesses. This time, itís computing thatís turning into a utility.
---

MobileRobots New MT490 Mobile Robotic Workstation
MobileRobots Inc unveiled its MT490 mobile robotic workstation and launched a brand new website, both designed to help robot application developers speed new robotic aids to staff in hospitals, labs and offices. The MT490 is the foremost technology for service robots with personnel interaction. The MT490 has an elevated user interface and provides comfortable access to the data display for staff members. A raised camera now operates at the best level for inspection and monitoring. An onboard PC for value-added developersí software rounds out the MT490ís features. MT490 onboard display can be used to access data and task the robot. The robot carries up to 50 additional lbs of meds, sensors, equipment and supplies. In addition to acting as a porter for nurses or other laden professionals, the robot can simultaneously collect valuable information. The MT490 can check sensors for hazards, such as radiation, help nurses track patient care, for better outcomes and inventory equipment. It can also be tasked from its touchscreen and sent for needed supplies and deliver them back.
For more information visit www.mobilerobots.com
---
Ezhometech announces Triple players on EZTBox III --- IPTV player, VOD Player and Signage Player

EZTBox supports IPTV player, VOD player and Signage player. It is suitable in Live TV, IPTV, Bus, Hotel and Signage market and etc..

Features:
IPTV Player: Watch videos immediately after box booting without any user interaction.
VOD Player: Play video on demand.
Signage Player: Advertisement Video Playlist, Picture Playlist and Marquee.
Unique BOX ID for control: EZTBox uses MAC address for BOX ID and send it to Ezserver for Web control.
Easily firmware update: Firmware update by a usb stick or via the internet.
Video access protection: Access videos by a protection key that contains a 16-digital no.
Digital/analog signal output at same time: HDMI and Composite output at same time.
For more information visit http://www.ezhometech.com
---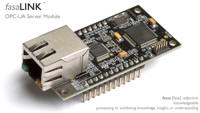 The fasaLINK OPC-UA Server Module from Embedded Labs reduces development cost and time to market.
Embedded Labs have announced their fasaLINK OPC-UA Embedded Server Module. The module minimizes development cost and time to market for OEMís that want to add OPC-UA Server functionality to their products. It enables high performance remote access to any data values the host system wishes to expose and can be integrated into an existing product with minimal redesign. The small footprint module adds an OPC-UA Server to any product via an integrated RJ-45 Ethernet interface and ARM microcontroller. Based upon an optimized protocol stack developed by Embedded Labs, host processor connectivity is via a choice of SPI, I2C and UART interfaces. An ANSI C serial communication library is provided, minimizing the need for host software development. The rich OPC-UA information model enables interaction with the server from generic OPC-UA client software applications. Production quantities will be available in Q4, 2010.
Further product information is available at www.embeddedlabs.com/products/fasaLINK.html
---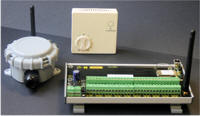 Sontay launches wireless sensor range
With operation based on the latest 2.4 GHz licence free radio technology, the SonNet range of temperature and humidity sensors eliminates the need for structural wiring installation, greatly reducing commissioning and installation activity and making for a much more efficient retro-fit. A comprehensive SonNet range will be available, catering for space, immersion, duct and outside air monitoring. Ensuring robust communication paths are maintained, the sensors can be paired with a range of wireless routers to boost any areas of low signal strength. Operationally, the SonNet radio receiver converts transmitted data from the sensors to analogue outputs (compatible with most control systems). The receiver is available with 20 channels, as standard, and up to 40, with the addition of an optional 20 way Daughter Board. For maximum reliability, operation and battery life, the sensors run a self healing tree application..
For more information visit www.sontay.com
---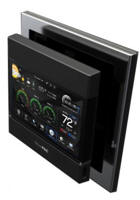 With SilverPac SilverStat 7, a smarter thermostat
The new SilverStat 7 is a seven-day programmable thermostat that can speak to smart meters, which send information on real-time electricity and gas use in the home to the utility company. Made by consumer electronics startup SilverPac, the 7-inch touchscreen device monitors and displays energy usage in real-time. It can even handle individual appliances ó meaning you can schedule everything from your appliances to your HVAC system to your home lighting. The SilverStat 7 connects with the smart grid using IEEE 802.15.4 wireless connectivity, supports the U.S. Congress-approved Zigbee communication protocol and has a Z-Wave Home Automation interface.
For more information visit http://www.silverpac.us.com/

---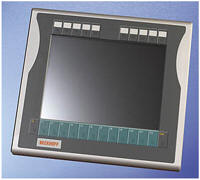 Beckhoff Releases New Energy-Saving Panel PCs with Intel Atom CPU
Multi-functional and compact Panel PC for complex automation tasks is designed for reduced energy consumption

In order to provide a wider range of energy-efficient industrial displays with powerful processors, Beckhoff has released the new CP77xx series Panel PCs. With the CP77xx series, Beckhoff extends its Panel PC family with another high-performance variant that features Intelģ Atomô processors. The solid state CP77xx Panel PCs are ideally suited for mid-range control platforms and as HMI units for machine builders and plant engineering applications.
For more information visit www.beckhoff.com/CP77xx
---
---


[Click Banner To Learn More]
[Home Page] [The Automator] [About] [Subscribe ] [Contact Us]