---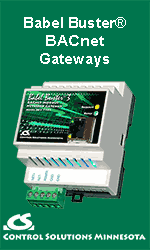 Contemporary Controls News
Why Take Risks With Your Control Network?
Downers Grove, Illinois ―Contemporary Controls offers three new managed features to safeguard against risks to your control networks. "The reason being," says R&D Manager Bennet Levine, "is that the popularity of Ethernet employed in the control system is gaining strength every day. Most users are of the opinion that you can simply connect your control devices to the office network. The logic behind this viewpoint is that both the control devices and the office devices communicate via Ethernet, and they can simply be connected together. However, there are considerations to keep in mind."
After discussion with the company's customers, engineers designed three new features associated with their EISX_M, EICP_M, and EISB_M managed switches. These features are rate limiting, port locking and overlapping VLANs in order to prevent any risks when interconnecting office and factory networks says Levine. "For example, we look before crossing the street, don't we?"
Levine says the first feature is rate limiting. He explains that rate limiting lets the individual select a maximum traffic level (from 64 kB to 100 Mbps) so normal communications would operate properly, even allowing the control network to function in the event that the office network has a catastrophic problem. "For example", says Levine, "an individual can use this feature to limit the amount of traffic your office network can send to your control network." One related feature of rate limiting is broadcast storm control which the company's switches also support.
The second feature is port locking. This is another method of controlling the traffic that comes through the office network. Levine says port locking limits what devices can communicate through a specific port of the switch.
"For example," he explains, "you can employ this port locking to only allow certain computers in the office network to communicate with the control network. This can help restrict your problems to a few office devices and not the entire office network."
The third feature is known as overlapping VLANs. It enables a few devices to be shared between the office and the control network. Meaning, the office traffic from the portion of the control network is eliminated that does not need to communicate with the office network. Levine says if a SCADA system needs to communicate with both the office network and the control network, an "overlapping VLAN" could be used to keep office traffic from all control devices except for the SCADA system. "Any problems in the office network will not affect the rest of the control network," adds Levine.
For more information on Contemporary Controls' managed switch features, visit www.ctrlink.com/managed_features.htm.
Contemporary Controls' Suzhou Facility Announces RoHS Compliant Manufacturing
Downers Grove, IL – Contemporary Controls' manufacturing facility in Suzhou, China has transitioned to lead-free operation as specified by the
European Union's RoHS (Restriction of Hazardous Substances) Directive on chemical substances.
Contemporary Controls (Suzhou) Co. Ltd (CCC) has eliminated the use of lead in their equipment, well before the time the directive goes into effect in July 1, 2006. Plant Manager Basile Waite says significant changes in materials and processes were accomplished to offer products and solutions to meet their customers' requirements. "The steps taken during this period ensured that the quality our customers have come to known wasn't lost in the process," says Waite. "Our manufacturing personnel received skilled training on all new equipment and procedures."
The process began with the plant's identification, labeling, and segregation of both leaded and unleaded components. The Surface Mount Technology (SMT) line conversion involved adjusting the stencil printer and adjusting reflow profiles for leadfree solder paste for every product. Waite says that in order to serve their customers better and quicker, flexible assembly systems were purchased. "The assembly line is brand new and is ideal for our needs," he says.
Waite adds that China is soon to release its own legislation similar to RoHS, and the plant will make any necessary changes to be compliant.
For now, any questions regarding a particular product should be directed to Contemporary Controls' headquarters located in Downers Grove, Illinois, USA. Individuals may contact their sales department. They are also encouraged to review the company's RoHS Compliant Product Roadmap (www.ccontrols.com/pdf/rohs2.pdf) to be ensured that a product of interest is scheduled to be converted to lead free. If not, the company will make a recommendation on a possible substitution if practical.
---


[Click Banner To Learn More]
[Home Page] [The Automator] [About] [Subscribe ] [Contact Us]