---
Updated February 1st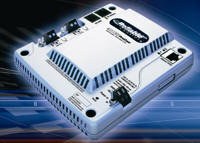 The MACH-ProCom™
The Reliable Controls® MACH-ProCom™ is a sleek and powerful 32-bit BACnet® device that delivers unprecedented value in a high performance building controller. The MACH-ProCom™ features high speed Ethernet 10/100 and supports multiple protocols including BACnet®, RCP, SMTP, and both Modbus RTU and Modbus TCP. The MACH-ProCom's flexible dynamic database allows users to define up to 160 universal I/O on a single address. Points are added to the MACH-ProCom™ using convenient MACH-ProPoint™ universal I/O expansion modules. Go to: www.reliablecontrols.com to learn more about this exciting new product offering.


---

Setra Systems Introduces Models 546/547
Boxborough, Mass. -- Setra Systems, Inc., a leading designer and manufacturer of pressure measurement devices, introduces the Models 546 and Model 547 strain gauge pressure transducers. Rugged submersible or general purpose type enclosures, including optional intrinsic safe explosion protection, and laboratory-type pressure measurement with 5:1 range turndown from 25% to 125% of full range make these units ideal for high overpressure applications. These models are ideal for applications such as power plants, flood warning, HVAC-compressor, refrigeration and robotics. For more information visit www.setra.com
---
Tychi Systems Announces Lever Version of the BioKnob™

BioLever™ conforms to ADA requirements for commercial doors

Tychi Systems is shipping the BioLever™ for those seeking a biometric lock with the features of the BioKnob but with levers to meet ADA (Disability Act) requirements. The BioLever retains the small footprint of the BioKnob and also comes in brass or silver colors. Tychi Systems door locks offer many advanced features, including recognition of up to 100 people by fingerprint, unlocking by either a fingerprint or individual passcode, five levels of security and recording of the last 1000 entries by ID, date and time. Mechanically, Tychi locks meet Grade 2 standards and can withstand outdoor weather and salt water spray. Visit www.tychisystems.com for more information.
---
Matrox Graphics unveils DualHead2Go Digital Edition
Montreal, Canada – Matrox Graphics Inc., the leading manufacturer of professional graphics solutions, announces the DualHead2Go Digital Edition featuring digital outputs. The latest addition to the Graphics eXpansion Module (GXM) line, this external multi-display upgrade device connects to the VGA output of compatible notebook or desktop computers and, through patent pending technology, uniquely expands the desktop across two digital displays. DualHead2Go Digital Edition also enables support for high resolution panels, offering a stretched desktop of up to 3840x1200 (or dual 1920x1200)1 across two displays. DualHead2Go Digital Edition is the ideal solution for CAD, GIS, dispatch, security, and process control users looking for a simple and cost effective solution to quickly increase their productivity. For more information visit www.matrox.com/graphics.
---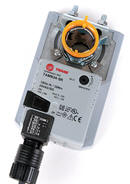 Trane furthers building innovation by utilizing Belimo technology to deliver precision and quality performance.
Danbury, Connecticut – Belimo Americas, the leading producer of electronic valves and air damper actuators, is pleased to announce their collaboration with Trane, a supplier of indoor comfort systems and comprehensive facility solutions for residential, commercial and industrial building needs, to produce a private brand of actuators and valves. The blending of Belimo and Trane technologies, each with superior brand recognition and overall quality, will guarantee customers unsurpassed system performance and energy savings. For more information visit www.belimo.com
---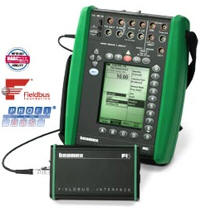 Beamex - Introducing the world's first fieldbus calibrator

The MC5 Fieldbus Calibrator is a combination of a multifunction calibrator and a fieldbus configurator. The MC5 is a compact, easy-to-use and field compatible calibration solution that offers a lot of functionality. The fieldbus functionality of MC5 includes reading the digital output of the fieldbus transmitter, changing the configurations of transmitters and transmitter trimming. Calibrating fieldbus transmitters with the MC5 requires only one person and the calibration results are automatically documented. Main features:
• Calibrate Foundation Fieldbus H1 or Profibus PA transmitters
• The MC5 is a calibrator and a fieldbus configurator in one unit
• The MC5 makes traceable calibrations
• Calibration results are automatically documented in the MC5
• A compact, easy-to-use and field compatible calibration solution
• The MC5 Fieldbus Calibrator can be used for various other calibrations as well
Visit www.beamex.com for more details.
---

LC&D - High Endurance Switching For The Most Demanding Applications
The SwitchBolt™ from LC&D is a virtually indestructible stainless steel bolt that mounts on a face plate, or in a panel, so that only the head of the switch is exposed. With the touch of a finger, the SwitchBolt™ can control any relay, dimmer, group or zone in any panel in the GR2400 system. The SwitchBolt™ is the perfect switch for minimum to high security facilities such as schools, penitentiaries and some hospitals. It's resistance to water makes it great for spaces that need regular cleaning -- even hosing -- due to exposure to dirt, grime and other messes. Visit www.lightingcontrols.com for more information.
---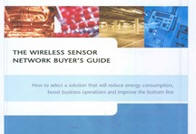 Sensicast - Wireless Sensor Network Buyers Guide
This FREE report (courtesy of Sensicast Systems) provides a helpful overview for anyone considering the deployment of wireless sensor networks. In it you'll find reasons to install WSNs, useful evaluation criteria, checklists for "must-have" functions, and more...
To get your own PDF or HTML copy, visit http://www.sensicast.com/
---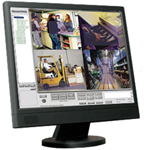 Digital Video Management System Mascot DVMS Remote Network Video
Supports >500 Networked DVR Supports > 8000 Networked Video
Video Display from Multi-DVR 1 / 2x2 / 3x3 / 4x4 / 5x5 / 6x6 Split Screen Options
Remote Live Video & Remote Playback
Software Features; Multi-Sites Remote Video, Management of Multi-DVR, Management of Video Wall, Command Mode - Operator
Display Mode - Video Wall, Excellent Remote Video Quality, H.264 Video Encoding, Remote Audio Support, Support Mascot DAVR & Mascot II DAVR, User Friendly Installation & Interface, Optional Health Checking Software
http://www.adder-dvr.com/
---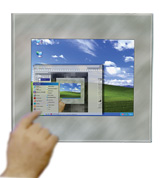 Industrial PC Complete System - Touch Screen 8.4" Specifications:
CPU: Onboard VIA C3 800Mhz Processor with 128KB Level 1 and 64KB Level 2 Cache with FSB 100/133MHz EBGA
Chipset: VIA 8601 66/100/133MHz North Bridge with integrated 2D/3D Graphic Controller and VT82C686B Super I/O
BIOS: AMI Flash BIOS
System Memory: One DIMM socket accepts up to 512MB SDRAM
Network Interface: Chipset: Realtek 10/100 BaseT / TX support, full duplex with RJ 45 connector onboard Compliant with IEEE 802.3X Boot from LAN function On board solid State Disk Interface: One DOC 2000 socket support M-System
DiskOnChip
Power management:
Supports power saving modes including APM 1.2 compliant http://www.jb-sys.com/complete4.html
---
---


[Click Banner To Learn More]
[Home Page] [The Automator] [About] [Subscribe ] [Contact Us]