---
Cimetrics B1070 - BACstac for the Microsoft .NET Framework

This is a BACnet protocol stack designed for the development of BACnet-compliant applications with Microsoft .NET Framework 3.5 that run on Microsoft Windows, including 32-bit and native 64-bit applications. BACstac for the Microsoft .NET Framework is written in C#, and was designed specifically to make BACnet application development easier with Microsoft Visual Studio. The BACstac is split into an application and service layer (which is the same as in regular BACstac) and .NET libraries. It means that regular BACstac clients can share the same port with BACstac .NET client applications. One BACstac for the Microsoft .NET Framework application can simultaneously connect to different BACstac services, which allows to work with different disconnected BACnet networks (for example, to monitor different BACnet installations that are not integrated into one BACnet internetwork). For more information visit http://www.cimetrics.com
---
Environmental Monitoring in Minutes with Wireless Sensors

The SensiNet evaluation kit provides all the components needed to deploy a fully functional wireless environmental monitoring system. Any computer with a standard browser can access the user interface providing all data logging, trending and visualization functions and requires no additional software. The kit comes packaged in a rugged case to ease transportation and shipping. The system can be up and running in minutes and provides the sensors required to measure, for example, temperature, humidity & power consumption in Data centres; Offices; Schools; Warehouses. Sensors can be relocated in real time for preliminary surveys and needs assessment or left in situ for trend analysis. The wireless gateway can store enough data for more than 2 weeks of monitoring at 1 minute intervals. On board functions include graphing, data export and multi-page user-defined floorplan layouts with overlaid real-time temperatures humidity, power use. For more information visit www.adaptive-wireless.co.uk


---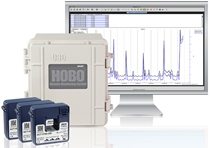 Onset Announces New Current Transformers
The Accu-CT® Series current sensors – manufactured by Continental Control Systems and sold through Onset – are available in 20-, 50-, 100-, and 250-amp models, all offering outstanding performance and one-handed operation. The current transformers are compatible with Onset HOBO® stand-alone data loggers, web-based monitoring systems, and wireless data nodes. They are available directly from Onset. Visit http://www.onsetcomp.com for details and technical specifications.


---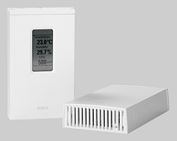 Vaisala GMW90 Series Three-In-One Transmitter

The wall-mounted Vaisala GMW90 Series CARBOCAP® Carbon Dioxide, Temperature and Humidity Transmitters are intended for demand controlled ventilation applications. They measure carbon dioxide and temperature and have an option for an additional humidity measurement.

GMW90 family includes the following models: GMW95 CO2+T, digital model; GMW95D CO2+T, digital model with display; GMW95R CO2+T+RH, digital model;
GMW95RD CO2+T+RH, digital model with display.
For more information visit www.vaisala.com/GMW90
---
EnOcean Pi connects energy harversting wireless devices with the Raspberry Pi
The Raspberry Pi computer can now control gateways for energy usage and automation systems using the new EnOcean Pi accessory. EnOcean Pi is a wireless module which connects to batteryless EnOcean modules that are powered by energy converters that use mechanical motion, light or temperature differences as an energy source. This allows for maintenance-free sensor and actuator solutions that provide the necessary data for intelligent control.

For more information visit http://www.enocean.com/en/enocean-pi/


---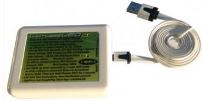 WiFi Receiver Bridge 3.0 for iPhone, iPad, Android, and PC

Provides a bridge for a direct WiFi connection from an iPhone, iPad, Android, and PC to your LED lights. Connects directly to your Local Area Network via WiFi and has its own IP address. Works with Color and White LimitlessLED smart-lights. (backwards compatible). Works with the new RGB+W Color and Warm White LimitlessLED smart-lights. Radio Frequency 2.4Ghz Wireless Remote Controller for White and Color LED smartbulbs. Each WiFi Bridge does up to 5 zones. Additional bridges can be used to add more zones.

For more information visit http://www.limitlessled.com/shop/wifi-udp-receiver-bridge/



---
---


[Click Banner To Learn More]
[Home Page] [The Automator] [About] [Subscribe ] [Contact Us]